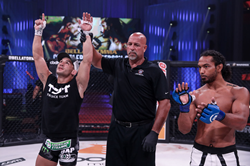 "Every single lightweight on the entire planet, you're on the clock – you're on notice." Michael Chandler
UNCASVILE, Conn. (PRWEB) August 09, 2020
Two dominant performances in one night! Monster Energy congratulates on his first-round victory against Benson Henderson at Bellator 243 inside Mohegan Sun Arena in Uncasville, Connecticut, on Friday night. In the main event bout, the 34-year-old lightweight division fighter from High Ridge, Missouri, knocked out his opponent with a hard left at 2:09 minutes.
In the women's flyweight fight on Bellator 243's preliminary card, Monster Energy's Valerie "Master" Loureda continued her unbroken Bellator winning streak with a TKO against Tara Graff. The 22-year-old MMA phenomenon from Miami, Florida, shut down her opponent at the end of round two and remains undefeated with three victories under her belt.
Bellator 243 marks the promotion's second consecutive event at Mohegan Sun resort and casino. Aired on Paramount and streamed on DAZN, Bellator 243 – Chandler vs. Henderson 2 was contested as a closed-to-the-public event amid extensive COVID-19 safety protocols for staff, officials and fighters.
Friday night's bout between Chandler (21-5 MMA, 18-5 BMMA) and Henderson was a rematch after their five-round clash at Bellator 165 in 2016, when Chandler took the upper hand. This time, former UFC and WEC lightweight champion Henderson (28-9 MMA, 5-4 BMMA) wanted to even the score and stepped into the fight on a four-fight winning streak.
But Chandler, who trains at Florida's Sanford MMA, came prepared to face such a powerful opponent. Straight out the gate, both fighters exchanged blows, with Henderson landing damaging body kicks. Then came a surprise: Chandler switched to southpaw and nailed Henderson with a hard left to the jaw, sending him to the canvas on all fours. Following up with a right hook that grazed Henderson's head, Chandler rained punches from above until the referee ended the fight at the 2:09 mark of Round 1.
"I'd be lying if I said I wasn't scared to death going into the cage with this monster," said Chandler after winning the main event fight at Bellator 243 on Friday, crediting his training at Sanford MMA for the win. Speaking on the switch to southpaw punches, Chandler said: "It's something we kind of worked on. Maybe throw him off a little bit."
Friday night's victory marks the final fight on Chandler's Bellator contract after joining the promotion in 2010 at Bellator 31. The three-time lightweight division champion, who now holds the record for most stoppages in Bellator history (13), is going to pursue free agency. The big finish against Henderson, who had only been knocked out once before in his career, is poised to increase Chandler's market value significantly. "We'll see what happens," said Chandler in his post-fight interview. "Every single lightweight on the entire planet, you're on the clock – you're on notice."
Download High Res Michael Chandler Photos for Editorial Use
Earlier on Friday night, Monster Energy's Loureda (3-0 MMA, 3-0 BMMA) returned to the ring for a flyweight division bout against Tara "The Tiny Terror" Graff (1-2 MMA, 0-1 BMMA) from Maryland. Previous to the fight, Loureda had been sidelined from competition for 14 months, first due to an injury, then because of lockdown on MMA competitions in response to the coronavirus pandemic.
But when the bell rang at Mohegan Sun Arena, Loureda returned to full fighting form. Circling her opponent on the outside of the canvas, the rising MMA prospect controlled the pace and landed precise shots while avoiding grapples.
Towards the end of round two, Loureda increased the pressure, landing bigger shots and dismantling Graff's defenses. Finally, Loureda dropped Graff to the matt with a punishing right hook to the chin, followed by ground-and-pound until the referee ended the fight at the 5:00 mark. Directly after the fight, the avid dancer known for posting viral hit videos on social media celebrated with an extended victory dance in the octagon.
In her post-fight interview at Bellator 243, Loureda dedicated her victory to, "all the girls who look like me, who dance, who want to defend themselves, who are now going to be in MMA because I'm an inspiration and they're not scared. That's what I stand for."
The buzzer-beater TKO against Tara Graff marks Loureda's first win in 2020 and second knockout victory since joining Bellator in 2019. Previous to Bellator 243, the decorated taekwondo competitor who trains at American Top Team announced plans to compete in at least three fights per year: "This Loureda is mentally a lot stronger. This Loureda that's getting in the cage is completely different and is going to be more well-rounded in MMA, not just striking. I want to show all the talents I have in MMA."
Download High Res Valerie Loureda Photos for Editorial Use
Congratulations to both Monster Energy fighters on their dominant wins at Bellator 243. Also, thanks to Bellator and Mohegan Sun for showcasing a world-class fighting event amidst the adversities of the global coronavirus pandemic.
Michael Chandler and Valerie Loureda count amongst Monster Energy's elite MMA athletes along with Juan "The Spaniard" Archuleta, Sergio "The Phenom" Pettis, Rose Namajunas, Jon "Bones" Jones, Donald "Cowboy" Cerrone, Jorge "Gamebred" Masvidal, Chris "The All American" Weidman, Daniel Cormier, Phil Davis, Dominick "Dominator" Cruz, Tyron "The Chosen One" Woodley, Yair Rodriquez, Tony Ferguson, James Gallagher, Joanna Jędrzejczyk, Jessica-Rose Clark, Quinton "Rampage" Jackson, A.J. McKee, Aaron Pico, and Gaston Bolanos.
For more on Monster Energy's MMA athletes visit http://www.monsterenergy.com. Follow Monster Energy on YouTube, Facebook, Instagram and Twitter.
###
About Monster Energy
Based in Corona, California, Monster Energy is the leading marketer of energy drinks and alternative beverages. Refusing to acknowledge the traditional, Monster Energy supports the scene and sport. Whether motocross, off-road, NASCAR, MMA, BMX, surf, snowboard, ski, skateboard, or the rock and roll lifestyle, Monster Energy is a brand that believes in authenticity and the core of what its sports, athletes and musicians represent. More than a drink, it's the way of life lived by athletes, sports, bands, believers and fans. See more about Monster Energy including all of its drinks at http://www.monsterenergy.com.