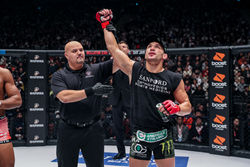 SAITAMA, Japan (PRWEB) December 30, 2019
Monster Energy congratulates Michael Chandler on his record-setting victory against Sidney Outlaw at Bellator 237 in Saitama, Japan on Saturday night. In front of thousands of enthusiastic fans inside martial arts landmark Saitama Super Arena, Chandler flatlined his opponent in the 160-pound catchweight bout within less than three minutes. The 33-year-old from High Ridge, Missouri, also set a new Bellator record for most stoppages at 12 stoppage wins.
Monster Energy's Chandler took on Sydney Outlaw in the co-main event at Bellator's debut in Japan. Broadcast live on the Paramount Network, the spectacle drew a massive crowd at Saitama Super Arena, a legendary venue with a long history in mixed martial arts and a maximum capacity of 36,500 seats.
Chandler was initially scheduled for a rematch with Ben Henderson at Bellator 237, but Henderson withdrew because of an injury. Stepping in as the replacement, Sidney Outlaw came to Japan on a nine-fight winning streak, including a victory over Roger Huerta in his Bellator debut in November. As a former Titan FC champion, Outlaw presented a formidable challenge to Chandler, who returned to the Octagon after a belt-losing effort against Patricio Freire in May.
After spending the last few months fully focused on his training in Florida, Chandler stepped into the cage in Saitama looking for a victory. Right from the start, the three-time Bellator Lightweight World Champion controlled the fight and set the pace. Pressuring Outlaw to the side of the Octagon, Chandler kept the bout in the upright position, chipping away at his opponent's stamina with a series of heavy body shots that took a visible toll.
Ultimately, the decision came in less than three minutes when Chandler landed a hard right behind Sydney Outlaw's ear, sending the 27-year-old to the canvas in a splits position. Before Outlaw was able to get back on his feet, Chandler followed up with a lightning-fast right to the head. The referee dove in for the stoppage at 2:59 minutes as the Japanese crowd celebrated the spectacular win.
"Here I am, ten years into the sport and just fought in the mecca of MMA! This was an awesome experience, I tried to be as present as possible to enjoy this experience," said Michael Chandler upon winning the 160-pound co-main event at Saitama Super Arena on Saturday night.
Saturday night's victory ends Outlaw's nine-fight winning streak and brings Michael Chandler's professional MMA record to 20 wins and 5 losses. Chandler has now won eight out of his recent ten outings and is back in the winner's circle after losing his Bellator Lightweight title – the third in his professional career – in May 2019.
While MMA insiders are demanding a rematch with Patricio Freire (30-4) for the Lightweight title in 2020, Chandler maintains a realistic outlook. "The 155-pound title is tied up for a while right now, and that's because I let it get tied up. So I have nobody to blame but myself," said Michael Chandler in his post-fight interview at Bellator 237. Then again, although the three-time champion has nothing to prove in the MMA universe, Chandler's performance in Japan left no doubt that he still has his eyes on the price.
Download photos for editorial use.
Michael Chandler is amongst Monster Energy's elite MMA athletes along with Jorge "Gamebred" Masvidal, Jon Jones, Conor "The Notorious" McGregor, Daniel Cormier, Donald "Cowboy" Cerrone, Phil Davis, Dominick "Dominator" Cruz, Chris 'The All American' Weidman, Tyron "The Chosen One" Woodley, Max Holloway, Yair Rodriquez, Jessica-Rose Clark, Li Jingliang, Gökhan Saki, Rose Namajunas, Cris Cyborg, T.J. Dillashaw, Quinton Rampage Jackson, Joe Schilling, Rory MacDonald, Gaston Bolanos, and Juan "The Spaniard" Archuleta.
For more on Monster Energy's MMA team visit http://www.monsterenergy.com. Follow Monster Energy on YouTube, Facebook, Instagram and Twitter.
About Monster Energy
Based in Corona, California, Monster Energy is the leading marketer and distributor of energy drinks and alternative beverages. Refusing to acknowledge the traditional, Monster Energy supports the scene and sport. Whether motocross, off-road, NASCAR, MMA, BMX, surf, snowboard, ski, skateboard, or the rock and roll lifestyle, Monster Energy is a brand that believes in authenticity and the core of what its sports, athletes and musicians represent. More than a drink, it's the way of life lived by athletes, sports, bands, believers and fans. See more about Monster Energy including all of its drinks at http://www.monsterenergy.com.