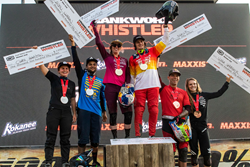 That was gnarly. It was intense rounds all the way through, but a great race. I had fun competing against a bunch of my friends and am stoked to get the win. Mitch Ropelato
WHISTLER, Canada (PRWEB) August 18, 2019
Monster Energy's Mitch Ropelato (USA / Dumpster Fire Racing) has taken home the win at the 100% Dual Slalom and took second place in Air DH at Crankworx, Whistler.
The Young American took on all comers, and despite slipping pedals in multiple rounds, still managed to carve his way to the top step of the podium box. Ropelato liked the brand new Dual Slalom track in whistler, which featured three huge berms and multiple small step-downs and rollers. With two sections of flat grass turns, the track was about as old school as you can get, with huge ruts forming by finals enabling riders to be extremely aggressive in the corners.
"That was gnarly," said Ropelato. It was intense rounds all the way through, but a great race. I had fun competing against a bunch of my friends and am stoked to get the win."
Ropelato's win today caps off his second place in the Air DH event here at Crankworx, which gave him a huge boost in the overall "King of Crankworx" competition. Consisting of points earned across multiple events, it favors multi-talented athletes who can do well across multiple disciplines. If he can manage to keep the lead, he will take home an additional $25,000 bonus and be crowned king of the Crankworx World Tour.
Air DH took place on the "most ridden trail in the world," which is Whistler Bike Park's, "A Line." The world-renowned jump trail features huge jumps from start to finish. Bike choice is always a big decision for this event, and Ropelato chose to ride his short travel trail bike to take advantage of the higher rolling speed.
With a light rain falling as the men made their way down the course, some of the polished dirt corners became treacherous, taking out more than a few riders. The track was in prime condition for the race, with many of the braking bumps and holes having been filled in in the week proceeding the race and Ropelato took full advantage of it, managing to keep the rubber side down as he pumped and scrubbed his way to the finish corral.
Monster Army's Matthew Sterling (USA) came fourth.
For more on Ropelato, Sterling and the rest of the Monster Energy team visit monsterenergy.com and make sure to follow Monster Energy's YouTube, Facebook, Instagram & Twitter for exclusive updates.
Download Air DH Photos for Editorial Use.
Download Dual Slalom Photos for Editorial Use.
About Monster Energy: Based in Corona, California, Monster Energy is the leading marketer and distributor of energy drinks and alternative beverages. Refusing to acknowledge the traditional, Monster Energy supports the scene and sport. Whether motocross, off-road, NASCAR, MMA, BMX, surf, snowboard, ski, skateboard, or the rock and roll lifestyle, Monster Energy is a brand that believes in authenticity and the core of what its sports, athletes and musicians represent. More than a drink, it's the way of life lived by athletes, sports, bands, believers and fans. See more about Monster Energy including all of its drinks at http://www.monsterenergy.com.