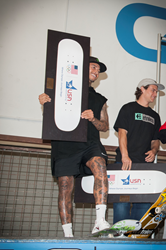 VISTA, Calif. (PRWEB) March 20, 2019
Monster Energy congratulates team riders Nyjah Huston and Tom Schaar on joining the first-ever USA Skateboarding National Team. Both skateboarders – Huston in Skateboard Street and Schaar in Skateboard Park – will compete in the 2019 qualifier season as official national team members for a chance to represent the United States in the premiere of skateboarding as a sanctioned Olympics event at the 2020 Tokyo Olympic Games.
The 2020 Tokyo Olympic Games will feature male and female skateboarders in two disciplines: Skateboard Street (July 24–25, 2020) and Skateboard Park (August 4–5, 2020). A total of 80 athletes from around the world – the top 20 qualifying participants for each gender/discipline – will compete in skateboarding at the Olympics.
The 16 skateboarders chosen for the USA Skateboarding 2019 National Team were announced today by USA Skateboarding (USAS) during a media event at the CA Training Facility (CA|TF) in Vista, California. As the recognized governing body for skateboarding in the United States, USA Skateboarding (USAS) is responsible for the selection, training, and fielding of national teams that compete in the Olympic Games, Pan American Games, and other sanctioned team events.
"I believe that this industry and this lifestyle has all the makings to change the world. Introducing the first-ever U.S. Olympic Skateboarding team is really special," said Gary Ream, USAS Chairman. "These skateboarders will receive the full USAS support during the 2019 qualifier season," said Josh Friedberg, USAS CEO, adding: "We will have the chance to share everything that makes skateboarding great and special with 5 billion people at the Tokyo Games."
Both Monster Energy team riders are part of a stacked field of top U.S. skateboarders in their respective disciplines: As the reigning SLS World Champion of Street Skateboarding and ten-time X Games gold medalist, 24-year old Huston from Laguna Beach, California, will represent the United States alongside Louie Lopez, Zion Wright and Chris Joslin in Men's Skateboard Street. Speaking on Huston's nomination, USAS CEO Josh Friedberg said: "Ever since speculations about skateboarding in the Olympics started, there was never any question that this guy would be part of the team."
In the Skateboard Park discipline, 19-year-old Schaar from Cardiff, California finished his 2018 season by taking third place at the 2018 Vans Park Series (VPS) Men's Pro Tour Finals in Suzhou, China. He will be battling for points in the 2019 Olympic qualifiers next to Team USA Men's Park Skateboarding riders Alex Sorgente, Tristan Rennie, and Jagger Eaton.
In Women's Park Skateboarding, Team USA welcomed Jordyn Barratt, Nicole Hause, Bryce Wettstein and Brighton Zeuner. The 2019 Women's Street Skateboarding National Team consists of Lacey Baker, Jenn Soto, Alexis Sablone and Mariah Duran.
Qualifications for the 2020 Tokyo Olympic Games will be based on World Skateboarding Rankings maintained by World Skate. Created in 2017, World Skate is the international federation governing skateboarding recognized by the International Olympic Committee (IOC). During the Olympic qualifying period beginning January 1, 2019 and ending May 31, 2020, skateboarders from around the world will earn points by competing in World Skate sanctioned events.
On the international level, more Monster Energy skateboarder will be looking for a chance to take home a medal at the 2020 Olympics: Thanks to her dual citizenship, Lizzie Armanto will be representing Finland in Women's Park Skateboarding. As the latest addition to the Monster Energy skateboarding roster, Brazil's Kelvin Hoefler will be representing his country, while European team rider Sam Beckett is on the United Kingdom's national team. Good luck to all our U.S. and international riders in the qualifiers!
Download photos for editorial use.
For more Monster Energy skateboarding visit http://www.monsterenergy.com and follow Monster Energy on Facebook, Instagram, Twitter for exclusive updates. For interview or photo requests contact Kim Dresser.
###
About Monster Energy
Based in Corona, California, Monster Energy is the leading marketer and distributor of energy drinks and alternative beverages. Refusing to acknowledge the traditional, Monster Energy supports the scene and sport. Whether motocross, off-road, NASCAR, MMA, BMX, surf, snowboard, ski, skateboard, or the rock and roll lifestyle, Monster Energy is a brand that believes in authenticity and the core of what its sports, athletes and musicians represent. More than a drink, it's the way of life lived by athletes, sports, bands, believers and fans. See more about Monster Energy including all of its drinks at http://www.monsterenergy.com.