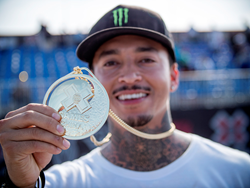 It's cool to win the tenth medal in this way. Not to say that the last ones were easy, but I did win on the first or second run. The feeling of winning on that last run, especially with me being the last skater is a feeling like no other. Definitely a win to remember, I'm stoked!" Nyjah Huston
SHANGHAI (PRWEB) June 03, 2019
Monster Energy congratulates team riders Nyjah Huston and Trey Wood on claiming gold in Skateboard Street and Skateboard Big Air, respectively, at the inaugural X Games Shanghai 2019 today. As the defending gold medalist in Skateboard Street, 24-year-old Huston claimed his tenth X Games Skateboard Street gold medal in a walk-off victory on the final run of the contest. His teammate, 18-year-old Wood, scored an upset by taking home his first X Games gold with a perfect technical Big Air run on the giant Mega Ramp at the Shanghai International Tourism and Resorts Zone.
The first-ever X Games Shanghai 2019 brought the world's premier action sports spectacle to audiences in China and millions of viewers across the globe via live broadcast on ESPN and partner networks. Next to BMX and freestyle motocross competitions, Sunday's two skateboarding events drew a capacity crowd to the X Games event village in Shanghai. They were in for a treat, as history-making skateboarding unfolded.
Kicking off the skateboarding action on the last day in Shanghai, the Men's Skateboard Street final featured 10 qualified athletes from five countries, namely Australia, Brazil, France, Japan and the United States. Each rider took three runs looking for a high score on the concrete street course. Designed for speed and flow, the course was lined by banks, quarterpipes and flat rails on the perimeter and featured an octagonal centerpiece stage with large stair sets, handrails, and a huge kicker stylized as a Chinese Dragon for big stunts.
Coming into the competition as the defending gold medalist after his win at X Games Sydney 2018, Huston suffered a harsh slam on a technical handrail maneuver at the end of his first run. The high impact fall left the world's most competitive street skateboarder, who claimed a medal in each of his last 14 X Games appearances, visibly limping. Trailing behind on the score board, Huston could not lock in that perfect run on his second attempt, either. Japan's Yuto Horigome and Arizona's Dashawn Jordan took the top spots with world-class performances as Huston was bumped off the podium into fourth place.
It was all or nothing. As the very last competitor to take his third and final run, Huston found himself in one of the high-pressure situations he is known to thrive on. Digging deep into his technical bag of tricks, the 24-year-old from Laguna Beach fired back by sending a perfect run that had the crowd in Shanghai on its feet: kickflip front boardslide across the centerpiece flatbar, backside overcrook the rainbow rail, kickflip backside lipslide the Euro gap rail, 360 kickflip into the bank, ollie blunt kickflip the quarterpipe, Caballerial frontside board fakie the big rail, big spin over the kicker gap, a highly technical frontside nollie heelflip nosebluntslide the big rail and improvised big flip over the bump sealed the deal with 94.00 points and the gold medal. Boom!
"It's cool to win the tenth medal in this way. Not to say that the last ones were easy, but I did win on the first or second run. The feeling of winning on that last run, especially with me being the last skater is a feeling like no other. Definitely a win to remember, I'm stoked!" said Huston on taking Skateboard Street Gold at X Games Shanghai.
Today's win brings Huston's career record to ten X Games gold medals in Skateboard Street – the most medals ever earned in the discipline – and 15 medals in total (ten gold, three silver, two bronze). He also holds a gold medal in the Real Street video competition. Huston made his X Games debut in 2006 at the age of 11 and became the youngest gold medalist in X Games Skateboard Street history at age 16 in 2011. He has won more prize money on the street competition circuit than any rider in history and took the Street League Skateboarding Super Crown World Championship five times. Outside of the contest arena, he has raised the bar with influential video parts such as "Rise & Shine" (2011), "Fade to Black" (2014) and "'Til Death" (2018). In March, Huston was announced as part of the official U.S. Skateboarding Olympics team to represent the United States at the Tokyo games in 2020 and just took first place at the SLS World Tour stop in London.
As the final event of the action-packed weekend, Skateboard Big Air drew a massive crowd to the 73-feet high Mega Ramp in the X Games village in Shanghai. Starting from a 59-feet roll-in, the world's elite Big Air skaters sent their best aerials over the kicker gap in the structure's middle – optionally clearing a 50-feet or 63-feet gap – before finishing their runs with massive aerials on the 27-feet quarterpipe. Each skater took five runs to post a high score – composed of the gap and quarterpipe aerials – in a final session featuring eight riders.
Having claimed bronze in his last Big Air appearance, Wood came into the event as a strong competitor. Yet nobody in the tight-knit field of Big Air skaters could have predicted the kind of surprise move the 18-year-old rookie unleashed on his first run: Starting from the top of the massive roll-in, Wood posted a massive backside body varial 720 over the big gap – a trick never seen before in competition – right into an 18-feet high varial Mc Twist on the huge quarterpipe for a 90.33-point score. Stunning the rest of the field, Wood's original trick combination held as the day's top score until the very end.
"I had my mind set on landing my run first try and I'm super stoked I was able to do that. I've ridden in X Games since I was eleven years old and winning my first gold medal is a crazy experience. My mother is also here today and winning gold with her watching is the greatest feeling ever," said Wood upon winning Skateboard Big Air gold today, adding: "This year I want to keep it rolling, get some more medals and have fun skateboarding. That's what it's about!"
Today's surprise win brings Wood full-circle to his X Games debut: He was a mere 11 years old when he first competed in Big Air at X Games Los Angeles in 2012 and has since evolved into a well-rounded rider and podium threat in the Park Skateboarding discipline. He now holds three X Games medals, including consecutive Big Air bronze medals at X Games in 2018 (Minneapolis and Sydney). Recently relocated to Queen Creek, Arizona, where he localizes the area's concrete skate parks, Wood has now placed in the top five in five out of seven Big Air starts and will be going into X Games Minneapolis this summer as defending gold medalist.
Also bringing the stoke to audiences in Shanghai this weekend, Monster Energy's Kelvin Hoefler from São Paulo, Brazil, hit the Skateboard Street finals with his signature blend of technical moves. Although the 26-year-old, who has medaled in every single X Games appearance since making his debut with back-to-back gold in Minneapolis (2017) and Norway (2018), did not get the perfect run he wanted, his highlights included: Nollie nosebluntslide the flat rail as wells as bigspin frontside bluntslide fakie, Caballerial lipslide and nollie hurricane down the big rail for 82.00 points and seventh place in the heated finals.
Download photos for editorial use only.
If you missed today's live broadcast from X Games Shanghai 2019, you can watch a full replay on the official X Games YouTube channel online. Additionally, the 60-minute recap 'Best of Skateboarding at X Games Shanghai' will air on ABC as part of the World of X Games series on Saturday, June 22 at 2 p.m. ET / 1 p.m. PT. Fans can follow the latest news and highlights across ESPN digital platforms, including XGames.com and X Games pages across YouTube, Twitter, Facebook and Instagram.
Visit http://www.monsterenergy.com for exclusive updates from X Games Shanghai 2019 including photos, videos, and contest results as they happen. Follow Monster Energy on Facebook, Instagram, Twitter for exclusive behind-the-scenes looks in Shanghai.
About Monster Energy
Based in Corona, California, Monster Energy is the leading marketer and distributor of energy drinks and alternative beverages. Refusing to acknowledge the traditional, Monster Energy supports the scene and sport. Whether motocross, off-road, NASCAR, MMA, BMX, surf, snowboard, ski, skateboard, or the rock and roll lifestyle, Monster Energy is a brand that believes in authenticity and the core of what its sports, athletes and musicians represent. More than a drink, it's the way of life lived by athletes, sports, bands, believers and fans. See more about Monster Energy including all of its drinks at http://www.monsterenergy.com.