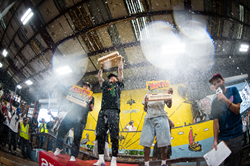 TAMPA, Fla. (PRWEB) March 02, 2020
What a weekend! Monster Energy congratulates team rider Nyjah Huston on taking first place at the 26th annual Tampa Pro street skateboarding competition today. In front of a capacity crowd at Skatepark of Tampa (SPoT) and global audiences tuned in via live stream, the 25-year-old from Laguna Beach, California won the coveted skateboard competition for the second time in his career and also took the win in Saturday's Independent Best Trick contest.
Huston was joined on the podium by his Monster Energy teammate, 28-year-old Ishod Wair from Bordentown, New Jersey, who took home the trophy for third place with style and technical consistency in the final.
Presented by Monster Energy as the official title sponsor, Tampa Pro is the most respected grassroots contest in skateboarding today. Since its humble beginnings in 1995, the competition has cultivated its own signature blend of state-of-the-art skateboarding, live music and side events. Many of today's skateboarding greats have claimed the podium at SPoT events, including Paul Rodriguez, Luan Oliveira, Torey Pudwill, Bastien Salabanzi, and reigning SLS World Champion Huston.
For the 26th edition of Tampa Pro, Monster Energy and Skatepark of Tampa (SPoT) announced a three-year partnership to boost the Skatepark of Tampa's global footprint and reinforce Monster Energy's commitment to authenticity in skateboarding. This summer, SPot will give next-generation riders a chance to shine in the global Damn Am contest series with stops in Japan, Barcelona, Los Angeles, New York City and more.
This weekend, Tampa Pro once again showcased the highest level of street skating. The world's best riders – hailing from Argentina, Brazil, Belgium, Canada, France, Germany, Japan, Russia, the United States and more – battled it out on the unique street course and concrete bowl at Skatepark of Tampa (SPoT).
Huston started his weekend on a high note in Saturday night's Independent Best Trick event. During the 30-minute jam session, Huston threw down technical rail tricks including kickflip backside Smith grind backside 180 across the tall box rail. He also attacked the kink rail in the center with a gap kickflip to backside tailslide bigspin and gap kickflip to backside noseblunt to claim first place. Also raising the bar in the Best Trick session, Monster Energy's Wair finessed a technical kickflip frontside feeble grind across the entire kink rail.
Huston continued his momentum into Sunday's semifinal. Putting down a perfect run, Huston qualified into the final in first place with standouts including gap backside 180 nosegrind and bigspin frontside boardslide on the kink rail and was joined by teammates Kelvin Hoefler and Wair in the final session.
When the action moved into the twelve-rider final, Huston sealed his win right away by sending a flawless first run: A huge kickflip across the entire box, 5-0 grind the bowl corner, gap to kickflip frontside boardslide, bigspin frontside boardslide fakie and backside tailslide the kink rail, 360 kickflip the kicker, half Cab crooked grind the rail, backside Smith grind the flat rail, backside nosegrind the Hubba, and a massive gap kickflip to backside lipslide down the large pyramid rail earned Huston 92.13 points and the win.
Taking his third and final run as a victory lap, Huston threw in a 360 kickflip across the big box to stoke the crowd before receiving the trophy and $10,000 in prize money.
Today's victory marks Huston's second win at Tampa Pro after bringing home the trophy in 2014. Known as the most competitive street skateboarder in history, Huston is the current SLS World Champion after claiming his third back-to-back title in 2019. The official U.S. Skateboarding Olympics team member is looking to represent the United States at the Tokyo Games in 2020 and is currently the only athlete ever to win X Games gold medals on five continents.
Joining Huston on the podium in Tampa today, Monster Energy's Wair stoked the crowd with his signature blend of technical precision and effortless style. His third and final run featured highlights such as back-to-back 360 kickflip and switch 360 kickflip over the kicker, nollie crooked grind and backside Smith grind the flat rail, frontside kickflip the quarterpipe, as well as kickflip frontside lipslide and switch heelflip frontside boardslide down the rail. When all was said and done, the certified Thrasher Magazine Skater of the Year (SOTY) walked away in third place with his first-ever Tampa Pro trophy.
Also putting on a strong showing in Tampa today, Monster Energy's Hoefler from Sao Paulo, Brazil, qualified into the final in second place and looked like a safe bet for a podium spot. His third final run featured standouts such as nollie frontside nosegrind the box, Caballerial frontside boardslide fakie the rail, gap to backside nosebluntslide the kink rail, fakie frontside bluntslide the rail, half Cab bluntslide 270 out and switch frontside bluntslide the flat rail, and half Cab noseslide 270 out the Hubba. Hoefler also put down an ultra-technical gap to sugarcane grind after the buzzer – not factoring into his score – and had to settle for fifth place.
In case you missed this weekend's live webcast from the Tampa Pro 2020 contest, you can watch a full replay on the official Skatepark of Tampa YouTube Channel.
Download photos for editorial use.
Thanks to Brian Schaefer and the entire crew at Skatepark of Tampa (SPoT) for another epic chapter in Tampa Pro history and a weekend of the world's best skateboarding in a family atmosphere.
For more Monster Energy skateboarding visit http://www.monsterenergy.com and follow Monster Energy on Youtube, Facebook, Instagram, and Twitter.
About Monster Energy
Based in Corona, California, Monster Energy is the leading marketer and distributor of energy drinks and alternative beverages. Refusing to acknowledge the traditional, Monster Energy supports the scene and sport. Whether motocross, off-road, NASCAR, MMA, BMX, surf, snowboard, ski, skateboard, or the rock and roll lifestyle, Monster Energy is a brand that believes in authenticity and the core of what its sports, athletes and musicians represent. More than a drink, it's the way of life lived by athletes, sports, bands, believers and fans. See more about Monster Energy including all of its drinks at http://www.monsterenergy.com.