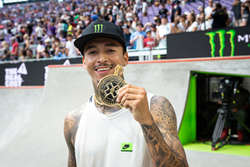 I needed this gold. I feel like street skaters always deserved another event out here, so I'm pumped. Nyjah Huston
MINNEAPOLIS (PRWEB) August 05, 2019
The Champ had the last word! Monster Energy congratulates Nyjah Huston on earning the gold medal in the Men's Skateboard Street Best Trick competition at X Games Minneapolis 2019 on Sunday. In a jam session featuring the world's best street skateboarders, the 24-year-old from Laguna Beach, California, rose to the top by landing the day's most technically advanced skate maneuvers. Huston's Monster Energy teammate Matt Berger from Canada finished in third place in the gold medal-only event.
Supported by Monster Energy as the official drink sponsor for the sixth consecutive year, Summer X Games continues to be the place to witness the state of the art in skateboarding's unstoppable progression. Expanding the platform for technical street skateboarding, the X Games brought back an event that was last contested 16 years ago at X Games Los Angeles 2003: Men's Skateboard Street Best Trick brought together nine of skateboarding's elite riders – including four gold medalists – in a 20-minute jam session to see who could put down the most spectacular, most technical move.
The action focused on the centerpiece section of the concrete street course. Lined by banks and transitions on all sides, the centerpiece featured several ledges with lots of potential for creative transfers, including tricks popped over the entire platform and onto one of the obstacle's downward-facing ledges.
Facing heat from Japan's Yuto Horigome, who took gold in the previous night's Men's Skateboard Street competition, Huston zeroed in on sending a massive gap out transfer onto the down ledge. Approaching the obstacle riding backward, the world's winningest street skateboarder posted a perfect Caballerial kickflip transfer to backside lipslide fakie on his second attempt. Maintaining his momentum as the session continued, Huston also sent a highly technical Caballerial backside nosebluntslide fakie in the same spot to seal his victory.
Here's a fun fact about today's win: After settling for the silver medal in yesterday's Monster Energy Men's Skateboard Street, Huston was initially headed to the airport to catch a flight home to California. Then he had a change of heart and decided to make his mark in Best Trick as a last-second entrant.
"I needed this gold," said Huston upon taking gold in Men's Skateboard Street Best Trick on Sunday. Speaking on the addition of a best trick format to the X Games roster, he said: "I feel like street skaters always deserved another event out here, so I'm pumped."
Today's Men's Skateboard Street Best Trick gold boosts Huston's X Games medal count to 17 in total (11 gold, 4 silver, 2 bronze). Huston also holds a gold medal in the Real Street video competition and has been competing at X Games since 2006, when he was 11.
After making a splash as the youngest gold medalist in X Games Skateboard Street history at age 16 in 2011, Huston emerged as a dominant force in competitive street skateboarding. Previous to this year's Summer X Games, he claimed three consecutive gold medals in Skateboard Street (Minneapolis 2018, Sydney 2018, and Shanghai 2019) and won the SLS World Championships in January for the fifth time.
Huston's street cred outside the contest arena is impeccable on the strength of influential video parts such as Rise & Shine (2011), Fade to Black (2014) and 'Til Death (2018). In March 2019, Huston was announced as part of the official U.S. Skateboarding Olympics team to represent the United States at the Tokyo games in 2020 and is currently working on a documentary feature on his Olympics journey with acclaimed skateboard video director Ty Evans.
Also stoking the crowd with next-level technical skate tricks, Monster Energy's Matt Berger popped a bigspin backside tailslide bigspin out over the bump to ledge for a strong third-place finish in this progressive event that will hopefully become an X Games staple.
Download photos for editorial use.
ESPN and ABC will televise a combined 18 hours of live X Games Minneapolis 2019 coverage. Eight-and-a-half additional hours of event coverage will be streamed live on the X Games Facebook, YouTube and Twitter pages to fans in the United States. X Games Minneapolis coverage will also be accessible via the ESPN App to viewers who receive their video subscription from an affiliated provider.
Following X Games Minneapolis 2019, ABC will show four hours of programming on Saturday, August 10, as part of the World of X Games series as well as a one-hour Best of Show featuring athletic and musical highlights on Saturday, August 17.
Don't miss out on the action in the Twin Cities. Score all the exclusive updates from X Games Minneapolis 2019 including photos and contest results as they happen visit http://www.monsterenergy.com. Follow Monster Energy on YouTube, Facebook, Instagram & Twitter and watch the official Monster Energy hashtag #unleashedatx on social media.
###
About Monster Energy
Based in Corona, California, Monster Energy is the leading marketer and distributor of energy drinks and alternative beverages. Refusing to acknowledge the traditional, Monster Energy supports the scene and sport. Whether motocross, off-road, NASCAR, MMA, BMX, surf, snowboard, ski, skateboard, or the rock and roll lifestyle, Monster Energy is a brand that believes in authenticity and the core of what its sports, athletes and musicians represent. More than a drink, it's the way of life lived by athletes, sports, bands, believers and fans. See more about Monster Energy including all of its drinks at http://www.monsterenergy.com.