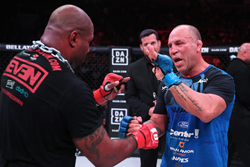 He rocked me, my chin was tested tonight. I know Wanderlei can hit hard. When he touched me this time, I had a flashback to when he rocked me in Japan - Quinton Rampage Jackson
SAN JOSE, Calif. (PRWEB) October 02, 2018
Monster Energy congratulates Quinton "Rampage" Jackson on his legendary victory over Wanderlei Silva via second round TKO at SAP Center in San Jose, California. The heavyweight co-headliner did not disappoint with many deeming it the 'fight of the night'. Jackson's Monster Energy teammate Gaston "Dreamkiller" Bolanos knocked out Ysidro Gutierrez at the 1:37 of the second round in the featherweight division to kick off the first DAZN-streamed main card fight.
In their fourth career meeting, the former UFC light heavyweight champion, Jackson defeated Silva at the 4:32 minute of round two tying their series at two wins for each. With a long-standing legacy Silva took fights between the two in PRIDE in Japan in 2003 and 2005, while Jackson took their third fight at UFC 92. Fifteen years later Jackson (38-13 MMA, 5-2 BMMA) sealed his legendary tie and 24th career stoppage victory, while Silva dropped to 35-14-1 (1 NC) after coming out of retirement.
Jackson, 40, came in with a serious weight advantage of 30 pounds to Silva's (42) first appearance at heavyweight since 2006, and the action was initially fairly slow. By round two Jackson was taking over and walking his man down, while Silva was only landing sporadic shots, and unable to avoid Jackson's power once the action heated up. Jackson landed his power left to the jaw followed by a right, which landed flush on the face Wanderlei. A second hard right forced the stoppage as Silva dropped and Jackson threw a flurry of ground and pound to end the fight.
"He rocked me, my chin was tested tonight," said Jackson. "I know Wanderlei can hit hard. When he touched me this time, I had a flashback to when he rocked me in Japan."
In a show of mutual respect the two fighters embraced in the center of the cage after the fight as Silva held up five fingers to suggest a final rubber match.
Gaston Bolanos (4-1) also delivered a second-round knock out in the featherweight bout. A much-heralded kick boxer Bolanos has successfully crossed over into MMA with his three previous wins in the first round. He came out aggressive looking for a quick night, but Gutierrez was not going down without a fight. Relying on his defense and wrestling, Gutierrez kept his damage to a minimum for the first round, until he got caught with a searing left hand from Bolanos early in the second round, dropped to his knees and got finished with a series of lefts and rights until referee Mike Beltran waved the match off.
Bolanos credited it all to sticking to his coaches' game plan.
"They said 'If you get him down don't worry about him getting back up, get your shots, they'll be there,'" said Bolanos.
Download photos for editorial use.
Jackson and Bolanos are amongst Monster Energy's elite MMA athletes along with Conor "The Notorious" McGregor, Chris "The All American" Weidman, Donald "Cowboy" Cerrone, Dominick "Dominator" Cruz, Tyron "The Chosen One" Woodley, Daniel Cormier, Max Holloway, Yair Rodriguez, Jessica-Rose Clark, Li Jingliang, Gökhan Saki and Rose Namajunas, Rory MacDonald, Phil Davis, James Gallagher, Roy "Big Country" Nelson and Joe Schilling.
For more on Monster Energy's MMA team visit http://www.monsterenergy.com.
About Monster Energy
Based in Corona, California, Monster Energy is the leading marketer and distributor of energy drinks and alternative beverages. Refusing to acknowledge the traditional, Monster Energy supports the scene and sport. Whether motocross, off-road, NASCAR, MMA, BMX, surf, snowboard, ski, skateboard, or the rock and roll lifestyle, Monster Energy is a brand that believes in authenticity and the core of what its sports, athletes and musicians represent. More than a drink, it's the way of life lived by athletes, sports, bands, believers and fans. See more about Monster Energy including all of its drinks at http://www.monsterenergy.com.