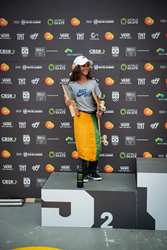 RIO DE JANEIRO (PRWEB) November 18, 2019
Monster Energy congratulates team rider Rayssa Leal on her strong second-place finish in the Women's Street Skateboarding competition at the Oi STU Open on Sunday. In front of a festival crowd at Praça Duó skatepark, the 11-year-old skateboarding prodigy from Imperatriz, Brazil, earned her podium spot in the Five-Star Olympics qualifier event presented by World Skate.
As the biggest skateboarding and urban culture event in Latin America, this weekend's Oi STU Open kicked off the second Olympic qualifier season. From now through May 31, 2020, athletes have a chance to earn qualifying points for skateboarding's premiere as an official discipline at the 2020 Tokyo Olympic Games.
Massive Olympic qualifier points were up for grabs at the Oi STU Open: The winner took home 40,000 points in the Street event, while first place in Park netted 60,000 points in the global Olympics ranking. Over 300 male and female skateboarders from across the globe – including Australia, Brazil, Canada, Finland, France, Japan, Sweden, as well as the United Kingdom and United States – came to Rio de Janeiro to battle for top spots.
In Sunday's Women's Street Skateboarding finals, all eyes were on the circular street course at Praça Duó. Featuring a centerpiece pyramid in the middle, the concrete course was lined by big rails, Hubba ledges, and stair sections on the perimeter with plenty of opportunities to unleash creative street moves.
Known for her diverse bag of tricks, Monster Energy rider and local favorite Rayssa Leal once again proved that age is just a number. Going up against an elite field including reigning SLS World Champion Pamela Rosa, the 11-year-old skateboard phenom put on a masterclass in style and consistency.
Unfazed by the competition, Leal landed a perfect first run featuring boardslide the big rail, nollie heelflip out the bank, frontside feeble grind the A-frame rail, kickflip down the six stair, gap to frontside lipslide the centerpiece pyramid rail, and a feeble grind the big rail for 4.10 points and an early lead.
In the Best Trick section, Leal maintained her momentum by sending a gap to backside lipslide down the pyramid rail (4.31 points) and a perfectly dipped backside Smith grind down the big rail (4.83 points). With current World Champion Rosa in close pursuit, Leal landed a kickflip down the massive nine-stair rail on her fourth Best Trick attempt for 3.3 points and maintained her top spot on the leaderboard.
But when Leal missed a gap to frontside feeble down the pyramid rail on her fifth and final attempt, Rosa used the opening to land a backside Smith down the rail to bump her from the top spot and claim the win. In a show of sportsmanship, Leal congratulated her fellow Brazilian on the course and walked away with 17.09 points total for a strong second-place finish.
Leal first turned heads in 2015 at the age of 6 by heelflipping down a set of stairs while wearing a fairy costume in a video that went viral across the globe.
Leal has since proven a strong competitor at the highest international level: This summer, she claimed an upset victory at the SLS World Tour stop in Los Angeles, making her the youngest competitor in history to ever win an SLS tour stop. She also won the Far'n High competition in France in May and placed fourth in her X Games debut in Minneapolis in August.
Leal finished off her 2019 SLS season by taking second place at the SLS World Championship in Brazil in September. With today's second place in Rio de Janeiro, Leal retains her number two position in the Women's Street Olympic World Skateboarding Ranking for the 2020 Tokyo games maintained by World Skate.
In the Men's Street Skateboarding final, Monster Energy's Nyjah Huston came in as the reigning SLS World Champion and top qualifier from Saturday's high-pressure semifinal. Huston's flawless first run featured nollie frontside nosegrind the Hubba, 360 flip the pyramid, bigspin up the Euro Gap, Half Cab kickflip into the bank, backside tailslide the bank-to-ledge, crooked grind across the entire A-frame rail, blunt kickflip the quarterpipe, pole jam to 50-50 grind the pyramid rail, kickflip frontside boardslide the big rail and backside 180 nosegrind revert the Hubba for an 8.6-point Run score.
When the action moved into Best Trick attempts, Huston followed up with a technical gap to Caballerial nosebluntslide on the centerpiece pyramid for 8.99 points. But he had difficulty locking in a technical backside kickflip nosegrind the big Hubba and settled for seventh place while Japan's Sora Shirai took home the win.
Huston's Monster Energy teammate and Brazilian tech wunderkind Kelvin Hoefler also started today's final on a high note. A perfect run featuring kickflip boardslide the rail, frontside flip fakie over the hip, Half Cab crooked on the bump-to-ledge, switch frontside bluntslide and kickflip backside lipslide the A-frame rail, Caballerial frontside boardslide fakie the Hubba ledge, no-comply up the Euro gap and a technical kickflip backside tailslide fakie down the big rail earned Hoefler 9.2 points, the weekend's highest Run score. But although he landed a technical kickflip frontside bluntslide fakie down the big rail for 8.79 points, Hoefler also did not get the Best Trick scores he wanted and finished in eighth place.
In today's Men's Park Skateboarding final, Monster Energy's Tom Schaar stoked the capacity crowd with a perfect run that brought him within inches of a podium finish. Using every angle of the concrete bowl park, the 20-year-old from Malibu, California, put together frontside blunt on the vert extension, huge backside ollie over the hip, frontside feeble in the deep end, frontside tailslide over the love seat, gap up to frontside lipslide the bowl corner, frontside Smith grind transfer off the extension, wallie pole jam Indy air over the volcano, head-high backside 540 in the deep end and kickflip lien air over the hip over the hip for 84.50 points and fourth place; a mere 0.5 points short of a spot in the top three.
On a positive note, today's fourth place in Rio de Janeiro also earned Schaar some crucial Olympics qualifier points now that he is back to full form after a difficult 2019 season overshadowed by injury.
For more Monster Energy skateboarding visit http://www.monsterenergy.com and follow Monster Energy on Facebook, Instagram, Twitter for exclusive updates.
About Monster Energy
Based in Corona, California, Monster Energy is the leading marketer and distributor of energy drinks and alternative beverages. Refusing to acknowledge the traditional, Monster Energy supports the scene and sport. Whether motocross, off-road, NASCAR, MMA, BMX, surf, snowboard, ski, skateboard, or the rock and roll lifestyle, Monster Energy is a brand that believes in authenticity and the core of what its sports, athletes and musicians represent. More than a drink, it's the way of life lived by athletes, sports, bands, believers and fans. See more about Monster Energy including all of its drinks at http://www.monsterenergy.com.