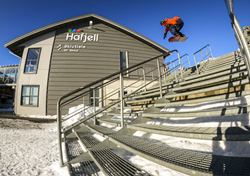 "X Games Real Snow is a legendary video contest that a lot of amazing shredders have participated in over the past years. I'm honored for the chance to be part of it this year and really happy to end up winning the Real Snow contest and Fan Favorite as well. Rene Rinnekangas
CORONA, Calif. (PRWEB) April 10, 2020
Monster Energy congratulates snowboard team rider Rene Rinnekangas on winning X Games gold in this year's X Games Real Snow contest. Battling against four of the world's best freestyle snowboarders in the annual video competition judged by an expert jury, the 20-year-old from Iisalmi, Finland, claimed the win with an epic 90-second video part for the ages.
In the all-urban, all-video snowboarding competition presented by ESPN's World of X Games, Rinnekangas and filmer/editor Anton "Jarssi" Kiiski also won the coveted Fan Favorite Award with a dominant 52 percent of online votes. Another Monster Energy rider claimed a medal in this year's X Games Real Snow event: SoCal snowboard prodigy Zak Hale earned silver with a heavy-hitting video part filmed and edited by Justin Meyer.
Originally launched in 2010, the X Games Real series is dedicated to showcasing the progression in action sports outside of the contest arena. Every year, the series awards full-fledged X Games medals for outstanding videos in Real BMX, motocross, skateboard, freeski, and snowboard events. In order to provide a 'real' experience of their sports, riders team up with a filmer of their choosing and also decide on the tricks, spots, and music featured in their video segments.
This year's Real Snow videos premiered online on March 30, 2020. A panel of industry experts crowned the winning athlete-and-filmer teams, while viewers at home were invited to vote online to select the Fan Favorite Award. The full line-up of this year's medalists was announced on April 5, 2020, in the 'World of X Games: Real Snow 2020' television broadcast on ESPN2.
When all was said and done, the Real Snow 2020 gold medal and Fan Favorite Award both went to Monster Energy's Rinnekangas. The 'Flying Finn' convinced fans and judges with a unique display of burly and creative tricks on the streets of his native Finland. Behind the scenes, Rinnekangas had to film his video part after fracturing his ankle in October 2019 and amidst traveling to major international snowboard competitions. Highlights include never-been-done tricks on rooftops, kinked handrails and wallrides – including the world's first double Miller flip on street – all captured by filmer and long-time Stunt Team friend Anton "Jarssi" Kiiski.
Make sure to watch Rene Rinnekangas' gold medal video in HD here.
"X Games Real Snow is a legendary video contest that a lot of amazing shredders have participated in over the past years. I'm honored for the chance to be part of it this year and really happy to end up winning the Real Snow contest and Fan Favorite as well. It's a dream come true! Thank you snowboarding!" said Rinnekangas upon claiming gold in X Games Real Snow 2020.
Although mostly known for legendary video parts like this year's winning entry, Rinnekangas can also hold his own in the world of big-arena snowboarding competitions. A true all-terrain vehicle (ATV), Rinnekangas is a podium threat in Slopestyle, Big Air, Rail Jam, Knuckle Huck and even SuperPipe (he competed in halfpipe as a youth). Always a crowd favorite thanks to his unpredictable moves and creative lines, Rinnekangas already owns a Slopestyle silver medal from X Games Aspen 2019, bringing his total count to two (1 gold, 1 silver), and plays bass guitar in his brother's punk band, Kätfish.
This year's Real Snow silver medal went to 27-year-old Monster Energy team rider Hale from Big Bear Lake, California, for a 100 percent pure street segment. Standouts include massive roof-to-rail drops, a backside lipslide down a massive three-kink handrail, and a backside nosepress on one of the tallest Hubbas ever caught on film. All tricks in the 90-second edit were documented on hand-held cameras by Justin Meyer, who has been filming Hale since his days as a 12-year-old upstart on the slopes of Big Bear.
You can watch Zak Hale's X Games Real Snow silver medal video here.
"The X Games Real Snow competition is a true snowboarders' event judged by snowboarders," said Hale upon winning the silver medal in Real Snow 2020. "I am so hyped to walk away with silver in this event — a lot of hard work and time goes into making these 90-second videos. Enjoy!"
Raised on the perfect slopes of Southern California's Bear Mountain, Hale has been at the forefront of a new generation of freestyle snowboarders for more than a decade. Known for his street-influenced style and diverse bag of tricks, Hale picked up his first set of elite sponsors at the age of nine. He continues to up the ante in high-profile video projects for the likes of Burton Snowboards and Monster Energy.
For more on Rinnekangas, ZHale and the rest of the Monster Energy snowboarding team, visit http://www.monsterenergy.com. Also follow Monster Energy on Facebook, Instagram, Twitter and watch the hashtag #UnleashedAtX. You can also view #crushquarantine to see what Monster Energy athletes are up to during this social distancing time.
About Monster Energy
Based in Corona, California, Monster Energy is the leading marketer and distributor of energy drinks and alternative beverages. Refusing to acknowledge the traditional, Monster Energy supports the scene and sport. Whether motocross, off-road, NASCAR, MMA, BMX, surf, snowboard, ski, skateboard, or the rock and roll lifestyle, Monster Energy is a brand that believes in authenticity and the core of what its sports, athletes and musicians represent. More than a drink, it's the way of life lived by athletes, sports, bands, believers and fans. See more about Monster Energy including all of its drinks at http://www.monsterenergy.com.