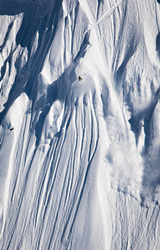 "There is something very unique about Sage, with his purist's connection to riding culture and its institutions, as well as his mandate to take his own path." Slush Magazine Editors
CORONA, Calif. (PRWEB) February 26, 2021
Monster Energy congratulates its snowboard athletes on claiming three highly coveted awards in the 2021 Slushies hosted by Slush Snowboard Magazine. In the annual awards voted by a panel of snowboard professionals, 27-year-old Sage Kotsenburg from Park City, Utah, received the Men's Rider of The Year title. His Monster Energy teammate, 27-year-old Jill Perkins from Moorpark, California, took home honors for Women's Rider of The Year and Women's Most Valuable Video Player.
The 2021 Slush Awards honored the best snowboarding movies, riders, videos, and overall contributions to snowboard culture of the last season. Slush magazine is published by Pat Bridges, the long-time editorial director of Snowboarder Magazine. Born out of the desire to provide authentic stewardship of snowboarding culture while evangelizing the "riding life", Slush delivers original content across several media channels. Now in their first year, the Slush Awards were voted by a panel of snowboard professionals.
When the results were finalized Kotsenburg took home the coveted Men's Rider of the Year trophy for a standout season, including the boundary-pushing 'Halcyon' video project filmed in natural environments such as Jackson Hole, Wyoming; Park City, Utah; Whistler, Canada; and Alaska.
"It's hard to argue with the fact that Halcyon would be a very different film were it not for Sage's style, charisma, work ethic and ability," said the Slush editors, adding: "There is something very unique about Sage, with his purist's connection to riding culture and its institutions, as well as his mandate to take his own path."
No stranger to industry awards, Kotsenburg already clinched Rider of the Year and Most Valuable Video Player honors (for his part in the 'Joy' snowboard film) at the 2020 Snowboarder Magazine Awards. Kotsenburg started his professional snowboarding career as a podium threat on the competition circuit. He earned Big Air bronze at X Games Aspen 2011 and Slopestyle bronze in 2012 and made history by claiming the first-ever Olympic gold medal in men's snowboard slopestyle at the 2014 Winter Olympic Games in Sochi, Russia. In recent years, Kotsenburg has favored creative video parts over contests, but still keeps stockpiling awards.
"Two Rider of The Year nods in as many seasons shows that whatever he is doing, it is working. It is also worth noting that Sage's output as of late is starting to make his 2014 Sochi Olympic Slopestyle gold seem like little more than a milestone on his journey to ever greater accomplishments," said the Slush editors.
Monster Energy's Perkins was crowned as the Women's Rider of The Year in the 2021 Slush Awards.
"Jill is still in the streets as we type this, chasing snow, shoveling spots, battling tricks and building a stack of shots that far surpasses what she has done to date," said the Slush editorial team in the awards announcements.
Perkins also received the Slush Award for Women's Most Valuable Video Player. As an upgrade to the classic 'Best Video Part' award, Slush Magazine hands out the trophy to "riders whose on screen performances, be it in a three-minute section, as the protagonist of a 30 minute biopic, or even as a key contributor to an ensemble, warrant elevated recognition."
Perkins earned this level of recognition with her segment in the Snowboarder Magazine Film "Tangle" that expands the boundaries of urban snowboarding, especially on burly handrails.
"With a keen eye for unique spots, natural style and a penchant for risk, Jill Perkins put together a video part for Snowboarder Mag's latest film, Tangle, that's remarkable without any gender qualifier," said the editors at Slush.
Her two recent Slush Awards come on the heels of last season's accolades for Perkins. At the 2020 Snowboarder Magazine Video Awards, Perkins was recognized as Women's Most Valuable Video Player (for her segment in 'Everybody, Everybody') and the Women's Fan Favorite Award, voted by online fans. Known as a true street snowboarder, Perkins is at the forefront of pushing the limits on urban obstacles such as rails, stairs, kickers, rooftops and walls. In 2015, she relocated from California to Salt Lake City and has been on a roll since.
"Having snagged award honors for her video parts in consecutive years, there's plenty to fuel the widespread opinion that her trajectory is still on its way up!" said the editors at Slush Magazine.
Download High Res Photos for Editorial Use.
For more on Sage Kotsenburg and Jill Perkins visit http://www.monsterenergy.com. Also follow Monster Energy on YouTube, Facebook, Instagram, Twitter for exclusive behind-the-scenes looks from the 2021 snow season.
About Monster Energy
Based in Corona, California, Monster Energy is the leading marketer of energy drinks and alternative beverages. Refusing to acknowledge the traditional, Monster Energy supports the scene and sport. Whether motocross, off-road, NASCAR, MMA, BMX, surf, snowboard, ski, skateboard, or the rock and roll lifestyle, Monster Energy is a brand that believes in authenticity and the core of what its sports, athletes and musicians represent. More than a drink, it's the way of life lived by athletes, sports, bands, believers and fans. See more about Monster Energy including all of its drinks at http://www.monsterenergy.com.