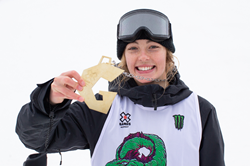 It's pretty tricky right now because it's raining, which has been a change from all the other days we've been riding. I came in today knowing it's about who rides the best under these conditions. So that's what I was trying to do." - Zoi Sadowski-Synnott
HAFJELL RESORT, Norway (PRWEB) March 09, 2020
Way to close out an epic edition of Winter X Games! Monster Energy congratulates its ski and snowboard athletes on a dominant performance on the final day of X Games Norway 2020 this Sunday.
In front of a stoked crowd at Hafjell Resort, team riders Max Parrot (Snowboard), Zoi Sadowski-Synnott (Snowboard) and Maggie Voisin (Freeski) claimed gold medals in Slopestyle events, joined by a silver-medal finish from Kokomo Murase (Snowboard) and bronze medals for Ståle Sandbech (Snowboard) and Giulia Tanno (Freeski).
Now in its fifth consecutive year in Norway, the biggest spectacle in action sports returned to Hafjell Resort about 120 miles north of the city of Oslo for snow sports competitions in a festival atmosphere. Aside from showcasing the highest level of freestyle skiing and snowboarding, the event featured concerts by hot musical acts Arif, Musti, Chris Abolade, and Alan Walker.
Supported by Monster Energy as the official energy drink partner of X Games, the competition attracted the world's best athletes in competitive freeski and snowboarding. Over the course of two action-packed days, X Games Norway 2020 awarded 26 medals overall, with Monster Energy riders claiming nine medals total (3 gold, 3 silver, 3 bronze).
Here's how the action unfolded for team Monster Energy on the final day of the invite-only competition in Scandinavia:
Women's Snowboard Slopestyle: Monster Energy's Zoi Sadowski-Synnott Claims Second Career Gold Medal, Kokomo Murase Earns Silver Medal
The Monster Energy team's gold medal run began in Women's Snowboard Slopestyle, the first medal event contested on Sunday. Amidst low visibility and drizzling rain, eight of the world's best freestyle snowboarders took on a downhill obstacle course stacked with creative rail elements, quarterpipes, and a massive 'Money Booter' jump at the bottom. In a format change introduced at X Games Aspen 2020, winners were no longer determined by their highest-scoring runs, but in a 32-minute jam session scored on overall impression.
When all was said and done, Monster Energy's Zoi Sadowski-Synnott brought the right blend of technical tricks and solid consistency to the demanding course.
Known for her mastery of switch tricks and new-school style, the 19-year-old from Wanaka, New Zealand, worked the rail section with backside bluntslide to back 180 Same Way out, switch backside 180 over the rail, noseslide pretzel, switch boardslide to gap, and frontside boardslide down the big rail. In the jump section, she sent a big backside 720, switch backside 540, frontside 720, switch backside double cork 900 stalefish, and a double backflip over the Money Booter that sealed the win.
"It's pretty tricky right now because it's raining, which has been a change from all the other days we've been riding. I came in today knowing it's about who rides the best under these conditions. So that's what I was trying to do," said Zoi Sadowski-Synnott upon claiming gold in Women's Snowboard Slopestyle at X Games Norway today.
Her latest Slopestyle gold is already the second win in the discipline for Sadowski-Synnott, bringing her X Games count to three medals (2 gold, 1 silver). The young Kiwi ripper barged onto the scene by claiming Slopestyle gold and Big Air silver at X Games Aspen 2019 and won every big-ticket event of that season, including the Burton U.S. Open. Recognized as Rookie of the Year in the inaugural Snowboarder Magazine Awards in 2020, Sadowski-Synnott also made history as the first athlete from New Zealand in 26 years to win a Winter Olympics medal when she earned Slopestyle bronze at PyeongChang 2018.
Joining Sadowski-Synnott on the Slopestyle podium today, Kokomo Murase came into X Games Norway not only as the youngest rider at age 15 but also the lightest at a mere 105 pounds. But that didn't stop the Japanese snowboarding wunderkind from dropping some of the heaviest tricks of the weekend.
Working the course with speed and difficult aerial moves, Murase sent a backside 360 over the rail and hit the rail section with frontside nosebluntslide, pole jam Indy grab, and frontside lipslide 270 out the big rail. In the jump section, the 15-year-old from Gifu, Japan, stoked the crowd with backside 720 mute, frontside double cork 900, frontside 720 stalefish, and a backside 1260 with a slightly imperfect landing for a strong silver-medal finish.
On the strength of today's silver medal, Murase now owns five X Games medals (1 gold, 3 silver, 1 bronze) across Slopestyle and Big Air disciplines. Murase has been turning heads since her upset victory at X Games Norway 2018, where she made history as the first girl to land a 1260 double cork in a competition and became the youngest competitor ever to earn a medal at Winter X Games at age 13. She has reached the podium in all five of her X Games starts and was recently named Snowboarder of the Year at the 2019 Japan Action Sports Awards.
Women's Ski Slopestyle: Monster Energy's Maggie Voisin Claims Second Gold Medal, Giulia Tanno Takes Bronze
Next, the action moved into Women's Ski Slopestyle as the day's first freeski event. A total of seven different countries were represented in the eight-rider final with athletes hailing from Canada, New Zealand, Norway, Switzerland, Sweden, as well as the UK and United States. Much like in the Snowboard Slopestyle final, the judges were looking for best overall impression in a 32-minute jam format.
Stepping into the final fresh off yesterday's Big Air silver medal, Monster Energy's Maggie Voisin unleashed a diverse trick selection onto the stacked course. In the rail section, the 21-year-old from White Fish, Montana, posted a gap to disaster, switch left 270 on 270 out, backside 270 left disaster on the down-flat-down, and left 270 on 270 off. Upping her trick difficulty from run to run, she also hit the massive jump elements with a rightside 720 tailgrab, letfside Rodeo 900, switch leftside 900 safety grab, and almost landed a leftside double cork 1260 for the best overall impression and the win.
"Today the weather was really tough and you just kind of had to roll with it. I just tried to stay consistent. Getting a podium yesterday and the win today, I'm just so grateful," said Voisin upon claiming Women's Ski Slopestyle gold at X Games Norway 2020 today, adding: "Today is also International Women's Day, so a big shout out to all the women snowboarders before us. I'm just so stoked to be a female athlete in action sports."
This weekend's Slopestyle gold and Big Air silver medals bring Voisin's X Games medal count to seven total medals (2 gold, 2 silver, 3 bronze). The Montana native now owns two Ski Slopestyle gold after winning the event at X Games Aspen 2018. Voisin made history at XG Norway 2017 as the first American woman to medal in Big Air. After undergoing knee surgery in April 2019, the U.S. freeski prodigy returned to competition in full strength by claiming Slopestyle bronze at XG Aspen 2020 in January.
Monster Energy's Giulia Tanno came into the final looking for a medal after closely missing the podium in Saturday's Big Air competition. When all was said and done, the 21-year-old from Lenzerheide, Switzerland, earned the bronze medal with a solid mixture of technical rail tricks and stylish airs. In the rail section, Tanno finessed gap to disaster on the double kink, frontside 450 out, and switch-up 270 on the down rail. And in the jump section, she sent a switch leftside 900 tailgrab, and rightside 900, switch rightside 540, as well as a leftside double cork 1080 for a strong third-place finish.
This weekend's Slopestyle bronze brings Tanno's X Games total to four medals (2 silver, 2 bronze). The member of the Swiss national freeski team also had a successful contest run with back-to-back podiums at International Ski Federation (FIS) events. At the recent FIS Freeski Big Air World Cup in Destne, Czech Republic, Tanno took home the 2019/20 Big Air crystal globe trophy as the top rider of the season.
Monster Energy Men's Snowboard Slopestyle: Max Perrot Takes Gold, Ståle Sandbech Earns Bronze
When the action moved into the Monster Energy Men's Snowboard Slopestyle event, eight finalists stepped to the challenging course in a 32-minute jam session. Straight out the gate, Monster Energy's Max Parrot revisited his rivalry with Canada's Mark McMorris, who took the gold medal in Saturday's Big Air final with Parrot settling for silver. Now it was time for a rematch!
Undeterred by rainy weather and the fact that his last Slopestyle win happened back in 2014, Parrot left nothing to chance in the competitive final. Hitting the rail section with difficult tech tricks, he posted a frontside bluntslide 450 off, gap backside 360 to 50-50 the kink rail, frontside nosebluntslide over the hip, pole jam Wildcat backflip, and backside lipslide fakie the big rail. Flexing his aerial skills in the jump section, Parrot sent a backside 1260, backside triple cork 1440 melon, Cab double cork 1260, Cab triple 1620 Indy grab, and a perfect frontside triple cork 1440 mute to clinch the win.
"I was definitely focused on a good result today. And I'm actually happy since the last time I won gold in Slopestyle was in 2014, so it's been a while. It feels good to taste gold again in Slopestyle at X Games!" said Parrot upon earning Men's Snowboard Slopestyle gold at X Games Norway 2020 today.
After claiming Big Air silver and Slopestyle gold at X Games Norway 2020 this weekend, Parrot now owns 13 medals (8 gold, 5 silver). The 25-year-old from Bromont, Canada, made an emotional return to competition by winning Big Air gold at X Games Norway 2019 after a battle with Hodgkin Lymphoma cancer. The eight-time X Games champion currently holds the record for the most medals in the history of X Games Snowboard Big Air (6 gold, 4 silver) and also earned Slopestyle silver for Canada at the 2018 Winter Olympics in PyeongChang.
Also stepping onto the Men's Snowboard Slopestyle podium today, hometown hero Ståle Sandbech from Rykkinn, Norway earned bronze with a versatile trick selection.
Opening the final as the first rider in, Sandbech sent a frontside lipslide over the hip, backside 180 to 50-50, Half Cab 50-50 the kink rail, boardslide up and down the Spider Rail, and front board 270 the big rail. Maintaining his flow into the jump section, the Norwegian local posted backside 1260 mute grab, backside double cork 720, backside Cab 1260 stalefish, frontside 1440 tailgrab, and backside 1440 mute to jump onto the podium with a solid third-place finish.
Today's Slopestyle bronze is Sandbech's first X Games medal since XG Norway 2017 and his sixth medal overall (2 silver, 4 bronze). A long-standing member of the Norwegian national snowboarding team, Sandbech earned Slopestyle silver at the 2014 Winter Olympics in Sochi. The 26-year-old also recently claimed third place in the Men's Snowboard Slopestyle final at Winter Dew Tour Copper Mountain 2020 and is known for his viral StaleLIFE video series on YouTube.
Download photos for editorial use.
Didn't catch today's live stream? X Games fans who missed the action at X Games Norway 2020 this weekend can re-watch all live broadcasts on the official X Games YouTube channel.
Viewers in the United States can also look forward to watching the 'Best of X Games Norway 2020' anthology as part of World of X Games on ABC Television. Part 1 of 'Best of X Games Norway 2020' will air on March 14, 1:00 p.m. ET and Part 2 on March 21, 1:00 p.m. ET on ABC.
Visit http://www.monsterenergy.com for exclusive content from X Games Norway 2020 including photos, videos, and contest results as they happen. Follow Monster Energy on YouTube, Facebook, Instagram, Twitter for exclusive behind-the-scenes looks in Oslo.
About Monster Energy
Based in Corona, California, Monster Energy is the leading marketer and distributor of energy drinks and alternative beverages. Refusing to acknowledge the traditional, Monster Energy supports the scene and sport. Whether motocross, off-road, NASCAR, MMA, BMX, surf, snowboard, ski, skateboard, or the rock and roll lifestyle, Monster Energy is a brand that believes in authenticity and the core of what its sports, athletes and musicians represent. More than a drink, it's the way of life lived by athletes, sports, bands, believers and fans. See more about Monster Energy including all of its drinks at http://www.monsterenergy.com.