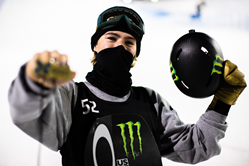 "Honestly, I'm speechless! I'm so proud of all the girls and grateful to still be here. Huge thanks to ESPN and all my sponsors for helping me be able to do what I love." Jamie Anderson
ASPEN, Colo. (PRWEB) January 30, 2021
The world's biggest snow sports spectacle is live again in the heart of the Rocky Mountains! Monster Energy congratulates its team snowboard and freeski athletes on a strong performance on day one of X Games Aspen 2021. Monster Energy riders claimed a total of four medals, including two gold medals, on an action-packed Friday at Buttermilk Mountain in Aspen Snowmass, Colorado.
In the competitive Jeep Women's Snowboard Slopestyle final, 30-year-old snowboard icon Jamie Anderson defended her gold medal from X Games Aspen 2020 with a dominant performance. Also rising to the podium in a stacked field of riders, 19-year-old Zoi Sadowski-Synnott earned a strong silver-medal finish. In the creative Snowboard Knuckle Huck event, 17-year-old Dusty Henricksen from Mammoth Lakes, California, shocked the competition by taking gold in his X Games debut. The medal run continued in Women's Ski SuperPipe, with 28-year-old Cassie Sharpe from Comox, Canada, claiming silver despite a heavy fall in the final.
The 20th consecutive X Games in Aspen is here to stoke fans with premium action sports from Friday to Sunday. Supported by Monster Energy as the official energy drink partner of X Games, the three-day spectacle will see the biggest names in action sports competing in Big Air, Slopestyle, SuperPipe and Knuckle Huck disciplines. As the pinnacle of winter action sports, X Games Aspen 2021 features more than 80 elite skiers and snowboarders from 16 countries in 14 medal events.
In response to the ongoing COVID-19 pandemic, X Games Aspen 2021 is closed to the public without the usual spectators and musical performances on site. Nevertheless, the latest progression and evolution of winter action sports are broadcast live to millions of viewers across the globe.
For the first time, the world's premier action sports event features a virtual experience, X Fest, bringing the excitement of X Games Aspen to fans at home for a chance to win prizes, play games, and connect with X Games sponsors. Fans can customize their avatars and interact with curated Monster Energy video content in the igloo-themed Chill Media Zone at XGames.com/xfest.
Here's how the real-life action unfolded for team Monster Energy on day one of X Games Aspen 2021:
Women's Snowboard Slopestyle: Monster Energy's Jamie Anderson Dominates, Zoi Sadowski-Synnott Claims Silver
Kicking off the action on Buttermilk Mountain on Friday, the Jeep Women's Snowboard Slopestyle final featured eight of the world's best freestyle snowboarders in a 35-minute jam session. Qualified riders hailed from Austria, Canada, Germany, Japan, New Zealand, and the United States. In a change to competition rules, winners were decided based on their single best run, no longer on overall impression. The new format made the competition exciting to the last second. Plus, the highly technical course design upped the ante with three rail segments as well as four consecutive jumps, including two quarter pipe transitions at the bottom.
While several riders struggled to put together a flawless run on the challenging course, Jamie Anderson came, saw, and conquered. On her very first run in the final, the two-time Olympic gold medalist cemented her victory by drawing on her versatile bag of tricks: Anderson worked the rail section with a backside lipslide the long rail, tailslide fakie the rainbow rail and gap-out Cab 270 to backside lipslide fakie the kinked rail. Blasting into the jump section, she spun a massive Cab double underflip 900 Weddle, frontside 540 truck driver, switch backside 180 Indy, and alley-oop backside 720 stalefish over the transition hip.
Taking her last run as a victory lap – and throwing in a backside rodeo 540 stalefish for good measure –Anderson claimed her seventh Slopestyle gold at X Games.
"Honestly, I'm speechless! I'm so proud of all the girls and grateful to still be here. Huge thanks to ESPN and all my sponsors for helping me be able to do what I love," said Anderson upon winning Women's Snowboard Slopestyle gold in Aspen on Friday.
As the most decorated woman in X Games history, Anderson now owns 18 medals total (7 gold, 7 silver, 4 bronze). Having started her X Games career at Aspen 2006, the 30-year-old from Lake Tahoe, California, has earned more wins in Slopestyle than any athlete in X Games history (both ski and snowboard). At X Games Aspen 2021, the Team USA athlete competes in a total of three events, including Knuckle Huck (as the first female competitor), and Snowboard Big Air.
Also bringing the heat in the final, Monster Energy's Zoi Sadowski-Synnott attacked the skateboard-inspired course with her signature blend of progressive style and big airs. After sitting in third place towards the end of the session, the 19-year-old from Wanaka, New Zealand, came through with an epic performance that convinced the judges on her fourth and final run.
In the rail section, Sadowski-Synnott showed her technical skills by popping a 50-50 to boardslide transfer, lipslide to fakie and switch front boardslide 270 out. When it was time to go big in the jump section, she sent a massive switch backside 900 Indy, backside 900 Weddle, Cab 540 underflip and ultra-slowly rotated crippler over the final transition obstacle to bump into silver medal position.
Today's silver medal is the young kiwi ripper's second; the other coming from Big Air at Aspen 2019. At only 19 years of age, Zoi Sadowski-Synnott already owns two X Games Slopestyle gold medals, and four medals in total.
Snowboard Knuckle Huck: Monster Energy's Dusty Henricksen Takes Gold in X Games Debut
As the night settled over Aspen Snowmass, the moment had come for the fan favorite event known as Wendy's Snowboard Knuckle Huck. In a 20-minute jam session judged on overall impression, riders 'hucked' technical and stylish moves off the Slopestyle jump ramp's roll-over, also called the 'knuckle'. With no rules holding them back, the eight riders were ready to unleash their best tricks. "Knuckle Huck is like getting to go to recess. I can't wait", said Dusty Henricksen in a pre-interview with ESPN.
As it turned out, X Games rookie Henricksen had the right combination of creativity and athletic prowess to catch the judge's attention. In the free-flowing session under the floodlights, the 17-year-old from Mammoth Lakes, California, worked the knuckle with difficult tech tricks. Standouts such as fakie pop underflip, Cab 180 tail press into a front flip, fakie nose-press nollie Cab 540 underflip, and a stylish layback hand drag to pretzel backside 180 earned the rookie the gold medal in his X Games debut.
Tonight's gold marks the first X Games medal for Henricksen. Raised on a steady diet of snowboarding since age 2, he cut his teeth in Big Bear before making the move to Mammoth Lakes at age 12 and landing a spot on the U.S. Snowboard Rookie Team. In 2020, Dusty turned heads with his surprise Slopestyle win at the U.S. Grand Prix at Mammoth Mountain and took the gold medal in the 2020 Youth Olympic Games in Lausanne, Switzerland. Keep an eye on this young upstart, who will also compete in Big Air and Slopestyle at Aspen 2021.
Women's Ski SuperPipe: Monster Energy's Cassie Sharpe Finishes with Silver Medal
As Friday night continued, all eyes were on the massive snow halfpipe on Buttermilk Mountain for the Women's Ski SuperPipe final. In a 25-minute jam session, seven of the world's best halfpipe riders took on the 22-foot-high walls of the SuperPipe. Athletes from Canada, China, as well as the United Kingdom and United States competed with a slight change of contest rules: While last year's winner was chosen on 'overall impression', only the single best run score counted at X Games Aspen 2021.
In the absence of defending gold medalist Kelly Sildaru, the night's action soon culminated in a new head-to-head rivalry: Cassie Sharpe from Comox, Canada, versus X Games newcomer Eileen Gu from China. With Gu taking the top spot on her first run, Olympic gold medalist Cassie Sharpe kept in close pursuit by stacking increasingly difficult tricks.
On her second run, Sharpe put together a strong routine, opening with a brand-new leftside 1260 air blasted 10'9" high, followed by a corked 900 tailgrab, into a corked leftside 540, air to fakie, switch left 360, stylish flair and a fully inverted 1080 on the last wall. While the flawless run put Sharpe in second place, she needed something big to knock Eileen Gu off the top spot. Unfortunately, Sharpe's third run was cut short by a heavy fall on the opening 1260 air, forcing her to withdraw from competition and settle for the silver medal.
Friday's silver medal brings Sharpe's X Games record to five medals (2 gold, 1 silver, 2 bronze). Known for her near-perfect record, Sharpe is the reigning Olympic champion and has now reached the podium at 14 of 15 halfpipe events since December 2017. Career milestones include gold at the 2018 Winter Olympics and X Games Aspen 2019, as well as two Crystal Globe titles for halfpipe (2018 and 2019). Before her 2020 season was cut short by the pandemic, Sharpe claimed back-to-back halfpipe wins at the U.S. Grand Prix at Mammoth Mountain and Winter Dew Tour Copper Mountain.
Download Photos for Editorial Use.
This wraps up a strong first day at X Games Aspen 2021. Stay tuned as 13.5 hours of competitions will be broadcast live on ESPN, ESPN2 and ABC, supplemented by live coverage and behind-the-scenes content across digital X Games properties. Also catch the action on ESPN's online streaming services, with select disciplines available on X Games YouTube, Facebook, TikTok, and Twitter, as well as the ESPN App. In addition to all of the content on ESPN's U.S.-based media platforms, X Games Aspen 2021 will be televised globally in 192 countries and territories to more than 500 million homes.
Also visit http://www.monsterenergy.com for exclusive updates from X Games Aspen 2021 including photos, videos, and contest results as they happen. Follow Monster Energy on YouTube, Facebook, Instagram, Twitter for exclusive behind-the-scenes looks at Buttermilk Mountain.
About Monster Energy
Based in Corona, California, Monster Energy is the leading marketer of energy drinks and alternative beverages. Refusing to acknowledge the traditional, Monster Energy supports the scene and sport. Whether motocross, off-road, NASCAR, MMA, BMX, surf, snowboard, ski, skateboard, or the rock and roll lifestyle, Monster Energy is a brand that believes in authenticity and the core of what its sports, athletes and musicians represent. More than a drink, it's the way of life lived by athletes, sports, bands, believers and fans. See more about Monster Energy including all of its drinks at http://www.monsterenergy.com.