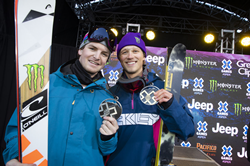 I've been snowboarding for more than half my life now and am trying to get my stuff together. It gets really hard, everyone is sending it and doing their best. I'm really stoked for all the girls today. Jamie Anderson
ASPEN, Colo. (PRWEB) January 27, 2020
The biggest day of X Games Aspen 2020 is officially in the books! A total of nine competitions at the premiere action sports spectacle on Buttermilk Mountain awarded medals on Saturday. When all was said and done, Monster Energy athletes claimed gold in a whopping six of those nine events, including a three-peat win in Snow BikeCross by Cody Matechuk, Max Parrot reclaiming Men's Snowboard Big Air gold after missing the event last year, and Colby Stevenson making history as the first rookie to ever win Men's Ski Slopestyle gold.
The 19th consecutive X Games in the heart of the Rocky Mountains is here to stoke fans with premium action sports and musical performances in a festival atmosphere from Thursday to Sunday. Presented by Monster Energy as the long-time energy drink partner, X Games Aspen 2020 will award 59 medals in 21 disciplines over the course of four days.
Televised live to global audiences, the event features 166 athletes from 21 countries as well as music performances by acclaimed urban and electronic artists. On Saturday night, the crowd experienced live sets from electronic acts ILLENIUM and Alesso on the GEICO Music Stage.
Here's how the Monster Energy team's medal run unfolded across ski, snow bike, and snowboard disciplines on day three of X Games Aspen 2020:
Women's Snowboard Slopestyle: Monster Energy's Jamie Anderson dominates
Download Photos of Women's Snowboard Slopestyle Jamie Anderson and Kokomo Murase
The Jeep Women's Snowboard Slopestyle final started the action as the day's first medal event. Under blue skies, eight of the world's best freestyle snowboarders took on the downhill obstacle course stacked with three different rail segments as well as four consecutive jumps. As a change to the format, winners were no longer determined by highest-scoring runs, but in a 35-minute jam session scored on overall impression.
In the field of riders hailing from Canada, Japan, Austria, Finland, New Zealand, and the United States, the woman to beat was Monster Energy's Jamie Anderson.
Although the 29-year-old from Lake Tahoe, California, had missed last year's Slopestyle event due to an injury, she still commands an unparalleled record: Anderson came into the final with 14 podium finishes (including five gold) in the discipline in just as many appearances and took home her last Slopestyle gold at X Games Aspen 2018.
Unfazed by a new generation of riders in the final, the most decorated woman in X Games history dominated the final. Anderson combined rail tricks like 50-50 gap to 50-50 backside 180 out, Cab 270 on to 270 out, and switch tailslide 270 with technical aerials such as frontside 720 Indy, backside 540 mute, Cab double underflip Indy, backside rodeo 720 from sharkfin quarterpipe in the jump section for a well-deserved first-place finish.
"I've been snowboarding for more than half my life now and am trying to get my stuff together. It gets really hard, everyone is sending it and doing their best. I'm really stoked for all the girls today," said Jamie Anderson upon winning Women's Snowboard Slopestyle gold in Aspen on Saturday.
Saturday's gold medal brings Jamie Anderson's X Games record to 17 medals total (6 Gold, 7 Silver, 4 Bronze). The two-time Olympic Gold medalist is podium-perfect in 15 appearances at X Games and also owns a new record: She has now surpassed Shaun White and Mark McMorris for the record of holding the most Snowboard Slopestyle gold in X Games history at six medals. The queen is officially back!
Joining Jamie Anderson on the podium, 15-year-old Japanese rookie Kokomo Murase stoked the judges with a well-rounded performance. Having already claimed silver in Women's Snowboard Big Air on Thursday, Murase held her own in the competitive Slopestyle final: Highlights such as 50-50 transfer to boardslide to tailtap out, boardslide 270 out, and 50-50 frontside 180 Indy out on the rails, plus aerials like Cab 540 Indy, backside 720 mute, Frontside double cork 900 Indy, and switch backside 180 mute in the jump section earned Murase the bronze medal.
The youngest snowboard competitor at X Games Aspen 2020 now owns four X Games medals (1 gold, 2 silver, 1 bronze). Murase has been turning heads since her upset victory at X Games Norway 2018, where she made history as the first girl to land a 1260 double cork in a competition.
Para Snow BikeCross: Monster Energy's Doug Henry Claims Second Consecutive Gold Medal
Download Photos of Para Snow BikeCross Doug Henry
In Saturday's first motor sports event, snow bike athletes who are not ambulatory competed in the Para Snow BikeCross final. "Para" refers to a level of paralysis that prevents the rider from standing. Riders customize their snow bikes with alterations such as hand control and seat modifications.
Monster Energy's Doug Henry from Torrington, Connecticut, came into the race as the defending gold medalist. Although competing as the oldest athlete at X Games Aspen 2020 at age 50, Henry still remains a podium threat. The three-time AMA Pro Motocross Champion all but dominated the inaugural Para Snow BikeCross event at Aspen 2019 and was not going to let anyone steal his crown this year.
Grabbing the holeshot right after the start, Henry locked bars with Will Posey during a drag race to the top of the course. Once the two riders separated, Henry clinched the top spot and expanded his lead strategically throughout the six-lap race. At the halfway point, the seasoned motocross and snow bike racer was already more than 7 seconds ahead of his closest competitor.
On the final round, Henry started lapping riders on the way to his second consecutive win in the discipline. With a 15-second lead on silver medalist Brandon Dudley, Doug Henry charged over the finish line with a 5:22.189 overall time to claim the gold medal.
"The track changes all the time in snow biking, so we made good changes to the bike today. We ended up with another gold and I couldn't be happier," said Doug Henry upon winning Para Snow BikeCross gold in Aspen on Saturday.
This latest victory brings Doug Henry's X Games record to eight medals (3 gold, 2 silver, 3 bronze). The 50-year-old competed as a decorated motocross racer until a Supermoto crash in 2007 left him paralyzed from the waist down. Inducted into the AMA Motorcycle Hall of Fame in 2005, he continues his passion for racing as a top competitor in adaptive snowmobile and Para Snow BikeCross events.
Men's Ski Slopestyle Final: Monster Energy's Colby Stevenson Takes Gold at First X Games
Download Photos of Men's Ski Slopestyle Colby Stevenson and Evan McEachran
X Games rookie and Monster Energy athlete Colby Stevenson continued his dream weekend in the Men's Ski Slopestyle final. After taking gold in Ski Knuckle Huck on Thursday night, the 22-year-old from Park City, Utah, emerged from Friday's Slopestyle qualifiers in first place. But statistically speaking, the odds were against him: No rookie has ever won Slopestyle gold in 19 years since the event made its debut at X Games.
Saturday's final was about to change that. Stevenson faced the world elite of the sport, including defending gold medalist Alex Hall, with confidence and a big bag of tricks. In the 35-minute jam session judged on variety and creativity, Stevenson had the right formula to clinch the win.
The rookie worked the rail section with risky tricks and sent technical aerials spinning in all four directions over the jumps. Highlights in the rail section included left backside 360 switch up continuing 270, rightside 450 backside switch up to 270 out, and a switch 270 pretzel to 630. Stevenson stomped difficult aerials with authority, including a switch left dub 1080 stalefish, double cork 1440 Cuban, and switch left double cork 1440 safety grab that sealed the deal and won the rookie his second gold at this X Games.
"I had no idea that I was going to win this thing. I was just hoping to make it into the finals. Thanks to everyone for coming, what a day!" said Colby Stevenson upon taking gold in Men's Ski Slopestyle in Aspen today.
After making history as the first rookie Slopestyle winner in his X Games debut, Colby Stevenson now owns two gold medals (Knuckle Huck and Slopestyle). The 22-year-old is a 2015 graduate of the Winter Sports School in Park City and US Ski Team member. Competitive highlights so far include second place at the March 2019 World Cup in Silvaplana, Switzerland, and third place at the Ski Slopestyle World Cup in Seiser Alm, Italy, one week ago.
Joining Stevenson on the podium, Monster Energy rider Evan McEachran took home silver as his very first medal at an X Games. The 22-year-old from Ochran, Canada, closely missed the podium with a fourth-place finish in Aspen 2019 but found his line on this year's course.
McEachran sent several super technical runs down the course, including trick highlights such as backside 360 switch up pretzel 270 and switch left 450 to backside switch up to 270 out. In the jump section, the rookie put down double cork 1080 Meader grab (named after Ian Meader), switch left double 1260 tail to Japan and switch rightside double 1440 for the well-deserved silver medal.
Men's Snowboard Slopestyle Final: Monster Energy's Darcy Sharpe Wins First Gold Medal
Download Photos of Men's Snowboard Slopestyle Darcy Sharpe
In the Jeep Men's Snowboard Slopestyle final, an elite field of riders descended on the course to challenge defending gold medalist Mark McMorris for the top spot. Anything could happen, as the new 35-minute jam session format shifted the focus to overall consistency instead of putting down a single high-scoring run.
As it turned out, the new scoring system proved a perfect match for Monster Energy's Darcy Sharpe.
Known for his technical rail tricks, the 23-year-old from Comox, Canada, had already proven himself as podium material in the discipline. At X Games Aspen 2018, the brother of Monster Energy freeskier Cassie Sharpe had claimed Slopestyle silver and was ready to raise the bar this year.
Sharpe worked the rail section with finesse, including highlights such as hardway switch 270 bring-back, lipslide 270 out, and frontside 270 on to switch backside inverted 450 out. He also stoked the crowd with perfectly executed aerials like Cab double cork 1080 mute, switch backside 1260 nosegrab, frontside triple cork 1440 Indy, backside triple cork 1440, and a backside 900 mute off the shark fin obstacle. The judges were equally stoked and handed the Canadian his very first X Games gold.
"I am ridiculously happy!" said a nearly speechless Darcy Sharpe upon claiming Men's Snowboard Slopestyle gold in Aspen today.
Saturday's gold medal marks Darcy Sharpe's second X Games podium after taking Slopestyle silver in 2018. Now that he's had his taste of gold, Sharpe will be back for more: He's competing in the Snowboard Rail Jam and Knuckle Huck on Sunday.
Snow BikeCross: Monster Energy's Cody Matechuk Earns Third Consecutive Gold Medal
Download Photos of Snow BikeCross Cody Matechuk
The focus shifted from freestyle tricks to raw speed and acceleration in the Wendy's Snow BikeCross race. Now in its fourth year, Snow BikeCross has become a fixture at X Games with riders competing on motocross bikes transformed into snow bikes via custom conversion kits featuring rear-mounted track drives and skis for steering. The Snow Park Technologies-designed course challenged riders with a mixture of tight turns, technical moguls and tabletop jumps.
Monster Energy's Cody Matechuk came into the race as the man to beat after claiming back-to-back gold medals in the discipline at Aspen 2018 and 2019. But on the way to the final twelve, the 25-year-old from Cochrane, Canada, suffered a heart-stopping scare. Riding in first place on the last lap of the semi-final, Matechuk aired out the uphill double jump but had to eject from his Yamaha snow bike in mid-air to avoid collision with a stranded rider on the ground. With his bike stalling after suffering damage in the crash, the defending champion had to scramble and still managed to qualify into the final in second place.
Just in time before the final twelve-lap race, Matechuk's team replaced the ski on the front of his bike. In the chaotic start, Seth Fischer grabbed the hole shot, but Matechuk wasted no time to claim the lead within the first lap. From that point onwards, the seasoned racer cemented himself in first place and worked the course as if riding on rails.
Challenging light conditions caused several riders to crash, but Matechuk charged on undeterred. Expanding his lead with controlled acceleration out of tight turns, the defending gold medalist was already over 12 seconds ahead of the pack with five laps to go in the race.
In a Déjà vu of last year's final, Cody Matechuk clutched the lead while the rest of the field battled for second place. When all was said and done, Matechuk finished the final race with an 8:42.768 overall time – a solid 15.641 seconds ahead of Yanick Boucher in second place – and received the gold medal at the finish line.
"What can I say is that I like this color! We had a little bit of trouble in the beginning, but I have a great crew and they helped me out. We got a new ski on, back for the final! And I hope this was a good show for you guys," said Cody Matechuk upon taking first place in Wendy's Snow BikeCross on Saturday night in Aspen.
Saturday's win marks Cody Matechuk's third consecutive Snow BikeCross gold medal after winning gold in 2018 and 2019.
He thereby joins an elite club of motorized winter sports athletes who have earned threepeat gold medals at X Games, including Blair Morgan, Tucker Hibbert, and Mike Schultz. Previously a motocross racer, the Canadian is building a legacy in the relatively young sport and now owns four X Games medals in total (3 gold and 1 bronze).
Women's Ski SuperPipe: Monster Energy's Cassie Sharpe Takes Home Bronze
Download Photos of Women's Ski SuperPipe Cassie Sharpe
The capacity crowd at Buttermilk Mountain packed in closely around the halfpipe area for the Women's Ski SuperPipe final. Eight of the world's leading vertical snowboard athletes attacked the 600-foot long snow halfpipe with its 22-foot walls in a new competition format: Instead of crowning a winner based on the best out of three runs, the judges were now looking for overall impression in a 30-minute jam session.
All eyes were on the defending gold medalist, Monster Energy's Cassie Sharpe. The 27-year-old from Comox, Canada, had proven her technical ability and vertical leap in perfect final runs at Aspen 2019. But how would she fare in the new jam format? Adding to the pressure, Sharpe had suffered a concussion in September 2019 and only just returned to competition after having to miss the first two World Cup events of the season.
But once the final session kicked off, Cassie Sharpe hit the superpipe without missing a beat. Soaring higher than her competitors, Sharpe strung together rightside 900, flair, huge 360 to fakie into a switch 360 and a 10'2" huge left 900 tailgrab on her first run. On her second hit, the sister of Monster Energy snowboarder Darcy Sharpe raised the difficulty with a massive tailgrab 1080 on the last wall, but also missed a landing in the same run.
With Estonia's Kelly Sildaru and Canada's Rachael Karker taking turns at the top of the leaderboard, the pressure was on Sharpe to catch up and post big tricks. After combining high-flying 900s both ways and a technical switch 360 in a run, she needed something big for her last attempt: Cassie Sharpe found it with an 11'2" high, fully inverted 1080 on her last run of the night, but ultimately had to settle for the bronze medal as the judges named Sildaru the winner of the jam session.
Saturday night's Ski SuperPipe bronze is Cassie Sharpe's fourth X Games medal (2 gold, 2 bronze). Since December 2017, Sharpe has now reached the podium at ten of twelve halfpipe events. Career milestones include gold at the 2018 Winter Olympics and X Games Aspen 2019, as well as two Crystal Globe titles for halfpipe (2018 and 2019).
Men's Snowboard Big Air: Monster Energy's Max Parrot Returns to Aspen, Claims Gold
Download Photos of Men's Snowboard Big Air Max Parrot and Sven Thorgren
Wrapping up a massive day at X Games Aspen 2020, The Real Cost Men's Snowboard Big Air final possessed all the ingredients for a history-making showdown. With Canada's Mark McMorris as the defending gold medalist, the eight-rider final marked the return to Aspen of Monster Energy's Max Parrot.
At Aspen 2019 he 25-year-old from Bromont, Canada, was sidelined from competing due to a battle with Hodgkin Lymphoma cancer. Fully recovered, Parrot made an emotional comeback to competition by clinching gold at X Games Norway in August 2019 and has also claimed first place at Air + Style Beijing in December 2019.
With Parrot going blow-for-blow against McMorris, the 30-minute jam session soon escalated into one of the most spectacular Snowboard Big Air finals in X Games history. Known for his diverse bag of tricks, Parrot chose his tricks carefully, as he rifled off one perfect aerial after the other, including 1620s rotated in three different directions. The Canadian landed his very first frontside triple cork 1620 mute in competition, alongside a Cab triple cork 1620 Indy and backside 1620.
Parrot also stomped a Cab triple cork 1800 Indy, a trick that won him gold in 2018 and again sealed the deal in 2020.
"Honestly just to be out here one year later since I wasn't here last year, that's already amazing! The jump is so fun and every one of the riders killed it. And to get back the medal this year, the last time I had it was in 2018, makes me really stoked!" said Max Parrot upon winning Men's Snowboard Big Air gold in Aspen on Saturday.
On the strength of Saturday's victory, Max Parrot now owns the most medals in the history of X Games Snowboard Big Air (6 gold, 3 silver). Combined with medals in Slopestyle, he now owns 11 X Games medals overall. With seven snowboard gold medals under his belt, Parrot now ties Kelly Clark and Nate Holland in #4 for most snowboard gold in X Games history.
Joining Parrot on the Big Air podium, his Monster Energy teammate Sven Thorgren impressed the judges with a barrage of technical bangers. His backside flatspin 1620 stalefish, backside 1620 stalefish, frontside triple cork 1440 mute, backside triple rodeo melon, and Cab 1620 roast beef grab earned Thorgren a strong bronze medal finish.
This marks the third consecutive Big Air medal for Sven Thorgren after silver at XG Norway 2019 and bronze at XG Aspen 2018 and his fifth X Games medal (2 gold, 1 silver, 2 bronze). The 25-year-old from Stockholm, Sweden, will be back on the final day of X Games Aspen looking to bolster his medal count in the Snowboard Knuckle Huck and Rail Jam events.
Stay tuned as ESPN, ESPN2, ESPNEWS and ABC will televise a combined 15.5 hours of live X Games Aspen competition, which will also be accessible via the ESPN App and WatchABC to viewers who receive their video subscription from an affiliated provider. In addition, all 15.5 hours of live content, plus exclusive competitions, musical performances and X Games Extra shows will be streamed on the @XGames YouTube, Facebook and Twitter pages.
Also make sure to visit http://www.monsterenergy.com for exclusive updates from X Games Aspen 2020 including photos, videos, and contest results as they happen. Follow Monster Energy on Facebook, Instagram, Twitter for exclusive behind-the-scenes looks in Aspen 2020.
###
About Monster Energy
Based in Corona, California, Monster Energy is the leading marketer and distributor of energy drinks and alternative beverages. Refusing to acknowledge the traditional, Monster Energy supports the scene and sport. Whether motocross, off-road, NASCAR, MMA, BMX, surf, snowboard, ski, skateboard, or the rock and roll lifestyle, Monster Energy is a brand that believes in authenticity and the core of what its sports, athletes and musicians represent. More than a drink, it's the way of life lived by athletes, sports, bands, believers and fans. See more about Monster Energy including all of its drinks at http://www.monsterenergy.com.