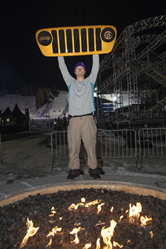 "I am literally at the last ounce of energy. That was the longest wait of my life watching Adelberg rotate that frontflip around. It's awesome to be able to come back here year after year and chase after these medals," said Brett Turcotte
ASPEN, Colo. (PRWEB) January 28, 2020
What a run! T he first Winter X Games of the decade is officially in the books and Monster Energy congratulates its team of snow sports athletes on claiming six medals (1 gold, 2 silver, and 3 bronze) on the fourth and final day of X Games Aspen 2020 at Buttermilk Mountain in Aspen, Colorado.
The 19th consecutive X Games in the heart of the Rocky Mountains stoked fans with premium action sports and musical performances in a festival atmosphere from Thursday to Sunday. Presented by Monster Energy as the long-time energy drink partner, X Games Aspen 2020 awarded 59 medals in 21 disciplines. Over the course of four action-packed days, the spectacle attracted 111,500 on-site spectators.
When all was said and done, Monster Energy snow sports athletes claimed a total of 22 medals across ski, snow bike, and snowboard disciplines. The team's dominant medal haul included ten gold, five silver, and seven bronze medals that were earned in some of the most spectacular final sessions in X Games history.
Televised live to global audiences, X Games Aspen 2020 featured 166 athletes from 21 countries as well as music performances by acclaimed urban and electronic artists alongside festival experiences at X Fest. On Sunday, the crowd was treated to a live set from American singer Bazzi on the GEICO Music Stage.
Here's how the Monster Energy team's medal run unfolded on the last day of X Games Aspen 2020:
Women's Ski Slopestyle: Monster Energy's Sarah Hoefflin Takes Silver, Maggie Voisin Bronze
Download Photos of Sarah Hoefflin and Maggie Voisin
Kicking off the last day of competitions at X Games Aspen, all eyes were on the Jeep Women's Ski Slopestyle final. Under blue skies on Buttermilk Mountain, eight of the world's top freestyle skiers took on the downhill obstacle course. Obstacles this year ranged from three different rail sections to a series of three jumps over 50- to 65-foot gaps and a vertical transition obstacle at the foot of the hill.
Similar to other freestyle disciplines at this X Games, Women's Ski Slopestyle was contested in a new, 35-minute jam session format. Instead of winning on their highest-scoring run, competitors needed to display trick variety and different lines across the course to rank highest on overall impression.
Monster Energy's Sarah Hoefflin came into the final as the oldest competitor at 29 years old, while the other seven contestants were all born in the mid-1990s. Then again, her age didn't stop the Swiss freeski phenom from earning bronze in Friday night's Big Air competition. And neither did the pain from plantar fasciitis in both heels and the aftermath of a leg injury suffered at the December 2019 World Cup in Atlanta slow her down.
When the Slopestyle final hit, Hoefflin once again rose to the challenge. Working the course with difficult, technical rail tricks and contorted aerials, her highlights included leftside 450 on 270 out and switch rightside 270 on the rails as well as 540 mute, bio 720, left cork 900 tailgrab, alley-oop 360 mute, and switch right bio 900 in the jump section for the silver medal.
After taking home two medals this weekend in her fifth X Games appearance, Sarah Hoefflin now owns four X Games medals (1 gold, 2 silver, 1 bronze). The Swiss native came into professional skiing relatively late in her career after earning her neuroscience degree in 2013. But she has since built an impressive competitive record: Hoefflin shook up the freeski elite by winning Women's Ski Big Air at Aspen 2018 and that same year claimed the gold medal in slopestyle at the Winter Olympics in Pyeongchang, South Korea.
Hoefflin was joined on the podium by her Monster Energy teammate, 21-year-old Maggie Voisin from Whitefish, Montana. After missing the podium in Big Air on Friday night, Voisin returned hungry to Slopestyle, which she won in 2018 as the first American rider in X Games history.
In the final session, Voisin worked the rails with technical moves like 450 on 270 out and left 270 to pretzel. She also hit the jumps with switch left 900 mute, leftside 720 tailgrab, rightside 900, and a huge 540 rodeo off the shark fin obstacle for the bronze medal. With Estonia's Kelly Sildaru in the top spot, the final leaderboard was an exact replica of the Women's Ski Slopestyle podium at X Games Aspen 2019. Maggie Voisin now holds five X Games medals (1 gold, 1 silver, 3 bronze).
Snowboard Rail Jam: Monster Energy's Darcy Sharpe Claims Silver, Sven Thorgren Bronze
Download photos of Snowboard Rail Jam | Darcy Sharpe and Sven Thorgren.
The action continued on the Slopestyle course with a special new event: Dedicated to progression, the first-ever Jeep Snowboard Slope Rail Jam saw riders attacking the three rail sections at the top of the course with their most creative moves. The 20-minute jam session featured eight riders from five countries, namely Japan, Canada, Finland, Sweden, and the United States.
Monster Energy's Darcy Sharpe came into the Rail Jam fresh off winning his first X Games gold in Snowboard Slopestyle on Saturday. Known for his diverse jib tricks on rails, the 23-year-old from Comox, Canada, stoked the crowd by delivering different lines and fresh moves on every attempt. Standouts such as bluntslide 270 on the rainbow rail, Cab lipslide fakie, hardway switch 270 bring-back, lipslide 270 out, frontside boardslide to fakie, and 50-50 360 out on the monster rail earned Sharpe a well-deserved silver medal in the new discipline right behind Minnesota's Jesse Paul in first place.
Also cracking into the top three in the inaugural Rail Jam, Monster Energy's Sven Thorgren brought the right jibs to the battle. In a free-flowing progression session, Thorgren raised the bar by posting technical standouts like backside 360 to 50-50 to frontside 180 out, Cab 270 on 450 out, Indy grab to backside lipslide fakie, and Cab 450 on 270 out for the bronze medal.
After winning his third consecutive Big Air medal the night before, the 25-year-old from Stockholm, Sweden now holds six X Games medals (1 gold, 1 silver, 4 bronze).
Snow Bike Best Trick: Monster Energy's Brett Turcotte Claims Gold, Jackson Strong Bronze
Download Photos of Snow Bike Best Trick Brett Turcotte and Jackson Strong.
As the final event in a spectacular four-day action sports showcase, Monster Energy Snow Bike Best Trick shut down X Games Aspen 2020 with a bang.
The crowd at Buttermilk Mountain was stoked to see back-to-back gold medal winner Rob Adelberg defend his title in the six-rider final. It was only the third time the relatively young discipline was contested at X Games, and the progression of the sport was on full display.
In terms of riding technique, Snow Bike Best Trick shares similarities to freestyle motocross with a focus on spectacular spins and acrobatics. The field of riders includes seasoned motocross innovators but also freestyle snowmobile experts. Since no standardized snow bikes are available on the market, riders devise their own custom conversion kits to transform motocross machines into freestyle-ready snow bikes with rear-mounted track drives.
In preparation for X Games, snow bike contestants practice new tricks in secrecy, relying on foam pits to safely dial in their new maneuvers. Once the contest kicks off, riders receive two attempts to send their tricks over a choice of two Super Kicker Ramps – similar to motocross jumps – over a 40-foot long gap onto a 12-foot tall snow landing.
After claiming silver in the event at X Games Aspen 2019, Monster Energy's Brett Turcotte stepped to the plate as a top competitor in snow bike freestyle. His weekend at Aspen 2020 had been a tough one: The 31-year-old from Clearwater, Canada, came into Friday's Snowmobile Freestyle final ready to unveil a brand-new move. But after taking two falls on the new Carolla Flip body varial, the previous gold medalist left empty-handed.
This was about to change in Snow Bike Best Trick, although Turcotte had to battle. On his first attempt, he threw a heel clicker backflip, but abandoned the spin in mid-air. Tossing his snow bike to the ground, Turcotte walked away unscathed, while his bike suffered visible damage.
Thanks to his pit crew, Turcotte was able to return for a second shot at the title. Hitting the super ramp at full speed, the seasoned snow bike rider pulled an extended superman backflip – hanging from the handlebar horizontally in mid-air – for 79.33 points and the top spot.
But before it was a done deal, Turcotte had to wait a tense moment while Rob Adelberg took a final attempt at spinning a frontflip for a potential walk-off victory. Ultimately, the defending gold medalist stuck the rotation but could not ride out the trick, making Brett Turcotte's first X Games snow bike gold official.
"I am literally at the last ounce of energy. That was the longest wait of my life watching Adelberg rotate that frontflip around. It's awesome to be able to come back here year after year and chase after these medals," said Brett Turcotte on winning the Snow Bike Best Trick gold medal at X Games Aspen on Sunday.
Sunday night's gold medal brings Brett Turcotte's X Games medal count to eight (3 gold, 4 silver, 1 bronze). It also marks his first victory in Snow Bike Best Trick, a sport he has supported from day one. In February 2016, Turcotte made history as the first rider to land a backflip on a snow bike and he claimed double silver medals at X Games Aspen 2019 in both Snow Bike Best Trick and Snowmobile Freestyle.
Also rising to the podium in the final event, Monster Energy's Jackson Strong is no stranger to freestyle tricks on dirt or on snow. Previous to X Games Aspen 2020, the 28-year-old from Lockhart, Australia, owned eleven X Games medals including six motocross gold, and a Snow Bike Best Trick silver medal from Aspen 2018.
Strong started in the final wearing a #24 Los Angeles Lakers basketball jersey in tribute to NBA superstar Kobe Bryant, who had tragically passed away earlier on the same day. Although he did not get the full extension on a backflip on his first attempt, Jacko pulled a nac nac to no-footer backflip on his second run and finished the night with a highest score of 75.66-point for the bronze medal, his twelfth X Games medal (6 gold, 4 silver, 2 bronze).
As the final trophy of the night, X Games presented Monster Energy freeskier Colby Stevenson with the Jeep Best in Snow Award for making history as the first-ever rookie to win the Ski Slopestyle competition. What a weekend!
Download Photo of Colby Stevenson for Best in Snow.
This wraps up an epic Winter X Games in Aspen with an incredible bounty of 22 medals for team Monster Energy. Thanks to all athletes, everyone who attended and all who watched for a history-making event!
X Games fans in the United States who missed the action at X Games Aspen 2020 can watch all the highlights on ABC in a four-piece anthology: X Games Aspen Anthology: Part 1 will air on Saturday, February 1, at 1 p.m. ET, followed by weekly installments every Saturday between February 8-22 at 1 p.m. ET. Fans can also follow the latest news and highlights across ESPN digital platforms, including XGames.com and X Games pages on Twitter, Facebook, Instagram, Snapchat and more.
Stay connected and visit http://www.monsterenergy.com for exclusive updates from X Games Aspen 2020 including photos, videos, and contest results as they happen. Follow Monster Energy on Facebook, Instagram, Twitter for exclusive behind-the-scenes looks in Aspen 2020.
###
About Monster Energy
Based in Corona, California, Monster Energy is the leading marketer and distributor of energy drinks and alternative beverages. Refusing to acknowledge the traditional, Monster Energy supports the scene and sport. Whether motocross, off-road, NASCAR, MMA, BMX, surf, snowboard, ski, skateboard, or the rock and roll lifestyle, Monster Energy is a brand that believes in authenticity and the core of what its sports, athletes and musicians represent. More than a drink, it's the way of life lived by athletes, sports, bands, believers and fans. See more about Monster Energy including all of its drinks at http://www.monsterenergy.com.