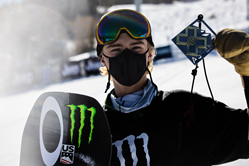 "I'm tripping still. It doesn't feel real yet. I feel like I'm going to wake up soon. I'm pretty speechless, honestly. Thank you guys so much!" Dusty Henricksen
ASPEN, Colo. (PRWEB) February 01, 2021
Another epic edition of X Games Aspen is in the books! Monster Energy congratulates its team of snow sports athletes on claiming nine medals (4 gold, 2 silver, and 3 bronze) on the third and final day of X Games Aspen 2021 at Buttermilk Mountain in Aspen Snowmass, Colorado. The team's dominant medal haul on Sunday included the first Snowboard Big Air medal for Jamie Anderson, rookie Snowboard Slopestyle gold for Dusty Henricksen and Yuto Totsuka taking his first Men's Snowboard SuperPipe gold with a run for the ages.
The world's biggest snow sports spectacle returned to the heart of the Rocky Mountains for the 20th consecutive time this weekend. Supported by Monster Energy as the official energy drink partner of X Games, the three-day spectacle saw the biggest names in action sports competing in Big Air, Slopestyle, SuperPipe and Knuckle Huck disciplines. As the pinnacle of winter action sports, X Games Aspen 2021 featured more than 80 elite skiers and snowboarders from 16 countries in 14 medal events.
In response to the ongoing COVID-19 pandemic, X Games Aspen 2021 was closed to the public without the usual spectators and musical performances on site. Nevertheless, the latest progression and evolution of winter action sports were broadcast live to millions of viewers across the globe.
Here's how the Monster Energy team's medal run unfolded on the last day of X Games Aspen 2021:
Men's Snowboard Slopestyle: Monster Energy's Dusty Henricksen Takes Gold in X Games Debut, Rene Rinnekangas Scoops Up Bronze Medal
A big day on Buttermilk Mountain kicked off with a tight schedule. Due to inclement weather, two of Saturday's snowboard events, Men's Slopestyle and Women's Big Air, were contested on Sunday. With six medal events packed into the final day of X Games, conditions could not have been better: Amid sunny skies and perfect slopes, the Jeep Men's Snowboard Slopestyle saw ten of the world's best freestyle snowboarders take on the technical course in a 25-minute jam session.
With a roster of certified X Games medalists attacking the course, viewers across the globe were in for an elite showcase of technical snowboarding. And with winners decided on the strength of their single best run, the contest remained anyone's game all the way until the last run. Then again, few people could have predicted what 17-year-old Dusty Henricksen from Mammoth Lakes, California, had in store in his X Games debut.
After already taking gold in Friday night's Knuckle Huck competition, Henricksen entered the competition wearing a short-sleeve T-shirt on a 27-degree day and put the field on notice with a perfect first run.
On his second run, Henricksen turned up the heat significantly. In the rail section, he landed high-tech moves such as 50-50 nose blunt pretzel, Cab 270 back lip, and 270 to noseblunt fakie. Coasting into the jump section riding backwards, Henricksen sent a switch backside 1260 – a brand-new trick for him – followed by a backside double grab 1440, as well as frontside double cork 900 melon and Cab 900 on the quarter pipe obstacles. And just like that, Henricksen claimed Slopestyle gold and made history as the first snowboarder to win gold in a rookie appearance at X Games.
Additionally, Henricksen ended a 12-year-long drought by becoming the first American rider to win Men's Snowboard Slopestyle since Shaun White's victory at X Games Aspen 2009.
"I'm tripping still. It doesn't feel real yet. I feel like I'm going to wake up soon. I'm pretty speechless, honestly. Thank you guys so much!" said Henricksen upon taking Men's Snowboard Slopestyle gold on Sunday.
Henricksen's history-making X Games debut in Aspen could not have gone more smoothly: After claiming a surprise win in Friday night 4's Knuckle Huck, his Slopestyle gold is his second medal at X Games. In 2020, Henricksen turned heads with his surprise Slopestyle win at the U.S. Grand Prix at Mammoth Mountain and took the gold medal in the 2020 Youth Olympic Games in Lausanne, Switzerland.
But there's more! Henricksen's win was far from the only shocker in Sunday's final. His Monster Energy teammate, 21-year-old Rene Rinnekangas from Iisalmi, Finland, launched himself onto the podium with a perfect run. Mostly known for his outstanding video parts, including his gold medal entry in 2020's X Game Real Snow competition, Rinnekangas is not your typical 'contest snowboarder'. But when he's on, he's on!
Having already clinched a surprise silver medal at Aspen 2019, Rinnekangas found his groove on the second run of the final session. Rinnekangas worked the rail section with back-to-back tech moves, including a fast lipslide tap, frontside blunt pretzel, backside blunt 270, and Cab 270 boardslide fakie before hitting the jump section with a Cab backside 1080 nosegrab, backside 1440, switch backside double rodeo tailgrab and double crippler Indy over the quarter pipe hip for the bronze medal. Rinnekangas now owns three X Games medals (1 gold from Real Snow, 1 silver, 1 bronze).
Men's Ski Slopestyle: Silver Medal for Monster Energy's Ferdinand Dahl, Bronze for Evan McEachran
Under sunny skies on Buttermilk Mountain, the action continued with the stacked Jeep Men's Ski Slopestyle final. In the 35-minute jam session, ten of the world's most competitive freeskiers took on the technical course with a challenging combination of two quarter pipe obstacles at the bottom. Riders were ranked on their single best run, so any competitor could leap into a podium position from zero on any given attempt.
Leaping onto the podium out of nowhere is exactly what Monster Energy team rider Ferdinand Dahl did. After missing his mark on the first two runs, the 22-year-old from Oppegaard, Norway, put down a perfect routine on Run 3: In the rail section, Dahl finessed a switch bash off the wallride, 270 on the kink rail, and a stunning pole jam underflip to fakie. Heading into the jump section backwards, he sent a huge switch leftside 1260, rightside double bio Japan grab, alley-oop 720 over the hip and switch rightside double bio for a strong silver medal finish.
Sunday's silver is Dahl's second X Games medal after claiming bronze in Men's Slopestyle at X Games Aspen 2019. He barged onto the scene as a talented teen putting down a standout 2017/2018 season claiming triple podiums at World Cup events across France, Switzerland, and the United States. Known for his skate-inspired style, Dahl closed out the 2020 season with a third-place finish in Slopestyle at the Stubai FIS World Cup in November.
Joining Dahl on the podium, Monster Energy rider Evan McEachran held his spot in the Top 3 for the majority of the final. The 23-year-old from Ochran, Canada, stood out with his signature innovative rail moves, supplemented by some brand-new aerials. On his perfect second run, McEachran hit the rails with switch up to 270 out, switch 270 on to 270 out on the rainbow, and switch up 450 to fakie. In the jump section, he landed switch left double 1260 tail, switch rightside double 1440, rightside double cork and leftside double cork.
When all was said and done, the Canadian took home a strong bronze medal finish in an elite field. It's not his first X Games podium: McEachran already claimed a medal, Slopestyle silver, at X Games Aspen 2020 and now owns two medals in total.
Women's Snowboard Big Air: Monster Energy's Jamie Anderson Takes Career-First Gold Medal, Zoi Sadowski-Synnott Finishes with Bronze
The Monster Energy team's medal run continued in the highly anticipated Pacifico Women's Snowboard Big Air final. Initially scheduled for Saturday but postponed due to snow showers, the spectacular air show went down under perfectly blue skies. The field of eight riders hailed from Austria, Canada, Japan, New Zealand, and the United States.
In a 30-minute jam session, riders were looking to send the best aerials over the Big Air jump and across a 70-foot gap. With winners decided on the sum of their best two run scores, consistency and trick difficulty were the keys to winning in Aspen. And even though coming into the final as the oldest competitor at age 30, Jamie Anderson has consistency and trick difficulty in droves.
After already winning Friday's Slopestyle final, Anderson had a chance to settle a personal score: Never winning a gold medal in Big Air (her two medals in the discipline are both bronze). In her signature effortless style, she started her final with a Cab double 900 Weddle grab as her first trick. From there, Anderson raised the difficulty with back-to-back perfect tricks, including a frontside double cork 1080 on Run 2 for 44 points and a highly technical Cab backside double cork 1080 on Run 3 for 45 points.
With no other competitor able to best her total score of 89 points, Anderson took her final runs as victory laps and treated fans to stylish classics before receiving her Big Air gold medal.
"Oh, my… Coming out here today, I knew I just wanted to get my front 10 and Cab 10. I knew some of the girls were sending it. I think it just took consistency, trying to be clean and having fun with it," said Anderson upon taking Women's Snowboard Slopestyle gold in Aspen on Sunday.
Anderson's career-first Snowboard Big Air gold is her eighth gold medal at X Games. As the most decorated woman in X Games history, she now owns 19 medals total (8 gold, 7 silver, 4 bronze). Having started her X Games career at Aspen 2006, the two-time Olympic gold medalist has earned more wins in Slopestyle than any athlete in X Games history (both ski and snowboard). She also broke new ground as the very first woman snowboarder to compete in Snowboard Knuckle Huck at X Games Aspen 2021 on Friday.
Also reaching the podium on Sunday, Zoi Sadowski-Synnott came into the final as a top contender following her Big Air win at the recent FIS World Cup in Kreischberg, Austria. After losing the handle on her first run of the day, the 19-year-old from Wanaka, New Zealand, put down a fast-spinning frontside 1080 lien grab for 44 points in Run 2. After striking out again on Run 3, Sadowski-Synnott sealed her podium finish with a massive backside 1080 Weddle grab on her fourth attempt, bringing her total score to 86 points for the bronze medal.
"To get on the podium was amazing because of how high the level of Big Air is right now," said Sadowski-Synnott upon taking Big Air bronze on Sunday.
At only 19 years of age, Sadowski-Synnott already owns two X Games Slopestyle gold medals, and five medals in total (2 gold, 2 silver, 1 bronze). She was named 'Rookie of the Year' in the 2020 Snowboarder Magazine Awards and made history by winning Slopestyle bronze at the 2018 PyeongChang Olympics, ending New Zealand's 26-year medal drought and becoming a national hero.
Men's Snowboard SuperPipe: Monster Energy's Yuto Totsuka Earns First Gold Medal
Under the floodlights on Buttermilk Mountain, the final night of X Games Aspen started with the Monster Energy Men's Snowboard SuperPipe event. In a 30-minute jam session, seven of the world's elite freestyle snowboarders took on the massive snowboard halfpipe. At over 22 feet in height and 600 feet in length, the pipe invited high airs and technical combos. With winners determined based on their single best run, final results remained open until the last second.
In the absence of snowboard icon Shaun White, who was forced to pull out of competition due to an injury sustained in practice, the focus turned to the biggest rivalry in competitive snowboarding at the moment: Defending SuperPipe gold medalist Scotty James from Australia against 19-year-old Monster Energy team rider Yuto Totsuka from Yokohama, Japan.
The stakes were high this time: Totsuka had never claimed gold at X Games but emerged as the winner in the two most recent face-offs against James, namely the 2020 U.S. Open and Laax Open 2021. Was this Totsuka's night to take the X Games crown?
Rising to the challenge, Totsuka delivered a first run that sent him straight to the top spot. Totsuka started his run with a massive frontside double cork 1440 Weddle at 13'5" altitude followed by back-to-back 1260, 1080 and 900, plus a frontside double cork 1260 blasted 16'8" high on the last wall. But Scotty James responded with higher airs and more technical rotations, bumping Totsuka down to second place.
When Totsuka lost the handle on a trick during Run 2, it left the door open for Japan's Ruka Hirano to leapfrog into second place. With his back to the wall, Totsuka responded with a frontside double cork 1440 Weddle grab, followed by a Cab double cork 1260 into a switch frontside double cork 1080 Indy, backside double cork 1260 and frontside double cork 1260 on the last wall.
The sheer technicality, flawless execution, and height in the constant 13- to 16-foot range, catapulted Yuto Totsuka back in the top spot. With no other rider matching his performance during last runs, Totsuka earned his very first X Games gold in his third appearance.
Sunday night's Men's Snowboard SuperPipe gold brings Totsuka's record to three X Games medals (1 gold, 2 silver). He is the two-time Japanese national halfpipe champion (2017 and 2019). Known as one of the pacesetters of halfpipe snowboarding's evolution, Yuto Totsuka has already earned FIS World Cup Crystal Globe wins in 2018 and 2019, as well as the coveted 2020 U.S. Open title.
Men's Snowboard Big Air: Monster Energy's Sven Thorgren Takes Home Silver
As the final snowboard event of this action-packed weekend, The Real Cost Men's Snowboard Big Air final went out with a bang. On the very last run of the 30-minute jam session, Sven Thorgren landed a technical banger to slide into second place and take home the silver medal. The last-second move sent shockwaves through the eight rider final featuring athletes from Japan, Finland, Sweden, Norway, and the United States.
Reaching the podium proved a harsh battle for 26-year-old Thorgren from Stockholm, Sweden. Trick difficulty escalated early in the session, as riders sent 1800-degree rotations and began posting scores in the upper 40s on their first runs.
Reaching into his diverse bag of tricks, Thorgren launched a Cab 1620 over the 70-foot gap to set his night on a strong foundation with 44 points (out of 50). With fellow Swede Marcus Kleveland taking the lead, Thorgren followed up by ways of a flat-spin backside 1800 melon for 48 points, taking over the third-place position. When the action moved on to final attempts, Thorgren had just the trick to move up the leaderboard: A perfectly executed Cab 1800 roast beef earned him 47 points, and the silver medal with a total score of 95.00 points.
Sunday night's Big Air bronze brings Thorgren's X Games record to seven medals (1 gold, 2 silver, 4 bronze). One of the most consistent riders on the circuit, he earned bronze in both Big Air and Rail Jam at t X Games Aspen 2020. Outside the contest arena, the talented Swede channels his 'Svenergy' into snowboard videos with the Scandalnavians crew.
Ski Knuckle Huck: Monster Energy's Henrik Harlaut Takes Home Gold
With the snowboard action officially wrapped up, it was time for the grand finale: The fan favorite event known as Wendy's Ski Knuckle Huck finished X Games Aspen 2021 on a fun note. Contested for the second time at X Games, the free-flowing competition was a 20-minute jam session judged on overall impression.
Eight of the world's most gifted freeskiers 'hucked' technical and stylish moves off the Slopestyle jump ramp's roll-over, also called the 'knuckle'. With so much talent on the course, every possible trick was in the cards on Sunday night: Nose and tail presses, butters, slides across the knuckle, and explosive spin moves popped out down the landing.
When all was said and done, the gold medal – shaped as a pair of golden brass knuckles – went to freeski icon and Monster Energy athlete Henrik Harlaut. Known as one of the drivers of freeski progression, the 29-year-old from Åre, Sweden, almost took the win at X Games Aspen in 2020 by sending a barrage of never-been-done tricks sent over the knuckle in Aspen.
After not earning a medal in Friday's Ski Big Air final, Harlaut went into the Knuckle Huck relaxed and back to his fun-loving personality. The Harlaut show was in full swing, as the most decorated ski athlete in X Games history went to work on the knuckle, flexing the tips and tails of his skis through the most creative moves of the night. Standouts such as 540 nose butter to 360 out, backside 360 to fakie butter to 360 off the tail and a smooth Cab butter to switch 540 left the judges no choice but hand the gold medal to Harlaut.
Sunday night's Knuckle Huck gold expands Harlaut's legacy as the most medal-winning ski athlete in X Games history with thirteen medals to his name (8 gold, 5 silver). A true all-terrain vehicle, Harlaut won Ski Big Air Gold at X Games Aspen 2020 and Slopestyle gold in 2018.
This wraps up an epic Winter X Games in Aspen with an incredible bounty of 14 medals for team Monster Energy (7 Gold, 4 Silver, 3 Bronze). Thanks to all athletes, everyone who attended and all who watched for a history-making event. Also thanks to the crew at ESPN and Buttermilk Mountain for putting on a world-class action sports showcase despite the adversities of the ongoing pandemic.
X Games fans in the United States who missed the action at X Games Aspen 2021 can re-watch all live broadcasts on the official X Games YouTube channel. All the highlights from X Games Aspen 2021 will be broadcast on ABC in a two-piece anthology: X Games Aspen Anthology: Part 1 will air on Saturday, February 7, at 3 p.m. ET, followed by Part 2 on February 14 at 3 p.m. ET.
Also visit http://www.monsterenergy.com for exclusive content from X Games Aspen 2021 including photos, videos, and contest results. Follow Monster Energy on YouTube, Facebook, Instagram, Twitter for exclusive behind-the-scenes looks at Buttermilk Mountain.
About Monster Energy
Based in Corona, California, Monster Energy is the leading marketer of energy drinks and alternative beverages. Refusing to acknowledge the traditional, Monster Energy supports the scene and sport. Whether motocross, off-road, NASCAR, MMA, BMX, surf, snowboard, ski, skateboard, or the rock and roll lifestyle, Monster Energy is a brand that believes in authenticity and the core of what its sports, athletes and musicians represent. More than a drink, it's the way of life lived by athletes, sports, bands, believers and fans. See more about Monster Energy including all of its drinks at http://www.monsterenergy.com.