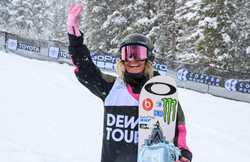 "Being human we all have to be adaptive to what is around us. It's been a pretty stormy week and we are so fortunate we were able to session this really sick rail section today.I'm happy I put a run down and stoked for all the girls, everyone was riding so great this weekend." Jamie Anderson
COPPER MOUNTAIN, Colo. (PRWEB) February 10, 2020
Monster Energy congratulates its team of snowboard athletes on an epic performance at the 2020 Winter Dew Tour competition at Copper Mountain, Colorado, this weekend.
On Sunday, Monster Energy's Jamie Anderson battled adverse weather conditions, and an elite field of riders to take first place in Women's Snowboard Slopestyle, her 11th Dew Tour win. In the progression-driven Men's Snowboard Streetstyle final on Saturday night, Finnish rookie Rene Rinnekangas took a strong second-place finish with creative and technical park tricks.
Download photos for editorial use.
In the highly competitive Men's Snowboard Modified Superpipe final, 18-year-old Yuto Totsuka claimed second place in a head-to-head battle against Australia's Scotty James. Five-time X Games medalist Ståle Sandbech from Norway emerged in third place from the highly contested Men's Snowboard Slopestyle final. Wrapping up a successful weekend, Monster Energy snowboard athletes took honors in key categories at the inaugural Snowboarder Magazine Awards, including Sage Kotsenburg (Men's Rider of the Year, Most Valuable Video Player), Jamie Anderson (Women's Rider of the Year), and Zoi Sadowski-Synnott (Rookie of the Year).
Contested for the first time at Copper Mountain resort, the 2020 Winter Dew Tour brought together the world's best male and female skiers and snowboarders. Broadcast live across the globe, the four-day competition showcased 150 athletes from 20 different countries in Modified Superpipe, Slopestyle, and Streetstyle along with Para Snowboard and Team Challenge events. The action-packed weekend also featured brand activations in the fan village as well as concerts including acts such as Phantogram.
Here's how the action unfolded in Freeski and Snowboard disciplines on Copper Mountain this weekend:
Men's Snowboard Slopestyle: Monster Energy's Ståle Sandbech Earns Third-Place Finish
The snowboard action on Copper Mountain kicked off with the Men's Snowboard Slopestyle final on Saturday. Under bluebird skies, the Snow Park Technologies-designed course offered boundless possibilities for creative riding with seven rail and jib elements, including a variety of rails, wallrides and three back-to-back super jumps for maximum airtime.
The pressure was intense, as Friday's qualifier had been cancelled due to a massive storm – one of the biggest in the resort's history – that blanketed Copper Mountain with 32 inches of fresh powder. As a result, the final consisted of a total of 17 finalists instead of the usual eight riders. And due to time constraints, these riders were given only two runs each to impress the judges, leaving no room for error.
Monster Energy's Ståle Sandbech came into the contest as the defending champion after winning Snowboard Slopestyle at Winter Dew Tour in 2018 (there was no 2019 event). No stranger to performing under pressure, the 26-year-old from Rykkinn, Norway, rose to the top of the leaderboard by stomping a perfect first run featuring diverse rail moves and his signature flat-spinning aerials in the jump section.
But with Olympic gold medalist Red Gerard and Brock Crouch raising the bar, Sandbech needed something big to break into a spot on the podium. On his second and final run, the five-time X Games medalist punched his ticket into the top three. Sandbech combined rail section bangers like a frontside boardslide 270 into the quarterpipe, Cab 270 to frontside boardslide, and gap up to frontside lipslide 270 out on the Woodward wallride. Stomping three different 1260s in the jump section – a backside 1260 mute, Cab backside 1260 stalefish, and frontside 1260 mute – earned the Norwegian a 94.00-point score for a solid third place finish.
Respected as one of the most stylish snowboarders on the international circuit, Ståle Sandbech has been pushing the sport's progression in and out the contest arena. The resident of Oslo, Norway, owns five X Games medals (2 silver, 3 bronze) and has claimed slopestyle silver at the 2014 Winter Olympics in Sochi. In recent years, he has stoked the snowboarding scene with innovative video parts and mind-boggling Instagram clips.
Sandbech was almost joined on the podium by Monster Energy teammate Rene Rinnekangas. The 20-year-old rookie from Finland held down a spot in the top three throughout the final, but found himself bumped into fourth place at the last second. Nevertheless, the crowd favorite left a lasting impression by landing a Miller flip handplant on the quarterpipe, bluntslide 270 out, giant gap up to backside lipslide fakie on the Woodward wall and a frontside 1440 lien and backside rodeo 900 tail grab in the jump section. Always riding with a smile on his face, Rinnekangas finished with 93.66 points, fractions of a point behind Sandbech in third, and would have another shot at the podium in the night's Streetstyle event.
Men's Snowboard Streetstyle: Monster Energy's Rene Rinnekangas Claims Second Place
Fans of Rene Rinnekangas – and fans of ultra-progressive park riding – were in for a treat in the Men's Snowboard Streetstyle final on Saturday night. Contested for the eighth time at Winter Dew Tour, the progression-oriented event saw a stacked field of riders tackle the tight obstacle course built by Woodward Copper. Under bright lights and in front of a boisterous crowd, ten invited riders took turns working the course in a 45-minute jam session with their best jib tricks.
Known for his unpredictable lines and creative trick selection, Monster Energy's Rene Rinnekangas emerged as a crowd favorite in the jam session. Right from the start, Rinnekangas made a point of hitting the obstacles true to his 'ride everything' style and finished his first run by wall-jamming up a natural snow incline at the side of the course just for kicks.
The most technical and complex jib tricks were on full display in the final. With the likes of Benny Milam and Miles Fannon throwing down hammers, Rene Rinnekangas brought his A-game and spontaneity to the mix. The 20-year-old rookie posted highlights such as gap out switch 270 and switch backside lipslide the kinked handrail on the top of the course, as well as 50-50 to 360 out, hardway back 270 and noseslide 270 out the flat bar.
Rinnekangas also packed up to seven tricks – other riders averaged about four hits – into his high-energy runs and finessed the electric box on the course with switch 180 variations. When the dust settled, the judges awarded Rene Rinnekangas a strong second place for his versatile performance with Miles Fannon taking first place.
Known more for his innovative style outside the contest arena, Rene Rinnekangas also plays bass in his band, Kätfish.
Saturday's second place marks his return to the podium after an upset silver medal in Snowboard Slopestyle at X Games Aspen 2019.
Men's Snowboard Modified Superpipe: Monster Energy's Yuto Totsuka Clinches Second Place
The snowboard action continued on Sunday morning with the Men's Snowboard Modified Superpipe final. The experts at Snow Park Technologies and Woodward Copper had designed a special course set-up dedicated to progressive riding: The 'modified' superpipe offered two slopestyle jump obstacles at the top that flowed into a 300-foot traditional halfpipe with 22-foot high walls.
The ten finalists included the world's leading vertical snowboarders, but the main story was the ongoing rivalry between Monster Energy's Yuto Totsuka and Australia's Scotty James. As the youngest rider in the field, Totsuka had battled head-to-head against James at the last ten contests both entered. At X Games Aspen 2020 in January, Totsuka took the silver medal while James edged ahead into first place once again. Would the Japanese rookie be able to tilt the scales in his favor today?
Making creative use of the slopestyle obstacles in the top section, Yuto Totsuka opened his first run with an alley-oop 360 to fakie over the quarterpipe channel, followed by a switch double cork 900 over the quarterpipe hip into a banked landing. Transferring into the superpipe, Totsuka used his momentum to launch a massive combo consisting of a frontside double cork 1440 into a Cab 1080 double grab on the last wall for 92.00 points.
With Scotty James taking the lead at 95.33 points, Totsuka upped the technicality on his third and final run with an alley-oop 360 stalefish over the channel, switch double cork 900 over the hip into a giant tuck knee double cork 1440 followed by a technical switch 1260 double grab on the last wall. Ultimately, the judges awarded Totsuka 93.33 points for a strong second-place finish with the Australian taking the win.
Hailing from Yokohama, Japan, Yuto Totsuka is currently the reigning Japanese snowboard halfpipe champion and the halfpipe crystal globe winner in each of the past two seasons. After his recent win at the Mammoth Mountain Grand Prix, Totsuka ranks first on the FIS Snowboard Halfpipe World Cup leaderboards, ahead of his closest rival, Australia's Scotty James. This rivalry is to be continued…
Women's Snowboard Slopestyle: Monster Energy's Jamie Anderson wins 11th Dew Tour Event
As the final snowboard event of the day, the Women's Snowboard Slopestyle final was overshadowed by inclement weather conditions. Fresh snowfall dumped about eight inches of powder onto the slopestyle course, forcing the organizers to make a difficult decision: With the fresh layer of snow putting a damper on riders' top speeds, the final event was contested without the three jump elements and focused solely on the rails at the top of the course.
As the most decorated woman in competitive snowboarding, Jamie Anderson is no stranger to difficult situations. On her first run, the 29-year-old from Lake Tahoe, California, showed no problems adapting to the fresh snow and unpredictable wind, but took a heavy slam on her last trick when a rotation off the cannon rail misfired.
With Japan's Miyabi Onitsuka taking the lead after posting a variety of technical rail tricks, Anderson needed to bounce back into the top three. The two-time Olympic gold medalist finally found her perfect line on her third and final run: A boardslide 270 off into the quarterpipe, switch boardslide, gap-out to backside liplslide, a massive boardslide on top of the Woodward wall, and a boardslide 270 off on the cannon rail earned Anderson 92.66 points and the win.
"Being human we all have to be adaptive to what is around us. It's been a pretty stormy week and we are so fortunate we were able to session this really sick rail section today," said Jamie Anderson upon winning the Women's Snowboard Slopestyle event today, adding:
"I'm happy I put a run down and stoked for all the girls, everyone was riding so great this weekend."
Almost claiming a podium spot on Sunday, 18-year-old Zoi Sadowski-Synnott held down a spot in the top three until the final run, only to find herself by Austria's Anna Gasser on the third and final run. As the latest addition to the Monster Energy snowboard team, Sadowski-Synnott worked the rail section with progressive moves such as tailslide 270 off, switch frontside boardslide, and a technical 50-50 to backflip off the cannon rail for 85.66 points and a strong fourth-place finish.
Snowboarder Magazine Awards: Monster Energy Athletes Take Top Honors in Key Categories
Monster Energy athletes also took top honors at the inaugural Snowboarder Magazine Awards ceremony inside Copper's Grand Hall in East Village on Thursday night. The awards honored the best snowboarding movies, riders and videos released between January 1 and December 31, 2019. With over 350 past and present pro riders casting their vote, it was Snowboarder Magazine's biggest award event to date.
When the results were announced, Monster Energy's Jamie Anderson received the award for Women's Rider of the Year on the strength of a standout performance in the snowboard film 'Unconditional' that showcased her skills in the backcountry of Japan, British Columbia, and Alaska. Known as the most decorated woman in snow sports, the 29-year-old from Lake Tahoe, California, claimed her sixth slopestyle gold at X Games Aspen 2020 in January, bringing her overall count to 17 medals.
"I'm honored. I love snowboarding, I've been doing it most of my life. Thank you to all my sponsors, my friends, my family for making this dream a reality," said Jamie Anderson upon accepting the Snowboarder Magazine award in Colorado on Thursday night.
Monster Energy's Sage Kotsenburg took home the biggest wins of the night: Applauded by his peers, the 26-year-old from Coeur d'Alene, Idaho, received the coveted Men's Rider of the Year title. The innovative snowboarder and Olympic gold medalist also clinched the Most Valuable Video Player award for his part in 'Joy', the Gerard brothers' feature that also won the Video of the Year award.
"I truly think that video parts are a vital part of snowboarding. I encourage everyone to get out there in the streets, in the backcountry, take some backcountry courses, get out there and try to film. It's snowboarding's history and it's really amazing," said Sage Kotsenburg upon accepting his award on Thursday night.
Rounding out a successful night, young upstart and newly minted Monster Energy team member Zoi Sadowski-Synnott from Wanaka, New Zealand, took Rookie of the Year honors. The 18-year-old had a banner year in 2019, claiming Slopestyle gold and Big Air silver at X Games Aspen 2019, as well as wins at Dew Tour, FIS World Snowboard Championship, and Burton U.S. Open. Sadowski-Synnott also starred in 'The Dust Box Presents', which won Short Film of the Year. She also broke new ground by earning Big Air bronze at the 2018 Winter Olympics, the first Winter Olympics medal for New Zealand since 1992.
Thanks for following the action at Copper Mountain this weekend! Stay connected and visit http://www.monsterenergy.com for exclusive updates during the 2020 snow sports season, including photos, videos, and contest results as they happen. Follow Monster Energy on Facebook, Instagram, Twitter for exclusive behind-the-scenes looks featuring our athlete team.
About Monster Energy
Based in Corona, California, Monster Energy is the leading marketer and distributor of energy drinks and alternative beverages. Refusing to acknowledge the traditional, Monster Energy supports the scene and sport. Whether motocross, off-road, NASCAR, MMA, BMX, surf, snowboard, ski, skateboard, or the rock and roll lifestyle, Monster Energy is a brand that believes in authenticity and the core of what its sports, athletes and musicians represent. More than a drink, it's the way of life lived by athletes, sports, bands, believers and fans. See more about Monster Energy including all of its drinks at http://www.monsterenergy.com.