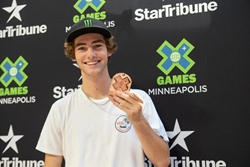 MINNEAPOLIS (PRWEB) July 22, 2018
Monster Energy congratulates Tom Schaar on taking third place in the Toyota Men's Skateboard Park event at X Games Minneapolis 2018. Battling a knee injury and the world's best park terrain skateboarders, the 18-year-old from Cardiff, California, took the podium at the second edition of the X Games in the Twin Cities. In tonight's The Real Cost Skateboard Big Air final, his teammate Trey Wood caused an upset by claiming bronze – his first X Games medal – with a standout performance at U.S. Bank Stadium.
The day started with the Men's Skateboard Park Final, where Schaar and Wood competed in a stacked field of the world's 12 best park terrain riders. Raising the level of difficulty, the course at U.S. Bank Stadium mixed traditional park design elements such as pool corners and deep vert sections with street obstacles like rails, barriers, and a centerpiece pyramid.
Schaar came into the Skate Park competition as a favorite after claiming silver in both Park and Big Air at X Games Minneapolis 2017. But a recent stress fracture in his left knee threw him a curveball. Plus, the level of competition was off the charts, as even podium mainstays fell short of reaching the top of the field.
Digging deep into his pocket of tricks, Schaar covered the entire park with a flawless routine on his first attempt: Backside 360 air over the centerpiece, alley-oop backside lipslide and frontside blunt on the extension, head-high backside 540 in the deep end, frontside feeble grind, backside boneless on the wallride, alley-oop stalefish tweak over the hip and ollie out to frontside tail stall pop-in on the box extension earned him an 85.33-point score and third place, leaving the win to defending gold medalist Alex Sorgente.
His Monster Energy teammate Wood also stoked the crowd with an ultra-technical run that seemed poised for a podium finish, but unfortunately ended on a bail. Highlights such as ollie transfer from the deck to 5-0 on the extension, high-speed frontside Smith grind on the barrier, backside 540 in the deep end, frontside blunt on the extension, and kickflip lien and kickflip stalefish airs earned a sixth place finish for the 17-year-old.
But Wood would have his podium moment in tonight's The Real Cost Skateboard Big Air final, which commentators labeled one of the most spectacular in X Games history. After putting a solid 83.00 point score on the board with an opening run featuring a mute 720 over the gap and over 22-foot high backside 540 on the quarterpipe, Wood watched the rest of the field up the ante by stacking technical moves and big airs.
Monster Energy's Two-time Big Air gold medalist and X Games veteran Jake Brown from Australia put down a solid run featuring backside 360 ollie over the gap and huge mute 540 on the quarterpipe. Then last year's Big Air silver medalist Schaar took over the lead on his second attempt, despite ongoing knee troubles, by sending a huge tailgrab 720 over the big gap and a 21'5" backside 540 on the quarterpipe.
But right then the level of difficulty exploded. Mitchie Brusco and Clay Kreiner locked down the top spots by landing career-best performances.
In order to keep up, Wood needed to pull off something spectacular – and he did. On his fourth attempt, Wood impressed the judges and sent the crowd into overdrive with a mute 720 over the big gap straight into a highflying backside 540 varial on the quarterpipe for 90.00 points and the bronze medal.
Tonight's strong third place finish in Big Air brings Wood full circle to the year 2012, when he made his X Games debut as a young Big Air contender next to Schaar. Wood has since advanced to become a highly versatile park rider and started his 2018 season by winning the concrete bowl contest at Tampa Pro in March and earning his way into X Games by finishing second at the X Games Skate Park Qualifiers at Rhodes Skate Park in Boise in June.
Schaar, who won his eighth career X Games medal tonight, has also evolved into an all-round talent since barging onto the scene as the world's first skateboarder to land a 1080 aerial on a Mega Ramp in 2012. At last year's X Games Minneapolis, Schaar made history by becoming the first pro to medal in both Park and Big Air events, and finished the 2017 Vans Park Series season on top of tour rankings. This year, he took the top spot at the Vans Park Series Pro Tour Event in São Paulo, Brazil, and won the prestigious Vans Pool Party contest for the third time in his young career.
Download photos for editorial use.
ESPN and ABC will televise a combined 19 hours of live X Games Minneapolis 2018 coverage, reaching more than 500 million homes and viewers in 192 countries and territories. X Games Minneapolis coverage will also be accessible via the ESPN App to viewers who receive their video subscription from an affiliated provider.
Don't miss out on the action in the Twin Cities. Score all the exclusive updates from X Games Minneapolis 2018 including photos and contest results as they happen visit http://www.monsterenergy.com. Follow Monster Energy on YouTube, Facebook, Instagram & Twitter and watch the official Monster Energy hashtag #unleashedatx on social media.
About Monster Energy
Based in Corona, California, Monster Energy is the leading marketer and distributor of energy drinks and alternative beverages. Refusing to acknowledge the traditional, Monster Energy supports the scene and sport. Whether motocross, off-road, NASCAR, MMA, BMX, surf, snowboard, ski, skateboard, or the rock and roll lifestyle, Monster Energy is a brand that believes in authenticity and the core of what its sports, athletes and musicians represent. More than a drink, it's the way of life lived by athletes, sports, bands, believers and fans. See more about Monster Energy including all of its drinks at http://www.monsterenergy.com.