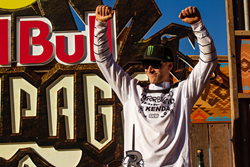 "I'm just happy to be on the podium. I'm really stoked on my run and linking everything together. It was a stressful morning and I'm happy I made it work. No one got hurt and I only took one crash in practice and got it out of the way. I'm stoked for next year! - Tom van Steenbergen
Virgin, Utah (PRWEB) October 27, 2019
Monster Energy's Tom van Steenbergen (CAN) takes home third place at the 2019 Rampage mountain biking event.
Rampage is a big mountain style mountain bike event where a rider and his team of two diggers have 10 days to carve a line down a mountain in the Utah desert. Riders are judged on flow, creativity, style and tricks as they make their way from the start gate to a finish corral. Almost anything in between is left purely to the riders' imagination and their team of diggers to put their own personal stamp on.
In what may go down as the most intense big mountain- mountain bike event of all time, van Steenbergen and his team of diggers carved out an impressive line down the cliff side in Virgin, Utah. In its second year at this iconic venue, many riders were able to complete the finishing touches on the lines they began last year, and really customize the style they deserved.
Dressed like a storm trooper in all white, the 23-year-old Canadian came out of the gate firing with a front flip off of the start drop, the first time anyone has accomplished this at Rampage. He followed it up with a stylish hip jump right into the massive 70-foot plus drop high up on the mountain. From there he had a super technical double drop chute as a setup for his final ridgeline charge into the Notorious B.I.G. drop. Van Steenbergen threw a huge backflip off the 50-footer to a perfectly greased landing in full view of the thousands of fans assembled along the ridgelines in the blazing desert sunshine. This trick won him best trick last year, and this year he stomped it even cleaner than in 2018. Amidst the crowd on his final jump, van Steenbergen's final one foot back flip can sealed the deal as he ghost rode his bike into the finish corral, ecstatic.
"It was good! We got a lot of practice compared to last year and got to upgrade our line and make it a little safer, said van Steenbergen. The wind held off for the first runs, and I got my run done so I'm really stoked coming out third! I did what I really wanted to do last year. This year I added a front flip to the start drop and bigger step down in the middle. It's anywhere from 60- to 70 feet to the knuckle. The sweet spot is 20 feet past that. I'm just happy to be on the podium. I'm really stoked on my run and linking everything together. It was a stressful morning and I'm happy I made it work. No one got hurt and I only took one crash in practice and got it out of the way. I'm stoked for next year!"
Right behind the Canadian was Englishman Brendan Fairclough (GBR). Better known for racing World Cups, the racer turned freerider linked together an impressive run and wowed both the crowd and the judges. Creatively, it was one of the better lines of the contest, headed far to the outside of the riding zone. With a huge rock feature called Dwayne Johnson, and an enormous canyon gap that he backflipped on the first run, Fairclough was a fan favorite.
"That was worth every shovel full, said Fairclough. This week has been super cool and I'm so stoked. It's been an up and down year, but I got 6Th at the World Cup and 6th at Hardline, so to get 4th here is so sick! The flip has been planned since day one. I spoke to the boys early on and said I wanted to flip it. The whole entire 20 days was built up to that. I was going to try it regardless."
Fairclough wasn't going to do his second run, but after a discussion with his diggers he hiked back up. More of a celebration lap, Fairclough stopped on his giant rock feature much to everyone's confusion until he assumed the pushup position and cranked out 30 pushups in honor of Canadian freerider and close friend Jordie Lunn, who passed away in a tragic riding accident early last week.
Monster Energy's Ethan Nell(USA) landed in 7th, Graham Agassiz (CAN) took 13th and Cam Zink (USA) took 20th.
And with that, the Mountain Bike contest season is over. The free riders are done flipping and the racers are done racing as everyone takes a well-deserved break until the spring when things will kick off in Rotorua, New Zealand with the Crankworx festival.
For more on van Steenbergen, Fairclough, Nell, Agassiz, Zink, and the rest of the Monster Energy team visit monsterenergy.com and make sure to follow Monster Energy's Facebook, Instagram & Twitter for exclusive updates.
###
About Monster Energy: Based in Corona, California, Monster Energy is the leading marketer and distributor of energy drinks and alternative beverages. Refusing to acknowledge the traditional, Monster Energy supports the scene and sport. Whether motocross, off-road, NASCAR, MMA, BMX, surf, snowboard, ski, skateboard, or the rock and roll lifestyle, Monster Energy is a brand that believes in authenticity and the core of what its sports, athletes and musicians represent. More than a drink, it's the way of life lived by athletes, sports, bands, believers and fans. See more about Monster Energy including all of its drinks at http://www.monsterenergy.com.