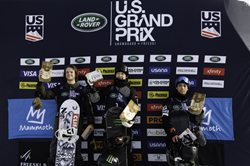 It's really incredible! I was so nervous actually at the beginning. I didn't have it together until my actual run counted. So actually getting it down was incredible. Sarah Hoefflin
MAMMOTH MOUNTAIN, Calif. (PRWEB) February 02, 2020
Monster Energy congratulates its team of freeski and snowboard athletes on a dominating performance in the Land Rover U.S. Grand Prix at Mammoth Mountain, California, this Friday. Monster Energy's 18-year-old Yuto Totsuka from Yokohama, Japan, soared above the rest of the field in the Men's Snowboard Halfpipe final and claimed first place well ahead of the next competitor. On the challenging course at Unbound Parks, 29-year-old Sarah Hoefflin from Geneva, Switzerland emerged in first place in a competitive field of athletes in Women's Ski Slopestyle. She was joined on the podium by her teammate, 21-year-old Maggie Voisin from Whitefish, Montana, in third place. In Men's Ski Slopestyle final, Monster Energy's Colby Stevenson clinched second place with yet another podium performance. The 22-year-old rookie from Park City, Utah, just crushed his X Games debut the previous weekend by taking home two gold medals at XG Aspen 2020 and continued his roll at Mammoth Mountain today.
Once again, the full progression of freeski and snowboarding is on display in the U.S. Grand Prix at Mammoth Mountain this weekend. Only one week after X Games Aspen 2020, the world's best winter sports athletes are competing for FIS World Cup points and a total of $400,000 in prize money in the Land Rover U.S. Grand Prix at Mammoth Mountain. Over the course of four days, the nationally televised contest features nearly 130 elite freeskiers and over 100 snowboarders.
Download Photos for Editorial Use.
Here's how the action unfolded on Friday in Slopestyle and Halfpipe events across freeski and snowboard disciplines:
Women's Ski Slopestyle: Monster Energy's Sarah Hoefflin Takes First Place, Maggie Voisin Finishes in Third Place
In the Women's Ski Slopestyle final, Monster Energy's Sarah Hoefflin dropped into the course as a strong contender after taking home two medals at X Games Aspen 2020 (Slopestyle silver and Big Air bronze). Despite battling pain from plantar fasciitis in both heels, Hoefflin was focused on taking the top spot after closely missing the podium with a fourth-place finish at Mammoth Mountain last year.
As it turned out, Sarah Hoefflin's moment had finally arrived. Working the obstacle course with technical slides and reverts in the rail section and perfectly executed aerials in the jump section, Hoefflin rose to the top of the leaderboard in the eight-rider final. Rail tricks like switch left lipslide 270, left 450 to switch out and switch lipslide on pretzel 270 off combined with aerial moves such as rightside alley-oop 540 mute, switch left Rodeo 720 mute, and switch right Rodeo 720 mute earned Hoefflin a dominant 87.18-point score and the win.
"It's really incredible! I was so nervous actually at the beginning. I didn't have it together until my actual run counted. So actually getting it down was incredible," said Sarah Hoefflin upon taking first place in Women's Ski Slopestyle at Mammoth Mountain today.
After today's win, Sarah Hoefflin is ranked in first place on the International Ski Federation (FIS) 2019/20 Freeski World Cup season leaderboards in Slopestyle. The native of Switzerland came into professional skiing relatively late after earning a neuroscience degree from Great Britain's Cardiff University in 2013. Hoefflin shook up the freeski elite by winning Women's Ski Big Air at Aspen 2018 and that same year claimed the gold medal in slopestyle at the Winter Olympics in Pyeongchang, South Korea. After two podium finishes at XG Aspen 2020, she now owns four X Games medals (1 gold, 2 silver, 1 bronze).
Also a strong contender in Women's Ski Slopestyle, Monster Energy's Maggie Voisin returned to Mammoth Mountain after undergoing knee surgery in Spring 2019. The U.S. Freeski Pro Team member came into the competition fresh off a bronze medal finish at XG Aspen 2020. As the winner of the 2017 Mammoth Grand Prix, Voisin remains a force to be reckoned with despite her young age, which she once again proved today.
Hitting the obstacle course at Mammoth Mountain with speed and finesse, Maggie Voisin rose to the podium in a heated final session. She followed up rail moves like switch left 270 to switch out, straight slide and backside switch-up on the tall rainbow rail with rightside 540 mute, switch left 900 safety and left rodeo 900 Japan in the jump section for a third-place finish and 81.38-points for her best run. Fully recovered from her left knee surgery in 2019, the Montana native is officially back where she left off: In 2018, Maggie Voisin turned heads as the first American rider in X Games history to win Women's Ski Slopestyle gold and now holds five X Games medals (1 gold, 1 silver, 3 bronze).
Men's Ski Slopestyle: Monster Energy's Colby Stevenson Claims Second Place
When the action moved into Men's Ski Slopestyle, the field of eight finalist had a new top competitor to deal with: Only a few days prior, Monster Energy's Colby Stevenson had proven his ability to win big-ticket events at X Games Aspen 2020, where he made history as the first X Games rookie to win gold in the discipline and also took top honors in the new Ski Knuckle Huck event.
Approaching the course on Mammoth Mountain with confidence and technical bag of tricks, the team USA Member landed technical rail moves including left nose butter 450 to pretzel 270, switch left 270 backside switch-up 270 and 50-50 to right 450 off. Paired with high-flying airs such as switch left double Rodeo 1080 Japan, switch right double cork 1260 safety, and a left double cork 1440 tailgrab, the performance earned Stevenson 88.86 points and second place, closely behind Switzerland's Andri Ragettli in first place.
On the strength of today's second-place finish, Stevenson is currently ranked in fourth place on the International Ski Federation (FIS) 2019/20 Freeski World Cup leaderboards, closing in fast on a spot on the overall top three podium. The year 2020 shaping up to become a breakout season for Stevenson: The rookie won the "Best in Snow" award at X Games Aspen 2020 for his stellar performance last weekend and claimed third place at the Ski Slopestyle World Cup in Seiser Alm, Italy, two weeks ago.
Men's Snowboard Halfpipe: Monster Energy's Yuto Totsuka Takes Gold for Second Consecutive Year at Mammoth Mountain
The Monster Energy team concluded a dominant first day at the Land Rover U.S. Grand Prix at Mammoth Mountain in the Men's Snowboard Halfpipe event. In the ten-rider final on the 22-foot tall SuperPipe at Unbound Parks, all eyes were on last year's winner. Eighteen-year-old Yuto Totsuka from Yokohama, Japan, came to Mammoth as the halfpipe crystal globe winner in each of the past two seasons and fresh off a silver medal in snowboard halfpipe at X Games Aspen 2020. Would he clinch the top spot again?
Riding on perfect conditions at the Mammoth Mountain park, Totsuka took the lead straight out the gate with a perfect first run. His signature blend of high amplitude and fully extended aerials set the bar high for the rest of the field at 93,60 points. On his third and final run, Totsuka left nothing to chance and upped the ante with one of the best runs of the season: frontside double cork 1440 mute, Cab 1080, switch backside 1080, Cab 1260 tailgrab and frontside double cork 1260 with airs flying well above the 15-foot mark. The flawless run sealed the victory for Yuto Totsuka with 97.20 points, eight points ahead of next competitor, Team USA's Taylor Gold, in second place.
After tonight's victory, Yuto Totsuka now ranks first on the FIS Snowboard Halfpipe World Cup leaderboards, ahead of his closest rival, Australia's Scotty James. Despite his young age, the 18-year-old is a now certified podium threat: Totsuka took home snowboard halfpipe wins at the FIS Snowboard World Cups in Calgary and Mammoth Mountain in Spring 2019 and third place at the 2019 Burton U.S. Open Snowboarding Championships. Last weekend's silver at X Games Aspen 2020 marks the second silver for the reigning Japanese national halfpipe champion, who made his successful X Games debut in Aspen last year.
Also don't miss tomorrow's snowboard competitions at the Land Rover U.S. Grand Prix Mammoth Mountain. Monster Energy's Jamie Anderson will be looking for the top spot after taking home Women's Snowboard Slopestyle gold at X Games Aspen 2020 last weekend and David Wise from Reno, Nevada, is a podium favorite in Men's Ski Halfpipe. Make sure to tune in tomorrow!
Stay connected and visit http://www.monsterenergy.com for exclusive updates during the 2020 FIS Freeski World Cup season, including photos, videos, and contest results as they happen. Follow Monster Energy on Facebook, Instagram, Twitter for exclusive behind-the-scenes looks featuring our athlete team.
About Monster Energy
Based in Corona, California, Monster Energy is the leading marketer and distributor of energy drinks and alternative beverages. Refusing to acknowledge the traditional, Monster Energy supports the scene and sport. Whether motocross, off-road, NASCAR, MMA, BMX, surf, snowboard, ski, skateboard, or the rock and roll lifestyle, Monster Energy is a brand that believes in authenticity and the core of what its sports, athletes and musicians represent. More than a drink, it's the way of life lived by athletes, sports, bands, believers and fans. See more about Monster Energy including all of its drinks at http://www.monsterenergy.com.