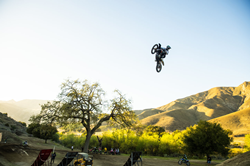 "I just wanted to do something fun. Bring everyone back together, have a full jam session. There's no contests, no demos, there's nothing right now. What better time to get together and ride together with all your friends?" - Jeremy 'Twitch' Stenberg
PIRU, Calif. (PRWEB) May 03, 2021
The stars of freestyle motocross are out for a very special remote podcast episode with "Twitch and Friends"! Monster Energy is proud to announce the release of Episode 5 of the pop culture and alternative sports podcast Unleashed with The Dingo and Danny filmed at Wyvern Ranch in Piru, California.
This latest one-hour installment features FMX pioneer Jeremy "Twitch" Stenberg and a hand-picked selection of friends, all of them certified legends of the sport, on the set of a motocross video shoot envisioned by Stenberg to get his peers back together.
The special Unleashed with The Dingo and Danny podcast episode is now streaming on all major platforms, including Spotify, iTunes and YouTube. Fans can now visit the dedicated landing page to experience Episode 5 of the Unleashed with The Dingo and Danny Podcast filmed on the set of the video shoot with "Twitch".
"I just wanted to do something fun. Bring everyone back together, have a full jam session. There's no contests, no demos, there's nothing right now. What better time to get together and ride together with all your friends?" said Stenberg about the FMX video shoot at Wyvern Ranch in Piru, California.
Podcast host Luke "The Dingo" Trembath sits down with 17-time X Games medalist Stenberg and a stacked roster of invited guests, including: the most prolific woman on two wheels Vicki Golden, Australian X Games gold medalist Blake "Bilko" Williams, Japanese FMX icon Taka Higashino, championship racer turned freestyle innovator Josh Hill, 15-time X Games medal winner Jarryd McNeil, and boundary-pushing dirt bike rider Tyler Bereman to talk about the past, present and future of freestyle motocross.
With over 60 X Games medals represented by the sport's leading riders, expect a heavy conversation that tells it like it is! Asked about the current state of freestyle motocross, Twitch offered: "It's changed a lot. Before it was all about contests and results. But results don't sell anything for sponsors. You could be the fastest dude or the best rider in the world, if you don't have a personality, you're not selling stuff for your sponsor. I think we all noticed that a long time ago."
On that note, Stenberg was one of the first FMX riders to step back from the competitive arena and showcase his talents in video productions instead – and still remain relevant as an athlete. Speaking on the experience of earning recognition as a female FMX athlete, Vicki Golden said: "My 'girl card' has been revoked by this crew a long time ago. You surround yourself with the best to become the best. I've been surrounded by some who have already taken the sport to the highest level. Just to be surrounded by them, I've always pushed myself to be just as good or one-up them. And if I'm riding like crap, they'll be the first ones to tell me."
Stenberg also revisits his special relationship with fellow Monster athlete Higashino. The two met in 2005 when "Twitch" performed in a demo event in Osaka, Japan, and the country's FMX scene was still in its infancy with Higashino as an upcoming rider. "When I first met Taka I knew, if someone gives this kid an opportunity, he'll be one of the baddest dudes in the world," said Stenberg on the podcast.
Stenberg took Higashino under his wing when he arrived in the US in 2007 with $6000 in his pocket and a dream of making it in professional FMX. It was "Twitch" who helped secure the first sponsors and an invite to X Games in 2007. And it worked! Higashino went on to write history as the first Japanese athlete to medal at an X Games in 2010 and win three X Games gold medals in a row.
Also on the episode, Blake "Bilko" Williams remembers first meeting "Twitch" on a Crusty Demons of Dirt demo tour in Australia in the mid-2000s. "We watched the videos on repeat and thought, 'We wanna be like that!'" Within a few years, Bilko rose to lead a new generation of Australian riders alongside Josh Hill, and 15-time X Games medal winner Jarryd McNeil. Reunited with Twitch, the FMX trailblazers recount their early beginnings on the pro ranks, overcoming injuries and driving the sport's progression with new trick inventions.
Want to hear the special episode, chock-full of FMX history? Visit the dedicated landing page for the new "Twitch and Friends" episode of the Unleashed with The Dingo and Danny Podcast featuring Jeremy "Twitch" Stenberg and a unique line-up of FMX legends.
Usually filmed on a special set inside Studio M at Monster Energy headquarters in Corona, California, the podcast is hosted by the dynamic duo of Australian action sports personality Luke "The Dingo" Trembath and professional snowboarder Danny Kass. Known for their deep roots in action sports culture, the two starred in the beloved cult TV show 'The Adventures of Danny and The Dingo' on Fuel TV for five action-packed seasons in the early 2010s. Both hosts have walked the walk as pro snowboarders and possess the interview skills to find common ground with guests from any type of background – sports and pop culture. Always look out for new episodes dropping bi-weekly on Mondays.
Download Photos for Editorial Use.
How about a sneak peek of the next episode of Unleashed with The Dingo and Danny? The podcast will welcome the sixth guest on Monday, May 17 and it's going to be huge! That's because the special guest is no other than power lifter and viral video sensation Jake "Big Boy" Johns. Prepare for a no-holds-barred conversation as Danny and the Dingo sit down with the 335-pound athlete known for his skateboarding stunts and feats of insane human strength. Heavy!
The Unleashed with The Dingo and Danny Podcast is here to celebrate the personalities behind the Monster Energy lifestyle. With each episode dedicated to a unique guest or topic, listeners learn about living on the edge and advancing the state of the art in the world of high-energy sports as well as music, games and pop culture from individuals at the top of their game. More than a drink, Monster Energy is a way of life lived by athletes, sports, bands, believers and fans – and the podcast is an extension of this unique DNA.
For more on Jeremy "Twitch" Stenberg, Vicki Golden, Blake "Bilko" Williams, Taka Higashino, Josh Hill, Jarryd McNeil and the Monster Energy FMX team, visit http://www.monsterenergy.com. Also follow Monster Energy on YouTube, Facebook, Instagram, Twitter for exclusive content and athlete features.
About Monster Energy
Based in Corona, California, Monster Energy is the leading marketer of energy drinks and alternative beverages. Refusing to acknowledge the traditional, Monster Energy supports the scene and sport. Whether motocross, off-road, NASCAR, MMA, BMX, surf, snowboard, ski, skateboard, or the rock and roll lifestyle, Monster Energy is a brand that believes in authenticity and the core of what its sports, athletes and musicians represent. More than a drink, it's the way of life lived by athletes, sports, bands, believers and fans. See more about Monster Energy including all of its drinks at http://www.monsterenergy.com.