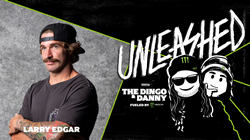 Keep it fun. I mean, I have my serious moments. But I always keep it fun, or else I wouldn't be doing this." - Larry Edgar
CORONA, Calif. (PRWEB) November 08, 2021
Action sports have the power to change lives! Monster Energy is proud to welcome freestyle BMX innovator Larry Edgar on Episode 17 of the sports and pop culture podcast UNLEASHED with The Dingo and Danny. The new one-hour episode released today across Monster Energy's social media channels, featuring the inspirational story of the 28-year-old who overcome adverse circumstances in his youth to win some of the most coveted trophies as a professional BMX athlete.
"I always thought of BMX like, if you're not having fun at your sport, go get a desk job!" said Larry Edgar on the UNLEASHED episode about turning his passion for freestyle BMX into a career. As a qualifier, Edgar added: "You're not going to become rich and famous off BMX. You're just going to destroy your body for no reason."
Fans can now listen to the underdog story of the pro BMXer and multiple national champion from Corona, California. Released today, the new podcast featuring Edgar is streaming on all major platforms, including Spotify, iTunes, and YouTube.
Known for blasting some of the highest airs on the BMX circuit, Edgar is a back-to-back Vans BMX Pro Cup Series overall champion (2017/2018) and 2017 NORA Cup Reader's Choice Rider of the Year winner. But making it as a professional athlete took grit and determination: Edgar experienced homelessness at a young age before discovering freestyle BMX as an outlet. Now he's at the top his game. When not competing on big-ticket events like the 2021 Triple Challenge BMX tour, Edgar restores vintage cars and recently applied his fearless approach to bull riding.
Tune in for one of the most inspirational episodes of UNLEASHED to date. Speaking to the two UNLEASHED podcast hosts, Australian action sports personality Luke "The Dingo" Trembath and professional snowboarder Danny Kass, Edgar shares his pro BMX journey against the odds.
Born in Murrieta, California, Edgar had nothing handed to him in life. He was homeless for a period of time in elementary school and lived in the back of his father's store. "I didn't look at it that way. I was just living with my dad at the shop. Just kind of normal. I didn't care, I just wanted to ride my bike." The struggle continued in high school, when he was living with his father at a motel in Corona.
Through it all, BMX provided an outlet for Edgar. At age 13, Edgar first started riding a BMX bike and never looked back. Early on, he gravitated towards dirt jumps and learned from the more experienced riders. "I feel like in the group I was always hanging out with older people, but I was always behind everybody."
He found his preferred terrain in dirt riding, where he excelled and made a name for himself. His big breakthrough arrived in 2017 when he won his first Vans BMX Pro Cup Series overall championship and proceeded to dominate over the next years.
Beyond the BMX dirt arena, Edgar has also emerged as a competitor in the park discipline and has placed in the Top 10 at summer X Games events. "I like them both equally, but it depends, though. Some bowls suck, some dirt jumps are terrible. Usually, trails are so much fun." Speaking on the soundtrack that gets him hyped, Edgar named Metallica, Motorhead, and the 'Guardians of the Galaxy' soundtrack as playlist staples.
What really launched Edgar to the top of the pro ranks, literally, was his ability to blast extremely high aerials on any ramp, bowl, or dirt track. Asked on the episode about his technique for coping with the uncertain period between takeoff and landing, the seasoned pro said: "If I start messing up in the air, I just laugh. Come on please, don't die! It works pretty good!"
Asked about the secret to building a long-term career in the sport, Edgar said: "Keep it fun. I mean, I have my serious moments. But I always keep it fun, or else I wouldn't be doing this." Speaking of serious moments, make sure to tune into the show to hear Edgar's long list of injuries, including the scariest slam that resulted in a near-death experience and nine months of rehab. Which didn't stop him from pushing the boundaries of the sport. "The doctor said I shouldn't get back on my bike, ever again. But what do doctors know?"
Edgar recently applied his fearless approach to bull riding. On UNLEASHED, he shares that mounting the bull is "the scariest part. The bull is ticked! While you're in there, he's just trying to crush you against the fence. He'll try to get his horn to you, and you have to lean uncomfortably far forward. Because the bull takes off fast!"
But sharing the secrets of bull riding is just part of the episode! Better hear Edgar's 'pull yourself up by the bootstraps' story for yourself. Visit the landing page to access Episode 17 of the UNLEASHED with The Dingo and Danny Podcast featuring Larry Edgar.
Episodes of UNLEASHED are filmed on a special set inside Studio M at Monster Energy headquarters in Corona, California. The podcast is hosted by the dynamic duo of Australian action sports personality Luke "The Dingo" Trembath and professional snowboarder Danny Kass. Known for their deep roots in action sports culture, the two starred in the beloved cult TV show 'The Adventures of Danny and The Dingo' on Fuel TV for five action-packed seasons in the early 2010s. Both hosts have walked the walk as pro snowboarders and possess the interview skills to find common ground with guests from any type of background – sports and pop culture. Always look out for new episodes dropping bi-weekly on Mondays.
Download photos for editorial use.
The UNLEASHED with The Dingo and Danny Podcast is here to celebrate the personalities behind the Monster Energy lifestyle. With each episode dedicated to a unique guest or topic, listeners learn about living on the edge and advancing the state of the art in the world of high-energy sports as well as music, games, and pop culture from individuals at the top of their game. More than a drink, Monster Energy is a way of life lived by athletes, sports, bands, believers, and fans – and the podcast is an extension of this unique DNA.
For more on Larry Edgar and our team of BMX athletes visit http://www.monsterenergy.com. Also follow Monster Energy on YouTube, Facebook, Instagram, Twitter and TikTok for exclusive content and athlete features.
###
About Monster Energy
Based in Corona, California, Monster Energy is the leading marketer of energy drinks and alternative beverages. Refusing to acknowledge the traditional, Monster Energy supports the scene and sport. Whether motocross, off-road, NASCAR, MMA, BMX, surf, snowboard, ski, skateboard, or the rock and roll lifestyle, Monster Energy is a brand that believes in authenticity and the core of what its sports, athletes and musicians represent. More than a drink, it's the way of life lived by athletes, sports, bands, believers, and fans. See more about Monster Energy including all of its drinks at http://www.monsterenergy.com.