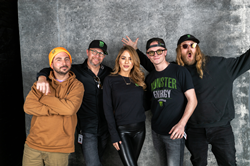 "I did ice hockey, I did soccer, and all these other sports but automatically went into motorsports. Because all these other sports were boring. - Oli Solberg
CORONA, Calif. (PRWEB) December 30, 2022
Two generations, one legendary racing family! Monster Energy is proud to welcome racing icon Petter Solberg and pro racer son Oliver 'Oli' Solberg from Scandinavia on Episode 48 of the sports and pop culture podcast UNLEASHED with The Dingo and Danny.
Recorded at our studio inside Monster Energy headquarters in Corona, California, this 55-minute episode tells the inspiring story of 21-year-old racing prodigy Oli Solberg and his 47-year-old father while discussing the past and future of motorsports.
"I did ice hockey, I did soccer, and all these other sports but automatically went into motorsports. Because all these other sports were boring. The adrenaline you get when you drive is just something else. And then I knew, that's what I want to do!" said Oli Solberg on UNLEASHED.
Fans can now tune in to Episode 48 of UNLEASHED for the full story behind the Solberg racing dynasty. Released today, the new podcast is streaming on all major platforms, including Spotify, iTunes, and YouTube.
The Solberg family has become synonymous with pro racing across the globe. Petter Solberg is the 2003 World Rally Champion, while his son Oliver is the 2020 FIA ERC1 Junior Champion. It runs in his blood: Oliver's mother happens to be former rally driver Pernilla Solberg, and he began attending world-class race events before age 1. By age 6, he was already competing as a race driver. Discover how Petter and Oli experience the changing sport of racing in their individual careers and what drives them to keep upping the ante – only on UNLEASHED.
Hear the inside story in conversation with the two podcast hosts, Australian action sports personality Luke "The Dingo" Trembath and professional snowboarder Danny Kass on Episode 48 of UNLEASHED. Also joining the interview, acclaimed painter, model, and UFC ambassador girl Brittney Palmer contributes questions and background information to the episode. Tune in right here.
Petter Solberg was born into a family of rally enthusiasts. His parents were competing in a sport called bilcross that was popular in Norway, which revolves around upgraded cars customized in home garages. "It's the biggest motocross in Sweden and Norway basically. They are very low-class cars, and maybe 300 people are driving them. So we built cars and engines when we were young, and it was fun driving them outside the farm where we built them," said Petter Solberg on UNLEASHED.
After five race wins and nine podium finishes, Petter's milestone moment arrived in 2014 when he won the FIA World Rallycross Championship. He also repeated the feat in 2015. Born into this legacy, Oli also gets a lot of racing influence from his mother: Pernilla is the daughter of 1980 European Rallycross Champion, Per-Inge Walfridsson, and also counts several race enthusiasts on her side of the family. "It's just automatic because the whole family is doing it!" said Oli about his upbringing.
Aside from being dragged to racetracks as a child, Oli developed an interest in racing crosskarts early on. He proved his native talent by winning the first races starting at age 8, becoming sponsored, and then winning the Norwegian Championship. "The main thing was just to enjoy the races, and then you won. It was very natural in those days. Then it just builds up more and more – and you want more and more," says Oli Solberg.
Since then, Oli has moved on to 'real' rally cars and already has milestones like the 2020 FIA ERC1 Junior Champion and 2019 Latvian Rally Champion under his belt. Now competing with the 'big dogs' of the sports, Oli is finding his groove and refining his skills – and learning to deal with adversity. "It's easy when you're only winning but now, I'm actually learning a lot and working on myself."
Speaking on passing the torch to younger generations, Petter Solberg said: "My mother and father were very good drivers, but it has to come from inside you. You have to want it a lot!"
Want to hear more from the first father-son interview ever on UNLEASHED? Visit the landing page to access Episode 48 of the UNLEASHED with The Dingo and Danny Podcast featuring Oliver 'Oli' Solberg and Petter Solberg.
Episodes of UNLEASHED are filmed on a special set inside Studio M at Monster Energy headquarters in Corona, California. The podcast is hosted by the dynamic duo of Australian action sports personality Luke "The Dingo" Trembath and professional snowboarder Danny Kass. Known for their deep roots in action sports culture, the two starred in the beloved cult TV show 'The Adventures of Danny and The Dingo' on Fuel TV for five action-packed seasons in the early 2010s. Both hosts have walked the walk as pro snowboarders and possess the interview skills to find common ground with guests from any type of background – sports and pop culture. Always look out for new episodes dropping bi-weekly on Mondays.
Download photos for editorial use.
The UNLEASHED with The Dingo and Danny Podcast is here to celebrate the personalities behind the Monster Energy lifestyle. With each episode dedicated to a unique guest or topic, listeners learn about living on the edge and advancing the state of the art in the world of high-energy sports as well as music, games, and pop culture from individuals at the top of their game. More than a drink, Monster Energy is a way of life lived by athletes, sports, bands, believers, and fans – and the podcast is an extension of this unique DNA.
For more on Monster Energy and the UNLEASHED Podcast, visit http://www.monsterenergy.com. Also follow Monster Energy on YouTube, Facebook, Instagram, Twitter and TikTok for exclusive content and athlete features.
###
About Monster Energy
Based in Corona, California, Monster Energy is the leading marketer of energy drinks and alternative beverages. Refusing to acknowledge the traditional, Monster Energy supports the scene and sport. Whether motocross, off-road, NASCAR, MMA, BMX, surf, snowboard, ski, skateboard, or the rock and roll lifestyle, Monster Energy is a brand that believes in authenticity and the core of what its sports, athletes, and musicians represent. More than a drink, it's the way of life lived by athletes, sports, bands, believers, and fans. See more about Monster Energy including all of its drinks at http://www.monsterenergy.com.