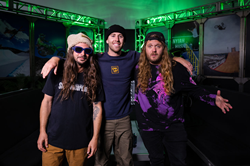 "I went into it that day trying to ride my best but also thinking, how would I like the world to perceive snowboarding? At the time I thought this isn't figure skating! This isn't bobsledding! Snowboarding should be fun, and everyone should be able to do it." - Sage Kotsenburg
CORONA, Calif. (PRWEB) November 29, 2021
Talk about a rider who's seen it all, done it all! Monster Energy is proud to welcome snowboard icon and Olympic gold medalist Sage Kotsenburg on Episode 19 of the sports and pop culture podcast UNLEASHED with The Dingo and Danny.
Released today across Monster Energy's social media channels, this latest one-hour episode interviews the 28-year-old from Park City, Utah, who made history as the world's first snowboarder to win a gold medal in the slopestyle discipline at the 2014 Winter Olympic Games in Sochi, Russia. Considered a real 'snowboarder's snowboarder', Kotsenburg then pursued his own vision of progressive snowboarding on backcountry terrain, which he continues to document in award-winning video parts.
"I like to go into that mindset. If you're going to compete at anything, at the end of the day everyone goes in and says, 'I'm going to try to win this! I'm going to prove myself!' I love going into these mindsets," said Kotsenburg about his approach to competition on the UNLEASHED episode.
Fans can now listen to Kotsenburg's inspiring journey as a pacesetter of snowboarding's progression in the competitive arena and the unexplored backcountry. Released today, the new podcast featuring Kotsenburg is streaming on all major platforms, including Spotify, iTunes, and YouTube.
Kotsenburg chose a road less traveled and blazed a new trail in professional snowboarding. As a top competitor, he not only won Olympic gold, but several X Games medals in the early 2010s. He then caused an upset by walking away from competitions and focusing on critically acclaimed video parts, including his gold medal-winning X Games Real Snow 2021 segment. Decorated as 'Rider of the Year' at the 2020 Snowboarder Magazine Awards, Kotsenburg continues to evolve and push the boundaries of the sport.
Tune in for a must-listen episode for all snowboard fans filmed at Studio M at Monster Energy headquarters! Speaking to the two UNLEASHED podcast hosts, Australian action sports personality Luke "The Dingo" Trembath and professional snowboarder Danny Kass, Kotsenburg provides a front-row perspective of competing at the highest level – and meeting President Barack Obama after winning gold for Team USA.
Kotsenburg grew up in a family of snow sports enthusiasts. He started snowboarding In Park City at age 5 alongside his older brother, Blaze. In conversation, Kotsenburg also remembers watching UNLEASHED podcast host Danny Kass compete in the 2002 Winter Olympic Games – where Kass won snowboard halfpipe silver – when he was 8 years old. "My whole family was there! It was so rad," said Kotsenburg on the show.
As a young prodigy, Kotsenburg earned a major milestone at age 16 by winning the overall slopestyle title in the 2009-10 Winter Dew Tour. Kotsenburg's big moment arrived at the 2014 Winter Olympics in Russia, when slopestyle snowboarding was contested for the first time as an official discipline – with him as the gold medal winner.
"I went into it that day trying to ride my best but also thinking, how would I like the world to perceive snowboarding? At the time I thought this isn't figure skating! This isn't bobsledding! Snowboarding should be fun, and everyone should be able to do it," said Kotsenburg, who won gold on the strength after a never-been-done trick in the final.
After the event, Kotsenburg's fame skyrocketed, starting with an appearance on the Good Morning America TV show and all the main late-night shows. "It was crazy! I was in New York and my PR agent kept getting calls. I was living the dream. I did all the shows," said Kotsenburg, who also appeared on a cereal box and met President Barack Obama at the White House in 2014.
But although he was winning at the top of the field, Kotsenburg viewed a professional future outside of the competitive arena. "I was really intrigued by riding backcountry. Just really exploring that realm of snowboarding. I always had this plan that, after the Olympics, I would just go do that."
In a move that shocked the snowboard world, Kotsenburg walked away from competitions and began filming video segments in the backcountry. "I told all of my sponsors and was fully expecting to get dropped… and everyone's been super supportive. Monster's been there for me the entire time," said Kotsenburg, who also said that specializing on one style of riding is key in face of the sport's progression. "Snowboarding is at a level now where you really need to focus on what's in front of you – and that only!"
Since then, the pioneer has proven his focus in several award-winning videos that raise the bar with never-been-done tricks at legendary spots in the wild, including Chad's Gap in Utah's Wasatch Mountains. And although he's no longer competing in stadium events, major awards kept coming in. Recent honors include Slush Magazine's Men's Rider of the Year for the 'Halcyon' video and the 2021 gold medal in the X Games Real Snow video competition.
Speaking on his approach to filming for X Games Real Snow with filmer/editor Jeremy Thornburg for six long weeks in Wyoming, Kotsenburg said: "It was a grind, but we came out with the win! I told my filmer that we're not going into Real Snow unless we come out winning!"
For more keys to winning at snowboarding (and life), better listen to the full episode with one of the most accomplished snow sports athletes of his generation. Visit the landing page to access Episode 19 of the UNLEASHED with The Dingo and Danny Podcast featuring Sage Kotsenburg.
Episodes of UNLEASHED are filmed on a special set inside Studio M at Monster Energy headquarters in Corona, California. The podcast is hosted by the dynamic duo of Australian action sports personality Luke "The Dingo" Trembath and professional snowboarder Danny Kass. Known for their deep roots in action sports culture, the two starred in the beloved cult TV show 'The Adventures of Danny and The Dingo' on Fuel TV for five action-packed seasons in the early 2010s. Both hosts have walked the walk as pro snowboarders and possess the interview skills to find common ground with guests from any type of background – sports and pop culture. Always look out for new episodes dropping bi-weekly on Mondays.
Download photos for editorial use.
The UNLEASHED with The Dingo and Danny Podcast is here to celebrate the personalities behind the Monster Energy lifestyle. With each episode dedicated to a unique guest or topic, listeners learn about living on the edge and advancing the state of the art in the world of high-energy sports as well as music, games, and pop culture from individuals at the top of their game. More than a drink, Monster Energy is a way of life lived by athletes, sports, bands, believers, and fans – and the podcast is an extension of this unique DNA.
For more on Sage Kotsenburg and our team of snowboard athletes visit http://www.monsterenergy.com. Also follow Monster Energy on YouTube, Facebook, Instagram, Twitter and TikTok for exclusive content and athlete features.
###
About Monster Energy
Based in Corona, California, Monster Energy is the leading marketer of energy drinks and alternative beverages. Refusing to acknowledge the traditional, Monster Energy supports the scene and sport. Whether motocross, off-road, NASCAR, MMA, BMX, surf, snowboard, ski, skateboard, or the rock and roll lifestyle, Monster Energy is a brand that believes in authenticity and the core of what its sports, athletes and musicians represent. More than a drink, it's the way of life lived by athletes, sports, bands, believers, and fans. See more about Monster Energy including all of its drinks at http://www.monsterenergy.com.