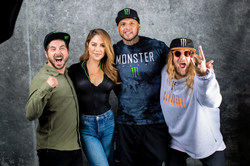 CORONA, Calif. (PRWEB) November 28, 2022
One of the realest interviews to date! Monster Energy is proud to welcome upcoming MMA fighter Daniel Rodriguez from Alhambra, California on Episode 46 of the sports and pop culture podcast UNLEASHED with The Dingo and Danny.
Recorded at our studio inside Monster Energy headquarters in Corona, California, this 55-minute episode tells the inspiring story of the 35-year-old MMA fighter who broke a cycle of violence and incarceration by finding success in the Ultimate Fighting Championship (UFC).
Speaking on the impact of his jail experiences on his drive to excel as a professional fighter, Rodriguez said on UNLEASHED: "I just wanted to be able to protect myself. I took that into the work ethic that I carry today. That, and not being scared of anybody."
For the full story on how "D-Rod" rose from the streets, fans can now tune in to Episode 46 of UNLEASHED. Released today, the new podcast is streaming on all major platforms, including Spotify, iTunes, and YouTube.
Rodriguez grew up in Los Angeles surrounded by violence and gang-related crime. He finally found a way out in mixed martial arts and has been competing in a variety of fight promotions since his twenties, including Bellator, King of the Cage, and Combate Americas. "D-Rod" also won the Smash Global Welterweight Championship. In February 2020, the purple belt in Brazilian Jiu-Jitsu made his UFC promotional debut at UFC Fight Night 167. Rodriguez now commands an impressive record of 17 wins in professional MMA, including seven wins in the UFC. On the UNLEASHED podcast, the upcoming welterweight fighter shares his motivation to leave his unique mark on the sport.
Hear the inside story in conversation with the two podcast hosts, Australian action sports personality Luke "The Dingo" Trembath, and professional snowboarder Danny Kass on Episode 46 of UNLEASHED. Also joining the interview, acclaimed painter, model, and UFC Octagon Girl Brittney Palmer contributes questions and background information to the episode. Tune in right here.
Growing up confronted with street fighting, Rodriguez had already built his foundation for martial arts unintentionally. "I really fell into this doing what I know. Before I had a lot of street fighting experience. I grew up in Los Angeles, and from 15 to 23 I was in and out of jail. I just got into a lot of fights. Being gang-affiliated you have enemies in there, and it's automatic," said Rodriguez on UNLEASHED.
By the time he found his calling in MMA, he was already somewhat of a later bloomer. "I didn't actually walk into a mixed martial arts gym until I was 25. I was just a fan," said Rodriguez. "The hardest part for a lot of people is actually walking into a gym and realizing it's not so bad. But a lot of people are intimidated by it."
His girlfriend at the time gifted Rodriguez an MMA gym membership as an anniversary gift: "At the time I had just gotten out of jail, so I had been away for a little bit. And my cousin hit me up and said there's this dude [Quinton] 'Rampage' [Jackson] fighting. I went to the fight and after that just became a fan."
Asked about the secret to his fighting approach, Rodriguez said he is drawing on his experiences in real-life fights: "I'm just comfortable in uncomfortable situations."
Rodriguez joined the UFC in February 2020, right before the pandemic lockdown. He won his first fight, in front of a live audience, unsuspecting that the next series of fights would take place under strict guidelines without any spectators. "That was the first fight in front of a crowd, and all the other fights happened at the UFC Apex," said Rodriguez. "I kind of got used to it, it's like sparring."
Looking into the future, Rodriguez is banking on his work ethic to remain in the game. "I train pretty much most of the year. All year round. I don't have time. I'm 35 now, and it's not going to last too long," said Rodriguez.
Want to hear it from Monster Energy's Rodriguez himself, including his favorite 'cheat meal' when he's not in training camp for a UFC fight? Visit the landing page to access Episode 46 of the UNLEASHED with The Dingo and Danny Podcast featuring MMA upstart Daniel Rodriguez.
Episodes of UNLEASHED are filmed on a special set inside Studio M at Monster Energy headquarters in Corona, California. The podcast is hosted by the dynamic duo of Australian action sports personality Luke "The Dingo" Trembath and professional snowboarder Danny Kass. Known for their deep roots in action sports culture, the two starred in the beloved cult TV show 'The Adventures of Danny and The Dingo' on Fuel TV for five action-packed seasons in the early 2010s. Both hosts have walked the walk as pro snowboarders and possess the interview skills to find common ground with guests from any type of background – sports and pop culture. Always look out for new episodes dropping bi-weekly on Mondays.
Download photos for editorial use.
The UNLEASHED with The Dingo and Danny Podcast is here to celebrate the personalities behind the Monster Energy lifestyle. With each episode dedicated to a unique guest or topic, listeners learn about living on the edge and advancing the state of the art in the world of high-energy sports as well as music, games, and pop culture from individuals at the top of their game. More than a drink, Monster Energy is a way of life lived by athletes, sports, bands, believers, and fans – and the podcast is an extension of this unique DNA.
For more on Monster Energy and the UNLEASHED Podcast, visit http://www.monsterenergy.com. Also follow Monster Energy on YouTube, Facebook, Instagram, Twitter and TikTok for exclusive content and athlete features.
###
About Monster Energy
Based in Corona, California, Monster Energy is the leading marketer of energy drinks and alternative beverages. Refusing to acknowledge the traditional, Monster Energy supports the scene and sport. Whether motocross, off-road, NASCAR, MMA, BMX, surf, snowboard, ski, skateboard, or the rock and roll lifestyle, Monster Energy is a brand that believes in authenticity and the core of what its sports, athletes, and musicians represent. More than a drink, it's the way of life lived by athletes, sports, bands, believers, and fans. See more about Monster Energy including all of its drinks at http://www.monsterenergy.com.