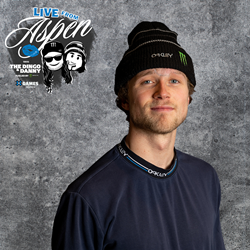 It was a lot of unknown, and a lot of the time; I wasn't sure if I was going to come back. That was tough!" - Colby Stevenson
ASPEN, Colo. (PRWEB) February 02, 2023
The podcast went live from Aspen for behind-the-scenes interviews! On the night before X Games Aspen 2023, UNLEASHED interviewed Monster Energy athletes Maggie Voisin and Colby Stevenson (Ski), as well as Mia Brookes and Halldor Helgason (Snowboard) in a special episode of the sports and pop culture podcast UNLEASHED with The Dingo and Danny.
Recorded at a mobile studio in Aspen, Colorado – behind the scenes of X Games Aspen 2023 – the special 1-hour episode was initially broadcast live on the Twitch platform on January 26, 2023. As of today, fans can tune in to the official recording of UNLEASHED 'Live from Aspen' on all major platforms, including Spotify, iTunes, and YouTube. Hear all the excitement as these athletes prepare for the biggest action sports showcase of the year.
"X Games is that energy, the top of action sports. It's what you dream of! It's unlike anything. And just having the crowd back this year, I couldn't be more excited," said Monster Energy's Maggie Voisin on the special episode of UNLEASHED.
In their exclusive interview with The Dingo and Danny, as well as co-host Brittney Palmer, the four snow sports athletes provide an insider view of their competition highs and lows, and what really happens at X Games Aspen 2023.
X Games holds special meaning to all four guests: Freeskier Maggie Voisin made history as the only American woman to win the Slopestyle discipline (Aspen 2018 and Norway 2020). Now a seven-time X Games medalist, the Team USA skier has been competing at X Games since age 15.
Heading into X Games Aspen 2023, the 24-year-old from Whitefish, Montana, said: "Out of all the girls competing in slopestyle, I'm doing it the longest, and that feels weird." Excited to be back competing, she added: "The field is just strong this year from all over the world."
Also known for making history in the event, fellow Team USA skier Colby Stevenson barged onto the scene as the first rookie in history to win two gold at an X Games (Aspen 2020 Ski Slopestyle, Knuckle Huck). "No rookie curse there! I definitely had something to prove because I felt I deserved the invite earlier than I got it," said Stevenson on UNLEASHED. Stevenson proved he's still got it when he won gold in Men's freeski slopestyle and bronze in ski knuckle huck at this year's X Games Aspen 2023 following this podcast.
In a candid moment, the 25-year-old from Park City shared details about recovering from a traumatic head injury suffered in a near-fatal car crash in 2016. "It was a lot of unknown, and a lot of the time, I wasn't sure if I was going to come back. That was tough!" Asked how he was able to recover and launch a pro sports career, Stevenson said: "It was all about having that determination to keep coming back. And I thought, 'If I can survive that, I can survive anything."
Snowboard icon Halldór Helgason went down in the books with a perfect score of 100 points to clinch Big Air gold in 2010. Since then, the 32-year-old from Iceland has built a reputation as one of the most stylish innovators of the sport in a series of acclaimed films and videos. Speaking on the origins of snowboarding in Iceland, the influential trailblazer said: "There was a generation before us. But me and my brother were the first ones to become pro. That was crazy and something we never expected to happen!"
Looking at this year's field, Helgason offered: "I think the new generation is way smarter than we were. They have that balance of living more figured out." Asked what he liked about this year's X Games, the veteran who competed in the Knuckle Huck discipline following this podcast and won a silver medal said: "I just came from a street trip so my body is kind of destroyed. I've been taking advantage of the riders lounge here at X Games, they got so many high-tech recovery devices."
And 16-year-old rookie Mia Brookes? Entering her very first X Games as the youngest Slopestyle competitor, she's excited to finally get her time to shine in the spotlight. "I'm super stoked to be here. We were riding the jumps today and the course is so sick! Whatever the outcome, I'm just so grateful to be here. It's an absolute dream come true."
Interviewed on UNLEASHED, Brookes spoke on her upbringing: "I first stepped on a snowboard at 18 months old. I had no choice, I just got taken to the mountain." Only a season ago, the prodigy from Sandbach, United Kingdom, was still too young to compete in World Cup events and missed out on the 2022 Beijing Winter Olympics because of her age. But the weekend before X Games, Brookes held her own against the world elite of the sport at the LAAX OPEN 2023 in Switzerland, finishing in second place in Women's Snowboard Slopestyle for her first World Cup podium.
Hear the full conversation with the two podcast hosts, Australian action sports personality Luke "The Dingo" Trembath and professional snowboarder Danny Kass on UNLEASHED 'Live from Aspen'. Also joining the interview, acclaimed painter, model, and UFC Otcogan Girl Brittney Palmer contributes questions and background information to the episode. Tune in right here.
Visit the landing page to access the 'Live from Aspen' episode of UNLEASHED with The Dingo and Danny Podcast featuring Maggie Voisin and Colby Stevenson(Ski), as well as Mia Brookes and Halldor Helgason (Snowboard) on the eve of X Games Aspen 2023.
Regular episodes of UNLEASHED are filmed on a special set inside Studio M at Monster Energy headquarters in Corona, California. The podcast is hosted by the dynamic duo of Australian action sports personality Luke "The Dingo" Trembath and professional snowboarder Danny Kass. Known for their deep roots in action sports culture, the two starred in the beloved cult TV show 'The Adventures of Danny and The Dingo' on Fuel TV for five action-packed seasons in the early 2010s. Both hosts have walked the walk as pro snowboarders and possess the interview skills to find common ground with guests from any type of background – sports and pop culture. Always look out for new episodes dropping bi-weekly on Mondays.
Download photos for editorial use.
The UNLEASHED with The Dingo and Danny Podcast is here to celebrate the personalities behind the Monster Energy lifestyle. With each episode dedicated to a unique guest or topic, listeners learn about living on the edge and advancing the state of the art in the world of high-energy sports as well as music, games, and pop culture from individuals at the top of their game. More than a drink, Monster Energy is a way of life lived by athletes, sports, bands, believers, and fans – and the podcast is an extension of this unique DNA.
For more on Monster Energy and the UNLEASHED Podcast, visit http://www.monsterenergy.com. Also, follow Monster Energy on YouTube, Facebook, Instagram, Twitter and TikTok for exclusive content and athlete features.
###
About Monster Energy
Based in Corona, California, Monster Energy is the leading marketer of energy drinks and alternative beverages. Refusing to acknowledge the traditional, Monster Energy supports the scene and sport. Whether motocross, off-road, NASCAR, MMA, BMX, surf, snowboard, ski, skateboard, or the rock and roll lifestyle, Monster Energy is a brand that believes in authenticity and the core of what its sports, athletes, and musicians represent. More than a drink, it's the way of life lived by athletes, sports, bands, believers, and fans. See more about Monster Energy including all of its drinks at http://www.monsterenergy.com.