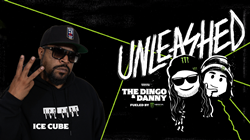 "What we learned in those first few years was that, just because you were good in the NBA – doesn't mean you're going to be great in the BIG3! You have to be great at all aspects of the game to be successful."- Ice Cube
CORONA, Calif. (PRWEB) August 23, 2021
Tune in as we welcome hip-hop royalty to the show! Monster Energy is proud to present multi-Platinum rap artist, actor, director, and entrepreneur Ice Cube on Episode 12 of the sports and pop culture podcast UNLEASHED with The Dingo and Danny. The special 45-minute episode was recorded on location in Chicago during season four of the BIG3 basketball league founded by Ice Cube and Jeff Kwatinetz and presented by Monster Energy as the official energy sponsor.
"Last year, Covid hit us hard, and we couldn't have a season. It's cool to be back in 2021! We're more than halfway through our season. We want to finish strong and I'm happy to be in Chicago," said Ice Cube on the episode about bringing BIG3 back from lockdown for its fourth season.
Fans can now tune in for the special episode straight from the Windy City with the 52-year-old multi-hyphenate artist and businessman from Los Angeles, California. The new episode featuring Ice Cube is now streaming on all major platforms including Spotify, iTunes and YouTube.
Born O'Shea Jackson Sr., Ice Cube has sold millions of albums as a part of super group N.W.A. and solo artist. In conversation with the two podcast hosts, Australian action sports personality Luke "The Dingo" Trembath and professional snowboarder Danny Kass, Ice Cube details his latest venture: the BIG3 pro basketball league which has introduced the world to what is known as fireball, an action-packed 3-on-3 faceoff.
Drawing on his lifelong passion for basketball, Ice Cube founded BIG3, alongside successful talent agent Jeff Kwatinetz in 2017. Televised on CBS and presented by Monster Energy as the official drink sponsor, the league has been a hit with fans on the strength of its fast-paced game format and big-name competitors.
"Three-on-three basketball has been in my life forever. I started to play when I was young, and we would play more three-on-three than five-on-five. So, it's been right there under the surface, but no one ever elevated it to the pro level," said Ice Cube about the genesis of the concept.
Now in its fourth season, BIG3 elevates the high-energy play style and flexes its innovation with some of the biggest names in pro basketball, including former All-Stars and World Champions. "It's especially for guys who had a stint in the NBA and still got game, still got attitude – and still want to show what they got!" said Ice Cube. "We wanted to make sure that it's a player-driven league and that we did everything we could to empower the athletes."
At first, the format revolved solely around former NBA pros, but since then the BIG3 has expanded its roster. "What we learned in those first few years was that, just because you were good in the NBA – doesn't mean you're going to be great in the BIG3!" said Ice Cube on the episode, adding: "You have to be great at all aspects of the game to be successful. You gotta be able to dribble, pass and shoot. There's no specialist in the BIG3. You gotta have all the skills. If not, you're gonna be exposed!"
Outside of creating his own basketball franchise, Ice Cube's track record as a recording artist stands in a league of its own. After defining the sound and bravado of West Coast gangsta rap on N.W.A.'s album Straight Outta Compton, released in 1988, Ice Cube found multi-Platinum success with solo albums including The Predator (1992) and Lethal Injection (1993).
Ice Cube's acting career took off with a debut role in 1991's hit film Boyz n the Hood, which went on to earn $57 million. Since then, he has gained global fame in movies such as Barbershop and the Friday series; the latter he also created as a screenwriter. Awards include the Blockbuster Entertainment Award for starring in Three Kings (1999) alongside Mark Wahlberg and George Clooney. In 2017, Ice Cube's work as an actor was recognized with the Lifetime Achievement Award at the All Def Movie Awards. He also served as executive producer on several films, including the N.W.A. biopic Straight Outta Compton (2015).
Speaking on his work on Straight Outta Compton, Ice Cube said on the episode: "It was cool to be a part of it on all levels. And it was surreal to recreate these events you already lived through. You think it would be easy to recreate the reality, but no! You have to work at it to make sure that it has the right tone, it has the right feel, it has the right vibe. The movie had to feel like it was shot in the Eighties and in the Nineties."
Bringing the conversation back to the BIG3 league, Ice Cube detailed plans to expand from twelve to 16 teams and contesting a World Cup tournament in the future. But asked whether podcast host and two-time Olympic snowboarding silver medalist Danny Kass could join the league, Ice Cube nixed the idea: "Maybe if he brought a snowboard, he could get busy!"
Ready for more banter and inside stories? Hear it all from the hip-hop legend and entrepreneur on the show! Visit the landing page to access Episode 12 of the UNLEASHED with The Dingo and Danny Podcast with Ice Cube.
Also look forward to Episode 13 of the podcast with NASCAR Cup Champion and racing icon Kurt Busch. Get ready for inside stories from Busch's career with a record of 32 victories, including the 2004 NASCAR Sprint Cup Championship, Coca-Cola 600 (2010), and the Daytona 500 (2017). Tune in on September 6, 2021, when the Chip Ganassi Racing driver gets personal with The Dingo and Danny on the show.
Regular Episodes of UNLEASHED are filmed on a special set inside Studio M at Monster Energy headquarters in Corona, California. The podcast is hosted by the dynamic duo of Australian action sports personality Luke "The Dingo" Trembath and professional snowboarder Danny Kass. Known for their deep roots in action sports culture, the two starred in the beloved cult TV show 'The Adventures of Danny and The Dingo' on Fuel TV for five action-packed seasons in the early 2010s. Both hosts have walked the walk as pro snowboarders and possess the interview skills to find common ground with guests from any type of background – sports and pop culture. Always look out for new episodes dropping bi-weekly on Mondays.
Download photos for editorial use.
View Unleashed With The Dingo and Danny Fueled by Monster Energy Podcast EP12 Featuring Ice Cube on Monster Energy's YouTube page here.
The UNLEASHED with The Dingo and Danny Podcast is here to celebrate the personalities behind the Monster Energy lifestyle. With each episode dedicated to a unique guest or topic, listeners learn about living on the edge and advancing the state of the art in the world of high-energy sports as well as music, games, and pop culture from individuals at the top of their game. More than a drink, Monster Energy is a way of life lived by athletes, sports, bands, believers, and fans – and the podcast is an extension of this unique DNA.
For more on Ice Cube and the BIG3 basketball tournament series visit http://www.monsterenergy.com. Also Follow Monster Energy on YouTube, Facebook, Instagram, Twitter and TikTok for exclusive content and athlete features.
###
About Monster Energy
Based in Corona, California, Monster Energy is the leading marketer of energy drinks and alternative beverages. Refusing to acknowledge the traditional, Monster Energy supports the scene and sport. Whether motocross, off-road, NASCAR, MMA, BMX, surf, snowboard, ski, skateboard, or the rock and roll lifestyle, Monster Energy is a brand that believes in authenticity and the core of what its sports, athletes and musicians represent. More than a drink, it's the way of life lived by athletes, sports, bands, believers, and fans. See more about Monster Energy including all of its drinks at http://www.monsterenergy.com.