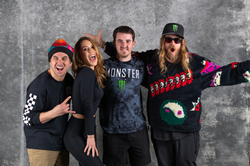 CORONA, Calif. (PRWEB) February 06, 2023
From the trails to the studio! Monster Energy is proud to welcome the 31-year-old downhill mountain bike racing icon and two-time world champion Danny Hart from Redcar, United Kingdom, on Episode 3 of Season 3 of the sports and pop culture podcast UNLEASHED with The Dingo and Danny.
Recorded at Studio M inside Monster Energy headquarters in Corona, California, this latest 57-minute episode tells the story of the most prolific mountain bike racer to come out of the United Kingdom.
"I still love riding, I'll be the first guy at the lift waiting for it to open and practice," said Hart on UNLEASHED. "I just want to get my gear on and go ride. Because I love it so much."
For a look inside Hart's rigorous training process and unique work ethic, fans can now tune in to Episode 03, Season 03 of UNLEASHED. Released today, the new podcast is streaming on all major platforms, including Spotify, iTunes, and YouTube.
Also known as the 'Redcar Rocket', Danny Hart made history as one of the most successful downhill MTB racers the United Kingdom has ever produced. He barged onto the international scene by winning the highest honor of the sport, the UCI World Championship, in 2011 at a young age with a dominant lead of 11 seconds. Hart also became the British National Champion in 2015 and earned his second UCI world title in 2016. In his interview on UNLEASHED, the father of two girls details his training process and secret bike set-up that keep earning him podium spots at international race events.
Hear the inside story in conversation with the two podcast hosts, Australian action sports personality Luke "The Dingo" Trembath and professional snowboarder Danny Kass, on Episode 03, Season 03 of UNLEASHED. Also joining the interview, acclaimed painter, model, and UFC ambassador Brittney Palmer contributes questions and background information to the episode. Tune in right here.
Born and raised in Redcar, United Kingdom, Hart caught the mountain bike racing bug at a young age and soon showed exceptional talent. "As a kid, you learn to ride a bike and my dad raced anything with two or four wheels. As a kid, you think your dad is the best at anything. So, I was there in the background when he raced. And then my town got a skatepark and I started riding BMX and that got me into racing," said Hart.
Once he took his racing passion to mountain bikes, Hart found his calling. In 2007, he took first place in the Youth National Championship at Rheola, Wales and has been on a roll ever since. Hart competed in his first UCI World Cup race at just 16 and only one year later finished the season in eighth place. Speaking on the UK racing scene, he said: "It's a tight knit scene. And we have to work hard for it. We don't have a ski lift where we can just ride all day. We don't take it for granted. Even when it rains and the weather is rubbish, we have to go out there and work hard for it."
His breakthrough arrived in 2011 when Hart barged onto the scene at the UCI World Championships in Champery, winning by 11 seconds under tough conditions. "I won the World Championships twice. We have a World Cup series which give you the eight races and that gives you an overall champion. And there's the World Championships that are a single race and that gives you the rainbow jersey and the champion title. So that's the pinnacle."
Asked about his nickname, Hart allowed that a graphic designer friend was working on a logo patch for his clothing sponsor. "That's what we came up with, Redcar Rocket. And it stuck!"
The secret to his rocket-like success? Perhaps video analytics: In the off-season, Hart practices alone and analyzes runs filmed on a helmet-mounted camera. In terms of equipment, Hart is known as one of the first riders to run a mixed wheel size set-up.
"We have a 29-inch wheel on the front and a 27-inch wheel on the back. Twenty-nine is big; that's like a road bike wheel. And I'm small, so riding both tires in 29 is big for me. But with a 27.5-inch in the back so that gives me more room. My team at the time was on it and got it turned around really quickly. And that's what everyone is doing now!"
What's next for Danny Hart? Going into the 2023 season, he said: "We just have to go and race as fast as we can and hope for the best. I want to be on the podium at the World Cup every weekend."
But better hear the entire story from the seasoned racer himself! Visit the landing page to access Episode 03, Season 03 of the UNLEASHED with The Dingo and Danny Podcast featuring two-time UCI World Champion Danny Hart.
Episodes of UNLEASHED are filmed on a special set inside Studio M at Monster Energy headquarters in Corona, California. The podcast is hosted by the dynamic duo of Australian action sports personality Luke "The Dingo" Trembath and professional snowboarder Danny Kass. Known for their deep roots in action sports culture, the two starred in the beloved cult TV show 'The Adventures of Danny and The Dingo' on Fuel TV for five action-packed seasons in the early 2010s. Both hosts have walked the walk as pro snowboarders and possess the interview skills to find common ground with guests from any type of background – sports and pop culture. Always look out for new episodes dropping bi-weekly on Mondays.
Download photos for editorial use.
The UNLEASHED with The Dingo and Danny Podcast is here to celebrate the personalities behind the Monster Energy lifestyle. With each episode dedicated to a unique guest or topic, listeners learn about living on the edge and advancing the state of the art in the world of high-energy sports as well as music, games, and pop culture from individuals at the top of their game. More than a drink, Monster Energy is a way of life lived by athletes, sports, bands, believers, and fans – and the podcast is an extension of this unique DNA.
For more on Monster Energy and the UNLEASHED Podcast, visit http://www.monsterenergy.com. Also, follow Monster Energy on YouTube, Facebook, Instagram, Twitter and TikTok for exclusive content and athlete features.
###
About Monster Energy
Based in Corona, California, Monster Energy is the leading marketer of energy drinks and alternative beverages. Refusing to acknowledge the traditional, Monster Energy supports the scene and sport. Whether motocross, off-road, NASCAR, MMA, BMX, surf, snowboard, ski, skateboard, or the rock and roll lifestyle, Monster Energy is a brand that believes in authenticity and the core of what its sports, athletes, and musicians represent. More than a drink, it's the way of life lived by athletes, sports, bands, believers, and fans. See more about Monster Energy including all of its drinks at http://www.monsterenergy.com.