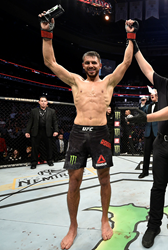 BOSTON (PRWEB) October 19, 2019
It took two tries to get it right! Monster Energy congratulates Yair Rodríguez on defeating Jeremy Stephens in the co-main event at UFC on ESPN 6 inside TD Garden in Boston on Friday night. In front of a high-energy crowd, the 27-year-old MMA athlete from Parral, Mexico, won the featherweight fight by unanimous decision after going blow-for-blow with his opponent for three rounds. Each of the two fighters also took home a $50,000 bonus for their 'Fight of the Night'.
Friday night's bout between Rodríguez and Jeremy Stephens was a highly anticipated rematch. On September 21, the two had already faced off in the UFC Mexico City main event. But when an accidental eye poke left Stephens unable to continue after only 15 seconds, the fight was ruled a 'no contest' and tensions between both camps were riding high ever since.
This time, Rodríguez wanted to set the record straight against the 33-year-old MMA veteran. Both fighters came into the Octagon swinging, Rodríguez landing punches to the head and a switch kick to the chin before taking Stephens down with a jab before the end of round one. In the second round, Rodríguez sent Stephens to the canvas with a stunning body kick and rained punches from above, almost securing a finish as his opponent struggled on the ground.
The third and final round opened with an all-out brawl between both fighters before Jeremy Stephens scored a takedown and proceeded to punish Rodríguez with relentless ground-and-pound attacks. Absorbing massive damage, Rodríguez thwarted all finish attempts until the final buzzer. He was helped back to his feet by Stephens in a genuine show of sportsmanship, making all pre-fight beef forgotten.
When all was said and done, the judges declared Rodríguez, who had the upper hand in the first two rounds, the winner via unanimous decision (29-28, 29-28, 29-28). They also ruled the explosive 15-minute slugfest the 'Fight of the Night'.
"I was kind of compromised because I was down most of the round, but I never felt in danger," said Rodriguez about the final round at UFC Fight Night in Boston, adding: "I just stayed as safe as possible to win the fight."
On the strength of his latest victory, Rodríguez now commands a professional record of 13 wins, two losses and one 'no contest' fight. Also known as 'El Pantera', he is currently ranked seventh in the featherweight division on the Ultimate Fighting Championship circuit. Rodríguez joined UFC in 2014 after winning The Ultimate Fighter: Latin America tournament.
Rodríguez is amongst Monster Energy's elite UFC team along with Donald "Cowboy" Cerrone, Conor "The Notorious" McGregor, Jorge Masvidal, A.J. McKee, Jon Jones, Daniel Cormier, Dominick "Dominator" Cruz, Chris "The All American" Weidman, Tyron "The Chosen One" Woodley, Max Holloway, Jessica-Rose Clark, Li Jingliang, and Cris Cyborg.
For more on Monster Energy's MMA team visit http://www.monsterenergy.com. Follow Monster Energy on YouTube, Facebook, Instagram and Twitter.
About Monster Energy
Based in Corona, California, Monster Energy is the leading marketer and distributor of energy drinks and alternative beverages. Refusing to acknowledge the traditional, Monster Energy supports the scene and sport. Whether motocross, off-road, NASCAR, MMA, BMX, surf, snowboard, ski, skateboard, or the rock and roll lifestyle, Monster Energy is a brand that believes in authenticity and the core of what its sports, athletes and musicians represent. More than a drink, it's the way of life lived by athletes, sports, bands, believers and fans. See more about Monster Energy including all of its drinks at http://www.monsterenergy.com.