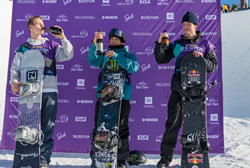 "This is amazing, winning the U.S. Open! I'm really happy to make the 1440 into the 1260 and 1080 combo, that was the very first time I landed this." Yuto Totsuka
VAIL, Colo. (PRWEB) March 01, 2020
We have a new U.S. Open Champion! Monster Energy congratulates team rider Yuto Totsuka on taking first place in Men's Snowboard Halfpipe at the 38th annual Burton U.S. Open Snowboarding Championships today. Facing the world's best halfpipe snowboarders at Colorado's Vail Mountain Resort, the 18-year-old snowboard phenom from Yokohama, Japan, claimed the coveted U.S. Open title in one of the most intense finals in history.
As the world's longest-running snowboard event, the annual Burton U.S. Open Snowboarding Championships have been showcasing the sport's progression since 1982. The competition has evolved from humble beginnings into a fixture on snowboarding's event calendar with a $373,000 prize purse without ever losing its grassroots feel. Both male and female competitors are paid the exact same amount of prize money at the iconic event that traditionally closes out the year's snowboard season with peak progressive riding from the world's top athletes.
The Men's Snowboard Halfpipe final went down amidst perfect weather conditions on Vail Mountain in a snow halfpipe featuring a special course design: The top section consisted of a classic, 13-foot high mini halfpipe with 'tombstone' extensions, while the lower section featured a 22-foot tall superpipe with large transitions for maximum airtime. Overall, the new halfpipe format shifted the focus to versatility and creative trick selection in the ten-rider final featuring the sport's current top riders.
As the final session got underway, all eyes were on one ongoing rivalry: Monster Energy's Totsuka versus the most dominant rider in recent snowboard halfpipe riding, Australia's Scotty James. The last seven showdowns between the two riders had all ended the same with Scotty James in first place and Yuto Totsuka in second, most recently at X Games Aspen 2020 in January. But today, that was about to change.
Straight out the gate, Totsuka set the bar high with a flawless first run featuring burly moves in the mini pipe followed by his signature frontside double cork 1440 and Cab double cork 1260 to take an early lead at 92.6 points. With James facing difficulty in the mini pipe section, Switzerland's Jan Scherrer upped the ante by posting a perfect run, taking the lead with a 95.16-point score in what would go down as one of the most epic finals in the history of the U.S. Open.
With nothing to do but send it even harder, Totsuka rose to the challenge on his second run: Dropping into the mini pipe, he posted a massive McTwist off the tombstone extension into an alley-oop Rodeo stalefish. Charging into the superpipe, Totsuka put down a never-been-done combination of frontside double cork 1440, Cab double cork 1260 and switch backside double cork 1080 – all blasted at high altitude – for the biggest score of the day at 97.00 points and the U.S. Open Championship title.
"This is amazing, winning the U.S. Open! I'm really happy to make the 1440 into the 1260 and 1080 combo, that was the very first time I landed this," said Totsuka upon winning the 2020 Burton U.S. Open Snowboarding Championships in Colorado today.
Today's U.S. Open Championship title marks the biggest win in Totsuka's career. Despite his young age, the 18-year-old rookie has already proven himself a podium threat on the international snowboard superpipe circuit. Career milestones so far include FIS Snowboard halfpipe World Cup crystal globe wins in 2018 and 2019 as well as two silver medals at X Games. A few weeks before the U.S. Open, the reigning Japanese national halfpipe champion also took first place at the Land Rover U.S. Grand Prix at Mammoth Mountain.
Download photos for editorial use.
This year's Burton U.S. Open was dedicated to the memory of the event's creator, Jake Burton, who had passed away in November 2019. A snowboard history exhibit and Friday morning's group ride down one of Burton's favorite runs – now named 'Jake's Stash' in his honor – celebrated the snowboard pioneer's life and legacy. During Saturday's halfpipe finals, a poaching session saw close to 100 riders – including legends of the sport like Shaun White – barging down the pipe together in a tribute to Jake Burton.
Once again congratulations to all our riders on their 2020 Burton U.S. Open Snowboarding Championships performances and thank you for following Monster Energy snowboarding through an amazing season. Make sure to tune in next weekend for the fifth edition of X Games Norway at Hafjell Resort featuring the world elite of snowboarding and freeski from March 7 - 8, 2020.
Visit http://www.monsterenergy.com and follow Monster Energy on Facebook, Instagram, Twitter for exclusive updates on our Freeski athletes.
###
About Monster Energy
Based in Corona, California, Monster Energy is the leading marketer and distributor of energy drinks and alternative beverages. Refusing to acknowledge the traditional, Monster Energy supports the scene and sport. Whether motocross, off-road, NASCAR, MMA, BMX, surf, snowboard, ski, skateboard, or the rock and roll lifestyle, Monster Energy is a brand that believes in authenticity and the core of what its sports, athletes and musicians represent. More than a drink, it's the way of life lived by athletes, sports, bands, believers and fans. See more about Monster Energy including all of its drinks at http://www.monsterenergy.com.