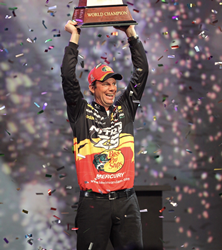 These traits, combined with the bait's natural buoyancy, give fishermen a distinct advantage over other bait varieties.
LOS ANGELES (PRWEB) March 08, 2021
Between brick and mortar locations and online retailers, there are millions of options for crankbait available to fishermen. Even for a seasoned fisherman, this seemingly endless selection of options can be overwhelming. The experts at the bait and tackle retail store, MONSTERBASS, recently authored a definitive guide on how to make a decisive and well-informed decision when purchasing crankbait.
Crankbait mimics the motions and profile of a swimming fish. These lures are an excellent piece of tackle for freshwater fisherman to add to their arsenal. To a fish, these lures look like small bait-fish and the small plastic bill on the front of the lure displaces water to make the lure dive. These traits, combined with the bait's natural buoyancy, give fishermen a distinct advantage over other bait varieties. This bait starts its arc near the topwater, attracting topwater fish near where the cast lands, and then, as the crankbait is drawn, it sinks, carrying it through the mid-layer, down to the bottom, then starts climbing back through those layers.
According to the experts at MONSTERBASS, the first factor to consider when choosing crankbait is what the fisherman intends to catch and the time of year they are fishing. While different fish species may attack the same crankbait, modern lures and baits are designed to attract specific species, an advantage that should not be ignored or overlooked. The seasons also play an essential role in determining the best crankbait for particular species of fish. For example, depending on the season, small and largemouth Bass inhabit various areas within the water column, which impacts which kind of crankbait will be the most effective.
With the time of year and intended catch considered, the crankbait selection process turns to several factors involving specific crankbait design elements. Despite the millions of options available to fishermen, the MONSTERBASS experts emphasize that the only real factors to consider at this point in the decision-making process are color, shape, and depth.
The color of crankbait is much more than an aesthetic choice. In murky water, bright colors such as yellows, reds, and oranges are ideal, while in clear water, a fisherman should choose colors that are representative of the local bait-fish species. Additionally, lighting quality should be considered when selecting the color of crankbait. If it is gray out, white crankbait will be more visible. If there is lots of sunlight, metallic finishes will reflect and lure species like bass toward them.
Regarding shape, there are only two main variations in crankbait bodies. Narrow bodies with flat sides are great for clear, calm water or areas with stressed populations that aren't biting anymore. Conversely, crankbait with fat rounded bodies disturb the water more, and draw fish in through auditory cues in murky water, while also exciting fish behaving sluggishly due to water temperature. Finally, the small plastic bill on the front of the crankbait will determine the depth to which the bait will dive. According to the experts at MONSTERBASS, a well-stocked tackle box should include crankbaits that can dive to a variety of depths.
Monthly boxes at MONSTERBASS include:
Regional Pro Series (Bass)

South
Northeast
Midwest/Great Lakes
Pacific Northwest
West
National Series (Bass)
Multi-Species (Bass and Panfish)
Ice Fishing (Available December-March)
Interested consumers can read more of the MONSTERBASS team's expert takes on the world of fishing at the company's blog spot and browse their extensive selection of products at http://www.monsterbass.com.
MONSTERBASS is an owner-operated company proudly based in the United States. Headquartered in Los Angeles CA, with a Customer Service team located in Montgomery AL, and Supply Chain Operations managed out of Memphis, TN. Every member of the team has equity in the company and is driven to create successful outcomes. Successful outcomes for our customers and for the company. We strive to deliver our customers with the best possible support and solve their problems, the way that we'd want our own problems solved.
Additional information is available at http://www.monsterbass.com on Instagram at @monsterbassco, Twitter, Facebook, and Youtube.