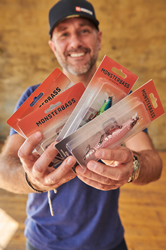 "With these time-honored items, anglers of all skill levels and experience will be able to relive iconic moments from the Classic, and have the proven tools to become victors on their own waterways"
LOS ANGELES (PRWEB) March 02, 2021
The grandest stage in all of tournament bass fishing will descend upon Lake Ray Roberts in June and in anticipation of of this year's Championship, MONSTERBASS is proud to reveal the contents of this month's box, with every bait having previously won the tournament. Available beginning March 1st, the popular monthly bass fishing subscription box will feature fishing tackle that helped professional anglers like Kevin VanDam, Boyd Duckett, and Robert Hamilton Jr. build legacies for themselves within the sport.
"We wanted to do something that had never been done before by another subscription box and truly give our subscribers something special," said Rick Patri, MONSTERBASS President & CEO. "Bringing it all together was more difficult than anyone will ever know and would not have been possible without the help of Ken Duke and his encyclopedia of knowledge, as well as the efforts by Davy Taff to bring the Hale Craw Worm back to production."
"Putting this box together was such an exciting challenge," said Ken Duke, Managing Editor of Fishing Tackle Retailer. "I mean these baits are responsible for putting hundreds of thousands of dollars in people's pockets on bass fishing's biggest stage. Who does that?"
"With these time-honored items, anglers of all skill levels and experience will be able to relive iconic moments from the Classic, and have the proven tools to become victors on their own waterways," said Davy Taff, MONSTERBASS COO.
The tournament winning fishing tackle included in this month's MONSTERBASS box...
The Gambler Baby Bacon Rind is an unassuming creature bait measuring just four inches long, but it was the key to victory for Davy Hite in 1999. This bass-magnet carried Hite to victory by logging him the largest catch of the event at five pounds and ten ounces, and helped him catch over 55 pounds worth of fish during the event.
Berkley Trilene has built itself a legacy on durable fishing line, by aiding 15 Champs in their marquee performances with its Trilene XT line was the tool of choice for five of them, making it the most popular of them all.
Designed to mimic a crawfish, the Berkley PowerBait Chigger Craw is developed with realistic, soft plastics, and will flow through the water with lifelike motions. This tackle rose to prominence in 2007 on Alabama's Lay Lake when Boyd Duckett used it to reel in an eight pound, two ounce bass that was the biggest of the entire tournament, as well as the biggest bass of the final day weighing six pounds and nine ounces.
Lonnie Stanley is an iconic tackle designer, who in 1992 managed to fit 49 pounds worth of lures into his assigned Flambeau 2275 tackle box, as the box was mandated by Classic rules. Stanley's Tapered Needle Point Hook helped Lonnie qualify for five Bassmaster Classics.
Kevin VanDam utilized his iconic Crankbait to take home his third title in 2011, which he designed to be bounced off of cover and trigger the predatory instincts of bass. His Strike King KVD HC Crankbait will come to MONSTERBASS members at one and a half inches and give them the proven-tool of the consensus greatest tournament angler of all time.
The Stanley Jig and Hale Craw Worm has been a favorite lure amongst top pros for four decades, as it lures in larger bass on average. This tackle is storied, and is the result of several years of competitive fishing and innovation, as it combined the Stanley Jig used by Guido Hibdon is 1988, and the Hale Craw Worm utilized by Hank Parker Texas to claim the championship in 1989. Crafted by Robert Hamilton Jr. in 1992, the Stanley Jig and Hale Craw Worm was Hamilton's MVP in securing a six pound, fourteen ounce fish that was the largest of the entire event.
March's package includes one originally-designed bait specifically with MONSTERBASS subscribers in mind: the limited-edition Hammerhead 1.5 Silent Square. This bait may not have won the Classic (yet) but just you watch. Designed with the help of Alex Rudd and sporting limited edition paint by Messer Custom Baits, the silent squarebill is as deadly as it is beautiful. Perfect for banging off shallow cover, grinding gravelly flats and stump fields.
Founded in 2019, MONSTERBASS is changing the way bass anglers learn about the best new baits to hit the market. We understand that region, season and color matter , so our monthly Regional Pro Series boxes are built to deliver the highest producing baits for where you live and fish. MONSTERBASS is an owner-operated company proudly based in the United States. Every member of our team is driven to deliver the best baits and the best customer support. Subscribe to MONSTERBASS' National Series or Regional Pro Series to receive curated tackle delivered each and every month, including the Bassmaster Classic Winners box coming to members this March.
Additional information is available at http://www.monsterbass.com on Instagram at @monsterbassco, Twitter, Facebook, and Youtube.