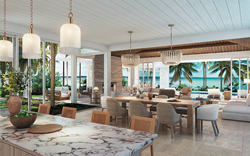 ORANGE COUNTY, Calif. (PRWEB) November 11, 2021
Today, Montage Residences and Pendry Residences, a distinct portfolio of exclusive private residences in storied settings across the U.S., Mexico, and The Bahamas, announces the opening of a South Florida Real Estate Sales Gallery, further expanding their East Coast presence within a highly coveted market. The sales gallery will be located within the renowned Las Olas Boulevard in Fort Lauderdale, Florida, a coveted destination for locals and visitors alike for premier shopping, business, dining and entertainment.
The new Residential Sales Gallery will feature a comfortable setting complete with a presentation lounge and bar that will deliver an engaging experience symbolic of the authentic Montage and Pendry signature service and lifestyle. A model display room will present a variety of the portfolio's offerings and interior design finishes, providing buyers with a hands-on experience for their home selection. The Residential Sales Gallery will be open by appointment only along with thoughtfully curated invitation-only intimate events for potential buyers, local real estate brokers and their clients, influencers, and media.
"As we continue to engage with the ever-expanding South Florida luxury community, we are delighted to have a venue for our buyers to experience the entire Montage International Residential portfolio," says Tina Necrason, executive vice president, residential, Montage International. "Currently, South Florida is one of our top three markets and we feel strongly that by expanding our reach, we will increase our capture significantly with concentration prominently focused on Fort Lauderdale."
South Florida is a top market for the brand's first private-island residential retreat in The Abacos Islands in the Bahamas opening in 2023, Montage Cay. With close proximity to elite yacht enthusiasts in South Florida, Montage Cay offers unique private marina membership access, with 46 slips, some which can accommodate up to 110-foot vessels – and the first marina within the Montage brand. Montage Cay introduced a Founding Owner's residential offering earlier this year and are set to now unveil another collection, comprised of two- to six-bedroom oceanfront Residences available for sale from $5.8M.
In addition to Montage Cay, Montage International is actively selling branded residential in; West Hollywood, California, Natirar, New Jersey, Healdsburg, California, Los Cabos, Mexico and Big Sky, Montana, along with new locations to be announced.
"Whether someone may have an interest in a Residence at Pendry West Hollywood, or they might be considering a country home outside of Manhattan at Pendry Residences Natirar, we can create an immersive brand and lifestyle experience for them without actually being there at that moment," says Tina Necrason. "We are thrilled with this unique venue that will further introduce The Residences at Montage Cay and other featured projects to locals in Fort Lauderdale."
To learn more about Montage Hotels & Resorts, please visit http://www.montagehotels.com. To learn more about Pendry Hotels & Resorts, please visit http://www.pendryhotels.com. For more information about Montage and Pendry Residences, visit http://www.distinctlivinghome.com.
The Residential Sales Gallery is located at 226 SE 12th Avenue, Ft. Lauderdale, Florida. To arrange for a private showing, please call (561) 373-0956.
About Montage Residences
Montage Residences is the esteemed collection of residential communities within Montage Hotels & Resorts, the ultra-luxury hospitality management company founded by Alan J. Fuerstman in 2002. Designed to serve affluent and discerning homeowners, Montage Residences offers a distinctive lifestyle that embodies the authenticity of each coveted destination paired with sophisticated touches tailored to each resident's personal desires and individual tastes. Living spaces reflect distinguishing characteristics captured through stunning locations and genuine sense of place, while signature services and amenities are seamlessly delivered to provide the most carefree lifestyle for every resident. The Montage Residences portfolio includes: Laguna Beach, Deer Valley, Kapalua Bay, Palmetto Bluff, Los Cabos, and Healdsburg. A future collection of Montage Residences is planned for; Big Sky, Montana and The Bahamas, The Caribbean. For additional information on residential opportunities, please visit http://www.montageresidences.com.
About Pendry Residences
Pendry Residences is a bespoke collection of private, whole ownership residential offerings at select Pendry Hotels & Resorts, a new luxury hospitality brand from Montage International. Pendry combines inspired design with a celebration of culture and authentic service. Created for cultured and discerning homeowners, each residential offering infuses a unique perspective on contemporary style that blends with the arts and local community. The Pendry Residences portfolio includes: West Hollywood, California; Natirar, New Jersey; and Park City, Utah. For additional information on residential opportunities, please visit https://www.pendry.com/residences/.
About Montage International
Montage International, the ultra-luxury hospitality management company founded by Alan J. Fuerstman, features a distinctive collection of hospitality brands. Montage International encompasses the ultra-luxury brand Montage Hotels & Resorts, the new luxury hospitality brand Pendry Hotels & Resorts, Montage Residences, Pendry Residences and the management of some of the country's premiere golf courses and clubs. Founded in 2002, Montage Hotels & Resorts is an artistic collection of distinctive hotels, resorts and residences including: Montage Laguna Beach, Montage Deer Valley, Montage Kapalua Bay, Montage Palmetto Bluff, Montage Los Cabos and Montage Healdsburg. Opening in 2021 is Montage Big Sky and opening in 2023 is Montage Cay. Pendry Hotels & Resorts, founded in 2014, is a collection of new luxury hotels for today's cultured world traveler located in taste making destinations including Pendry San Diego, Sagamore Pendry Baltimore, Pendry West Hollywood, Pendry Chicago, and Pendry Manhattan West. Opening in 2021 is Pendry Park City. Opening in 2022 is Pendry Natirar and Pendry Washington D.C. – The Wharf. Montage International also manages and operates Spanish Peaks Mountain Club in Big Sky, Montana and The May River Golf Club in Bluffton, South Carolina. For more information, please visit http://www.montage.com.