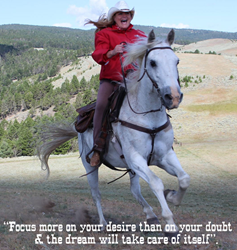 "Sometimes you find yourself in the middle of nowhere, and sometimes in the middle of nowhere you find yourself"
Martinsdale, Montana (PRWEB) May 16, 2017
The Balanced Connection Cowgirls Retreat participants will experience the unrivaled beauty, solitude, wildlife, expansive vistas and star filled nights of Montana while building connections with horses and nature. This new retreat for Cowgirls, with the assistance of Equine Gestalt Coaches and horses, will provide guidance toward developing an individual perspective and understanding of connections with nature, with self and with others.
The Bonanza Creek Ranch evokes the very essence of traditional cattle ranching as it was in the Old West, and as it continues to be today. Herds of elk, antelope, and deer graze the same pastures as the ranch's 1500 head of cattle. The 25,000 acres of ranch land and the adjacent Helena Lewis and Clark National Forest provide limitless opportunities to ride a variety of terrain on a horse chosen to suit the skills of the individual rider.
The horses at Bonanza Creek are ranch horses, soft mouthed and cattle smart. The herd of 40 guest horses are mostly Quarter Horses, solid, hearty, sure-footed animals. Apart from arrival day, there will be daily opportunities to ride a wide variety of different terrains, from 5200' to 8300' in elevation, suitable for intermediate and advanced riders.
This authentically American experience transports retreat guests to a simpler time in a spectacular setting. Montana's Big Sky country is best viewed from the back of horse during the day, and the immense view of the Milky Way blazing across the nighttime sky is best viewed from the porch of each of the four guest cabins.
The hospitality at the Bonanza Creek Ranch is exceptional with comfortable lodging, delicious home cooked meals and activities centered around horses. The Voldseths, 4th and 5th generation ranchers of this land, host only 8-12 guests per week. This newest retreat for Cowgirls is a fantastic opportunity to experience ranch life and make new friends.
The Balanced Connection Retreat will be guided by Equine Gestalt Coaches; Linda Bruce and June Voldseth. These lifelong horsewomen have created an opportunity for learning and growth through building connections with nature, horses, self and others. The retreat experience seeks to connect the soul to the present, with the assistance of the horse as teacher and listener. Ultimately, perceptions of connections with all living things can shift dramatically, becoming more balanced, thus opening doors, inspiring and empowering participants.
The 4 night 3 ½ day (Sunday late afternoon through Thursday lunch) retreat includes all home cooked meals, lodging in comfortable cabins, connection activities, horseback riding, private coaching sessions (optional) and a free massage (optional). No more than 10 guests will be accepted for this exclusive retreat.
Call Bonanza Creek Country Ranch at 406-572-3366 to reserve this unforgettable experience of the American West in the heart of Montana's legendary Big Sky Country. Click here to lean more about this retreat http://www.bonanzacreekcountry.com/cowgirl-retreats/june-linda/
"If there is a heaven for horses and people, it must be here." – Jean, Belgium
"In my Retreat journey, there was new healing for an old wound to my soul that I had believed was long healed. In addition, there was the peace that spoke to me in the sound of the wind in the trees, the sun shining on the mountaintops in the distance, the moon lighting up my cabin at night, and the exhilaration of steady and strong horseflesh under me as we galloped across open meadows. The experience forever changed me." – Gail
Watch the attached video "Today's Wild West" video featuring Bonanza Creek Ranch to learn more about every aspect of this quintessential American experience.
Visit http://www.bonanzacreekcountry.com for reservations or call 406-572-3366 for Cowgirl Retreat details and other ranch experiences spring, summer and fall.