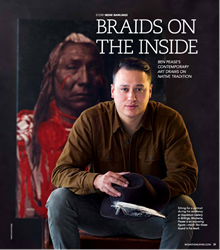 "Ben's art raises pertinent questions about our time ... in an achingly beautiful way that makes people want to look."
BILLINGS, Mont. (PRWEB) December 01, 2020
Raising important questions about the intersection of history, culture and land through his work, Stapleton Gallery artist Ben Pease is profiled in Mountain Living magazine's current November/December 2020 issue. The title of the article, "Braids on the Inside," references children he meets through visiting artist talks who sometimes ask where the Crow/Northern Cheyenne creative's braids are. His response: "I wear my braids on the inside." A master across a variety of mediums, Pease was recently tapped to create some monumental pieces for the Chicago Field Museum exhibition "Apsáalooke Women and Warriors," on display through July 2021. He also heads the Artist in Residency Program at Rocky Mountain College, works with the Native American Outreach Program and lectures widely, including at Yale last year.
"Ben's art raises pertinent questions about our time ... in an achingly beautiful way that makes people want to look," Jeremiah Young, owner and co-curator of Billings, Montana-based Stapleton Gallery, tells Mountain Living. A longtime advocate for the 30-year-old Pease, Young also commissions pieces from the artist for homes he designs through his Kibler & Kirch interior design business.
Raised in Lodge Grass, Montana, Pease comes from a family of creatives and finds inspiration in his native heritage, including his contemporary take on ledger art, sourcing materials such as historical photographs, antique ledgers and vintage letters as backdrops. He also boldly incorporates unexpected elements of technology and pop culture in thought-provoking pieces like a shield created for the Field Museum exhibition that uses thunderbird-shaped neon and an electronic video component atop traditionally sourced bison hide. For the sculptural piece "Buffalo Warrior," Pease affixed bison horns, fur and other symbolic materials to a military-style helmet, and for the 2018 Stapleton Gallery show "The Trophy Room," he crafted a life-size tipi from PVC pipe and Tyvek®️, adding a neon Red Indian Motor Oils sign and graffiti-like slogans to explore how his culture and its artifacts have been treated as trophies.
Strong female figures are a recurring theme for Pease, who tells Mountain Living, "Women have played a huge role in both my life and my art." For several years, Pease has worked on an indigenous Madonna series that includes historical images of women from the Crow (Apsáalooke) and Cheyenne (Tsitsistas) tribes, including the large-scale painting "Sacred Under the Cliff of the Yellowstone," selected for the Field Museum show – and reproduced in banners that stretch across the classical building's pillared façade.
"He often works barefoot, moving easily between current projects – paintings, drawings, sculpture, beadwork and installations, as many as 15 going on at any one time," writes Mountain Living, describing his studio as a peaceful, comfortable place, "with the earthy aroma of smudged sage," where his wife and three young children are always welcome.
"Artists create the world for people; we provide the context," Pease says in a short Stapleton Gallery video where he describes his artist's journey of "walking in two worlds," simultaneously inhabiting his native and mainstream experiences. "Many times, the question is more important than the answer," he says. "What really matters is the path." For more on Ben Pease and current work for sale, visit: http://www.stapletongallery.com/ben-pease.
About Stapleton Gallery:
In 2016, Jeremiah Young joined forces with co-curator Abigail Hornik-Minckler to launch Stapleton Gallery with a mission to nurture and celebrate authentic Montana artistry. The gallery's group of emerging and established artists work in a wide range of media from fine art photography to glass and bronze sculpture to a variety of painting materials and techniques. Young, also owner and creative director of venerable Western interior design company Kibler & Kirch, is passionate about curating exhibits for art-lovers who appreciate the themes and creativity that go into the events, including popular installations "The Trophy Room," which featured tenting and taxidermy, and "Stapleton Records: Move the Needle," which reimagined the gallery as record store and concert venue through creative collaboration between visual and musical artists. For more information visit http://www.stapletongallery.com or follow on Facebook and Instagram.