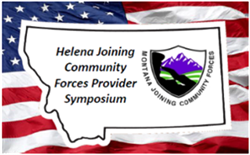 The Symposium provides a platform for key community stakeholders to network and learn about the resources, services, techniques and therapies..., said Brandy Keely, Veterans Service Coordinator for Carroll College
Helena, MT (PRWEB) June 30, 2016
As the national landscape evolves, communities across the country are preparing for an unusually large number of Service members to transition from the Military within the next decade. Combined with the National Guard and Reserve personnel, there is a clear need to serve all these men and women as they reintegrate into civilian life. While many may successfully navigate readjustment in their communities, some may face considerable challenges – renewing family relationships, pursuing education and new employment, finding a home and establishing a social network in their new community.
Presently, key organizations in Montana are working to ensure the state's Military have access to culturally competent and readily available support. In fact, Army OneSource, Carroll College, VA Montana HealthCare System and Montana Joining Community Forces (JCF) are partnering together to present their third annual service provider symposium designed with interactive presentations, breakout sessions, a resource fair and opportunities to network and share ideas with the state's civilian and military providers. The one-day symposium is scheduled for Friday, August 12, 8AM-4PM at Carroll College and open to all service providers who support Service members, their Families and Veterans. Registration is required.
"The Symposium provides a platform for key community stakeholders to network and learn about the resources, services, techniques and therapies being used to help Service members, Veterans and their Families adjust to civilian life. It is also an opportunity for networking with our colleagues to share best practices and for brainstorming and developing ideas for future collaboration," said Brandy Keely, Veterans Service Coordinator for Carroll College.
For those who serve the state's Military population, this is a unique opportunity to learn more about the Montana VA Health Care System and the greatest needs of Montana's Military population. Additionally, attendees will receive an overview of Military culture, gain awareness of readjustment challenges faced after a deployment and most importantly, obtain resources that may assist in working and referring Service members and Veterans.
This year's agenda will include key service area reports and updates from JCF, a discussion on access to VA healthcare, along with breakout sessions about:

Suicide Intervention
VA Community Care
Employment and Advocacy Services
Legal and Advocacy Services, such as Veterans Treatment Courts
Specialized Behavioral and Physical Health Services, such as pain management and substance abuse treatment
Emotional and Spiritual Support and Resources
Housing and Homelessness Services
Stages of Change in Behavioral and Physical Health
Lunch will be provided for each registrant; however, the event organizers request a $10.00 donation for each registration to help supplement some costs for the event. In addition and as a complement to the Symposium, a Resource Fair is scheduled to allow attendees to build customized resource toolkit to utilize in their organizations.
"As we embark on the 3rd Annual Symposium, it's also a time to reflect on year's past and the growth and relevancy of this event. It truly demonstrates how a community can come together, synchronize resources, and ultimately, support our Service members, Families and Veterans." said Sheila Warner, State Community Support Coordinator of Army OneSource.
For more information or to register for the symposium, visit: https://2016providersymposium.eventbrite.com
Media Contacts:
Brandy Keely, Veteran Service Coordinator, Carroll College, (406) 447-4550, bkeely(at)carroll(dot)edu
Sheila Warner, State Community Support Coordinator, Army OneSource, (208) 660-5607, swarner(at)afsc(dot)com.
###