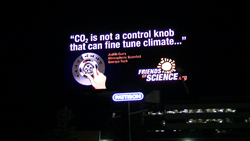 ...some $6.8 billion in foreign funding to Canadian ENGOs has been used to push the carbon tax and climate apocalypse agenda
CALGARY, Canada (PRWEB) February 13, 2019
A monumental carbon tax court case kicks off in the Saskatchewan Court of Appeal this week (Docket: CACV3239) as the Saskatchewan Party challenges the Canadian federal government on its carbon tax legislation, as reported by Global News, Feb. 10, 2019. This coincides with the release of a new report by Friends of Science Society entitled "Big Green Money vs Conventional Energy Advocates."
The new report is critical of the 'big green' foreign-funding of environmental groups, many of which, like Ecojustice, a law charity representing intervenors in the carbon tax case, engage in 'law-fare' to block energy development and push for carbon taxes.
"Big Green Money…" report shows that common sense think tanks are vastly out-funded, out-lobbied and out-maneuvered by green billionaire foundations and their Environmental Non-governmental Organization (ENGO) fundees.
Robert Lyman authored the report which states that some $6.8 billion in foreign funding and revenues has accrued to the 18 largest Canadian ENGOs, since 2000, and has been used to push the carbon tax and climate apocalypse agenda. Lyman is an Ottawa energy policy consultant and former public servant of 27 years, a diplomat for 10 years prior to that.
Most of the ENGOs reviewed in "Big Green Money…" have federal charitable status, thus subsidized by taxpayers. As reported by Global News, Aug. 30, 2018, one such charity, Ecojustice, successfully blocked Trans Mountain pipeline in the Federal Court of Appeals, resulting in the further loss of thousands of jobs in Alberta's oil sands industry and other sectors.
As noted in the report, the National Energy Board publishes annual data on total investment (i.e. domestic and foreign) in the upstream Canadian oil industry. Investment in oil sands was $13.6 billion, down 60% from the peak level of annual investment of $33.4 billion in 2014.
Friends of Science says a carbon tax is irrelevant to climate change issues as more and more research demonstrates that carbon dioxide is not the control knob that can fine tune climate. They say the UN Climate Panel (IPCC) reports relied upon by proponents of the tax are based on Faulty Premises, as detailed in their Oct. 30, 2018 report by the same name.
As revealed by Donna Laframboise in her book "The Delinquent Teenager," UN Climate Panel reports are heavily infiltrated by green activists from Greenpeace and WWF, whose organizations have been funded for millions of dollars by the billionaire ClimateWorks Foundation and partners who are pushing a global cap and trade system, as reported by Matthew Nisbet (2018) in "Strategic philanthropy in the post‐Cap‐and‐Trade years: Reviewing U.S. climate and energy foundation funding".
Friends of Science Society says a global carbon tax would be a road to ruin.
Another recent Friends of Science report issued Feb. 5, 2019, entitled "Carbon Pricing Consequences for Alberta" reveals a trail of destruction following the implementation of the provincial carbon tax.
Human industrial carbon dioxide emissions have greened the planet according to an April 26, 2016, NASA report. Growing climate science consensus shows carbon dioxide's impact on warming to be nominal says French Emeritus Professor of physics, François Gervais.
About
Friends of Science Society is an independent group of earth, atmospheric and solar scientists, engineers, and citizens who are celebrating its 16th year of offering climate science insights. After a thorough review of a broad spectrum of literature on climate change, Friends of Science Society has concluded that the sun is the main driver of climate change, not carbon dioxide (CO2).
Friends of Science Society
P.O. Box 23167, Mission P.O.
Calgary, Alberta
Canada T2S 3B1
Toll-free Telephone: 1-888-789-9597
Web: friendsofscience.org
E-mail: contact(at)friendsofscience(dot)org
Web: climatechange101.ca