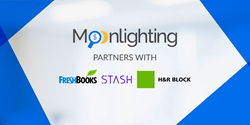 Moonlighting has approached this market in a unique, thoughtful manner and we are excited to help its freelancers get the help they need in filing their taxes, so they can focus more of their time on creating new businesses.
CHARLOTTESVILLE, Va. (PRWEB) February 27, 2020
Moonlighting, a leader in providing job and business management solutions to freelance and independent workers today announced the launch of Moon "Pro", a SaaS solution helping people create, manage and grow their freelance businesses. Moonlighting is the first company to deliver a comprehensive "Freelance as a Service" or "FaaS" solution and has partnered with industry leaders from the banking, tax, accounting, and financial services industries to deliver a one-stop-shop to the more than 48 million US adults currently in the freelance economy.
The Moon "Pro" freelance solution includes access to FreshBooks, a leading cloud-based accounting platform, H&R Block tax solutions and Stash's mobile banking and investing platform (including personal brokerage accounts, IRAs, banking services featuring Stock-Back® Rewards)¹.
"Moonlighting and FreshBooks share the same passion for helping freelancers manage their income and earnings," shared Mark Girvan, Chief Commercial Officer for FreshBooks. "Moonlighting's approach is very different than other work platforms, and by complementing its Pro offering with FreshBooks' easy-to-use accounting software, we will help freelancers grow their business."
Moonlighting also recently announced a strategic partnership with iPSE-U.S., a non-profit association celebrating and advocating on behalf of the American independent workforce. Through its iPSE-U.S. partnership, Moonlighting also makes available to independent workers group-rated insurance at favorable rates.
Through the partnership with H&R Block, freelancers, entrepreneurs and gig economy workers will have access to the company's easy to use Do-It-Yourself (DIY) product. The service offers unlimited help from one of the company's tax experts, and for those who used a different tax software previously, tax information can be imported from last year's return in as little as two clicks.
"H&R Block has helped entrepreneurs file their taxes for decades, and we understand the unique tax situation and questions of today's gig economy workers," said H&R Block Senior Vice President of Digital Tax Heather Watts. "Moonlighting has approached this market in a unique, thoughtful manner and we are excited to help its freelancers get the help they need in filing their taxes, so they can focus more of their time on creating new businesses."
Moonlighting is backed by some of the largest US news companies—Gannett, McClatchy, Tribune—employment and staffing company, Kelly Services and Block.one, a leading blockchain industry company. Moonlighting also continues to be a Featured Top 10 mobile app in Apple's App Store "Dream Job" category.
"Providing all Americans with the access and tools to enable financial progress is core to our DNA. We're excited to be partnering with Moonlighting to help even more freelancers gain a path towards financial independence," noted Giff Carter, Chief Revenue Officer, STASH.
About Moonlighting
Moonlighting's "Freelance as a Solution" (FaaS) platform empowers people to create and build their own personal business, earn extra money and hire talented professionals quickly and affordably. Freelancers, consultants, contractors, and small businesses can hire or be hired directly from mobile devices and access a suite of banking, investment, tax, accounting, insurance, and legal tools to power their own personal business. With a blockchain supported foundation for security and credentialing, Moonlighting provides a full turnkey solution with a suite of tools to empower millions of independent workers and recruiters worldwide.
Moonlighting is a privately held, VA-based company built from the ground up for the gig economy. For more information, please visit https://www.moonlighting.com/
¹Account opening of the debit account is subject to Green Dot Bank approval. Debit Account Services provided by and Stash Visa Debit Card issued by Green Dot Bank, Member FDIC, pursuant to a license from Visa U.S.A. Inc. Investment products and services provided by Stash Investments LLC, not Green Dot Bank, and are Not FDIC Insured, Not Bank Guaranteed, and May Lose Value.
Stash Stock-Back® rewards is not sponsored or endorsed by Green Dot Bank, Green Dot Corporation, Visa U.S.A., or any of their respective affiliates, and none of the foregoing has any responsibility to fulfill any stock rewards earned through this program.
Moonlighting is a paid affiliate/partner of Stash. Investment advisory services offered by Stash Investments LLC, an SEC-registered investment adviser.