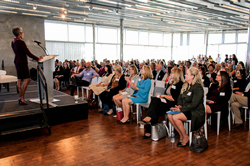 LAS VEGAS (PRWEB) August 31, 2022
The Moonridge Foundation has announced an exciting speaker line-up for the 11th annual Philanthropy Leaders Summit taking place simultaneously in Las Vegas and in Reno on Friday, September 9. The Nevada-based philanthropy firm, Moonridge Group, is hosting the Summit and is aimed to "Innovate to Ignite" the spirit of philanthropy with charitable donations.
At this year's event, the Nevada Corporate Giving Council (NCGC) will reveal the annual statistical report on the corporate giving landscape of Nevada to take a deeper look at what motivates corporate philanthropy and how it shapes the communities around us. An estimated $1.7 billion in corporate giving and $365.8 million in employee giving took place between 2019 and 2021, with the top giving categories being health and social services, K-12 education and Covid-19 relief efforts, while education, affordable housing, healthcare/mental health, homelessness/poverty and food insecurity remain top challenges in Nevada's communities.
The Summit's diverse philanthropic event speakers, selected by The Moonridge Foundation, will speak on how corporate funders, family foundations and individual philanthropists can address these issues with strategies and best practices in giving to continue driving positive impact, while inspiring funders to continue engaging philanthropically with the efforts that resonate with their values.
Speakers confirmed to present are listed below:

Ben Mckee, bassist for the Grammy Award Winning band Imagine Dragons, Keynote Speaker (opening remarks in Reno)
Shaquille O'Neal, NBA Hall of Famer and philanthropist (virtual remarks)
Sandra Douglass Morgan, Las Vegas Raiders President, Sports Philanthropy
Brian Gordon, Principal for Applied Analysis, Nevada Corporate Giving Report
Carolina Jannicelli, Head of Community Impact at JP Morgan Chase & Co., Trailblazing Women in Philanthropy
Chet Pipkin, Founder of Belkin, Environmental Giving
Cooper Sandoval, Youth Philanthropist from Reno, Nevada
Heather DuBoef, Founder of Nevada Women's Philanthropy, Trailblazing Women in Philanthropy
Kerry Bubolz, Vegas Golden Knights President, Sports Philanthropy
Matt Levitt, Founder and CEO of Tahoe Blue Vodka, Environmental Giving
Punam Mathur, Executive Director of the Elaine P. Wynn & Family Foundation, Mistress of Ceremonies (Las Vegas)
Staci Alonso, Founder of Noah's Animal House, Anderson Cooper's Top Ten CNN Heroes 2019, Mistress of Ceremonies (Reno)
A full list of speakers and their biographies can be viewed online here: https://www.philanthropyleaderssummit.com
This event is made possible by Sponsors and Collaborative Partners: Bennett Family Foundation, Zappos for Good, NV Energy, San Manuel Band of Mission Indians, Brownstein Hyatt Farber Schreck, JPMorgan Chase & Co., Wynn Resorts, Myra Greenspun, City National Bank, Nevada Museum of Art, Philanthropy Southwest, Microsoft, EDAWN, The ROW, Subaru of Las Vegas, Renown Health, Luna Foundation, Dickson Realty, Alex Benna & Chrissy Menicucci Benna, Mulvaney Family Fund, The Abbi Agency, PBS Reno and Nevada Business Magazine.
The summit will take place on Friday, September 9 from 8:30 a.m. to 12 p.m. PST in Las Vegas at the Zappos Headquarters; in Reno at the Nevada Museum of Art; and a virtual option is available. There will be a morning breakfast and networking event an hour prior from 7:30 a.m. to 8:30 a.m. PST. General Admission tickets are priced at $95 per person. Registration is available online at https://www.philanthropyleaderssummit.com
To stay up to date on the Philanthropy Leaders Summit, "like" Philanthropy Leaders Summit on Facebook and join the conversation on Twitter by following @PhilanthropyLS and using the hashtag #PLS2022.
# # #
About Moonridge Group: Moonridge Group, a philanthropy consulting firm, provides guidance to help funders achieve the greatest social impact. The experienced team at Moonridge Group works with corporate funders, individual philanthropists, and Family Foundations in Nevada and California. Founded in 2011 by one of Nevada's leading social entrepreneurs, Julie Murray, Moonridge Group has successfully advised many organizations including Bennett Family Foundation, San Manuel Band of Mission Indians, Milagro Foundation, Westgate Hotel & Casino, Hard Rock Lake Tahoe, Cirque du Soleil and their ONE DROP Foundation, NV Energy, Paragon Gaming, Caesars Entertainment, The City of Las Vegas Mayor's Fund, Jameson Fellowship, Nevada Medical Center/Hope Means Nevada, Greater Good Council, and Nevada Corporate Giving Council to name a few. For more information about Moonridge Group, please visit moonridgegroup.com or find us on Facebook or LinkedIn.