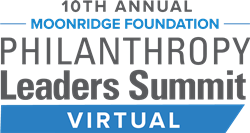 To expand community impact and corporate giving nationwide, Moonridge Foundation will virtually host the 10th annual Philanthropy Leaders Summit on Friday, September 17.
LAS VEGAS (PRWEB) August 24, 2021
To expand community impact and corporate giving nationwide, Moonridge Foundation will virtually host the 10th annual Philanthropy Leaders Summit on Friday, September 17. In previous years, the Nevada-based summit was hosted in person as separate events in Reno and Las Vegas, however this year, the summit team, committees, and sponsors have joined forces to present one summit to bring together leaders across the state and expand across the country for the virtual affair. This year's theme, "United in Resilience," will focus on the philanthropic landscape on a greater scale by inviting corporate funders, family foundation leaders, and individual philanthropists to hear from dynamic speakers working on issues throughout Nevada and beyond.
From the global health crisis and the economic crisis that followed, to social justice movements, climate emergencies, widespread mental health issues and more, it is crucial now more than ever for funders to strengthen the impact of their giving strategies. For this, The Moonridge Foundation has selected a diverse portfolio of speakers to share about community impact, with efforts to inspire funders to continue engaging philanthropically with the efforts that resonate with their values.
Several of the speakers confirmed to present are listed alphabetically below:

Jeremy Aguero, Founder and Principal Analyst, Applied Analysis
Leslie Crutchfield, Author, social change expert, educator, and Executive Director of Georgetown University's Business for Impact at the McDonough School of Business
Luis Duarte, Partner, Imaginable Futures and Director of the Board for B Lab's GoodCompany Group
Ashley Enrici, PhD, Assistant Professor, Lilly School of Philanthropy
Caroline and Lauren Edgeworth, Bishop Gorman High School Students and Founding Co-Chairs for Hope Means Nevada Teen Committee
Emil J. Kang, Program Director for Arts and Culture, The Andrew W. Mellon Foundation
Asahi Pompey, Head of Corp Engagement and Foundation President, Goldman Sachs
Sacha Spector, PhD, Director of Environment Program, Doris Duke Charitable Foundation
Ben Wong, Founder of Kid CEO Media and Kid CEO Podcast, also Co-Founder of Rich Kids Global
Speaker from the Obama Foundation Leadership Team to be announced
A full list of speakers and their biographies can be viewed online here: https://www.philanthropyleaderssummit.com
This event is made possible by Sponsors and Collaborative Partners: The Bennett Family Foundation, NV Energy, Brownstein Hyatt Farber Schreck, Intermountain Healthcare, Zappos for Good, Bank of America, City National Bank, Wynn Resorts, Brian & Myra Greenspun, Microsoft, Renown Health, SilverSummit Healthplan, Wells Fargo, EDAWN, The Abbi Agency, PBS Reno, Nevada Business Magazine, Alex Benna & Chrissy Menicucci Benna, and Dickson Realty.
The summit will take place virtually via Zoom on Friday, September 17 from 8:30 to 11:30 a.m. PST. General Admission tickets are priced at $95 per person. Registration is available online at http://www.philanthropyleaderssummit.com.
To stay up to date on the Philanthropy Leaders Summit, "like" Philanthropy Leaders Summit on Facebook and join the conversation on Twitter by following @PhilanthropyLS and using the hashtag #PLS2021.
# # #
About Moonridge Group: Moonridge Group, a philanthropy consulting firm, provides guidance to help funders achieve the greatest social impact. The experienced team at Moonridge Group works with corporate funders, individual philanthropists, and Family Foundations in Nevada and California. Founded in 2011 by one of Nevada's leading social entrepreneurs, Julie Murray, Moonridge Group has successfully advised many organizations including Bennett Family Foundation, San Manuel Band of Mission Indians, Milagro Foundation, Westgate Hotel & Casino, Hard Rock Lake Tahoe, Cirque du Soleil and their ONE DROP Foundation, NV Energy, Paragon Gaming, Caesars Entertainment, The City of Las Vegas Mayor's Fund, Jameson Fellowship, Nevada Medical Center, Greater Good Council, and Nevada Corporate Giving Council to name a few. For more information about Moonridge Group, please visit moonridgegroup.com or find us on Facebook or LinkedIn.