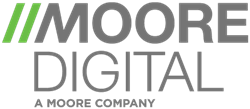 WASHINGTON (PRWEB) February 07, 2023
Moore Digital, a Moore company, announces the hiring of Adva Priso as chief strategy officer and Bonnie Huey as senior vice president of digital media. The leadership expansion supports the company's accelerated growth and continued commitment to top-quality client service, as well as the Moore Digital commitment to supporting and developing their talented team.
Priso joins Moore Digital from Chapman Cubine Allen + Hussey where she acted as senior vice president, head of digital advertising and acquisition. Prior to that, she served as senior vice president, marketing and development at MissionWired, as well as World Wildlife Fund, leading their digital high-value donor program. Priso brings more than 20 years of cutting-edge online marketing, fundraising and donor acquisition and retention experience across nonprofit verticals to her new role.
"As chief strategy officer at Moore Digital, Adva will oversee the strategy and media departments to ensure our nonprofit clients receive best-in-class service and innovative digital marketing and fundraising solutions," said Scott VanderLey, president of Moore Digital. "We have brought together more than 70 top digital experts from across the for-profit and nonprofit industries, including strategists, media planners and buyers, designers, coders, analysts, data scientists and more to ensure we are at the forefront of our clients' marketing and fundraising needs."
"I am looking forward to taking on this role as Moore Digital continues to bring the next generation of audience-first experiences to our clients, pairing top talent, data and technology in ways no one else has brought to market," said Priso. "It's a very exciting time to be part of Moore and the vision for growth we have for our incredible clients and the industry at-large. I am looking forward to applying my knowledge and experience to support this exponential growth and see our clients obtain and exceed their goals."
Moore Digital adds Bonnie Huey as senior vice president of digital media. Before joining Moore Digital, Huey worked acted as vice president of digital marketing at Wiland where she grew and ran the media department and focused on project development and media campaign building, optimization and reporting. Her 15 plus years of experience in the digital marketing sphere make her the perfect choice for this role at Moore Digital.
"This team is extremely talented, growing rapidly and continues to offer excellent service to nonprofit clients because of all the ground-breaking programs and technology that Moore Digital offers," said Huey. "I am looking forward to applying my expertise and industry insight to this role with Moore Digital and supporting the clients that we serve."
"As senior vice president of digital media, Bonnie will be taking on the lead role for the media buying and planning teams, two integral groups in meeting and exceeding campaign goals for Moore Digital clients, including Programmatic, CTV, social and SEM, media planning and hands-on-keys buying in our platforms," said VanderLey. "As we continue to grow our client base, so too does our team of experts and industry specialists continue to expand. We are looking forward to seeing Adva and Bonnie bring their expertise and knowledge to Moore Digital during this exciting time."
To learn more about the Moore Digital omnichannel approach and digital strategies, visit mooredigital.com.
About Moore
Moore is a data-driven constituent experience management (CXM) company focused on the integration of the donor experience across all platforms, channels and devices. Moore is the largest marketing and fundraising company in North America serving the nonprofit industry with approximately 5,000 employees across 43 locations. The company provides strategy, creative, production, media, data and analytic services powered by an ongoing investment in next-generation artificial intelligence and machine learning.