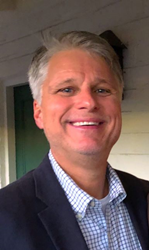 WASHINGTON (PRWEB) February 01, 2021
Moore, a leading provider of performance-driven marketing solutions, announces the hiring of Greg Fox as chief strategy officer. Fox is a 36-year veteran of direct response fundraising with expertise in developing innovative fundraising marketing strategies and solutions. He will be based in the Washington headquarters and report to Gretchen Littlefield, chief executive officer.
Fox joins the Moore team after a long tenure at Merkle Inc., where he is credited for launching the company's full-service strategic data-based marketing agency dedicated to serving the needs and challenges of the nonprofit community. Under his leadership, he established the company as a premiere technology-enabled, data-driven strategic fundraising agency.
"I have devoted my career to serving the nonprofit industry and take my role in advancing the missions of my clients very seriously," Fox said. "I'm grateful for the opportunity to have helped create a performance-based focus for the industry, and I'm very excited to bring my experience and expertise to Moore. It's an honor to continue my career with a company that is truly dedicated to uniting the best minds and developing dynamic solutions that will continue to evolve the industry for years to come.
Throughout his career, Fox has helped raise billions of dollars for many of the largest and most respected nonprofit organizations, including the American Heart Association, the American Cancer Society, Susan G. Komen, ALSAC/St. Jude's Children's Hospital, Boys and Girls Clubs of America and the Arthritis Foundation, to name a few.
"We are looking forward to putting Greg's vast experience and knowledge of creating strategic world-class solutions to work on our client's complex programs. His hire reflects our continued commitment to building the best team in the industry," said Gretchen Littlefield, chief executive officer at Moore.
About Moore
Moore is a global leader in performance-driven marketing solutions focused on all facets of the consumer experience. With over 3,000 employees in 35 locations across the country, Moore is dedicated to helping clients fulfill their missions. The organization provides services including strategic consulting, creative development, media planning and buying, research and analytics, production management and product fulfillment, database services and public relations to nonprofit, association, commercial and government clients, and is a key contributor to strengthening these sectors.