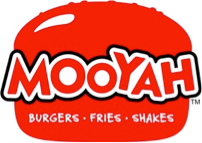 Dallas, TX (PRWEB) March 14, 2015
Burger enthusiasts in Orange County, California, will have something new to drool over, as MOOYAH Burgers, Fries & Shakes, a fast-casual, better burger franchise chain, is excited to announce the opening of its first location in Southern California at 5365 A-2 Alton Parkway in Irvine on March 9th. MOOYAH hopes to become an Irvine staple, bringing a delicious dining experience to families, friends and neighbors.
"We're very excited to continue growing in the state and bring a better, customizable burger experience to even more communities in California," said Michael Mabry, COO of MOOYAH. "Our Guests are the driving force behind our success and growth, so we're very eager to share the unique MOOYAH experience with a brand new audience with the opening of our new Irvine location."
Jim Melby and his son-in-law, Ron Camera, share a passion for the restaurant business and are excited to be bringing a new burger concept to Orange County. While Jim will own the restaurant, Ron will handle day-to-day operations and brings a restaurant pedigree with him to the Irvine MOOYAH. Ron and his family have a history of running successful franchises, with several McDonald's and La Salsa restaurants already in the family.
"If my experience in the franchise restaurant business has taught me one thing, it's that a restaurant will be successful for one simple reason – the food," Camera said, stating it was MOOYAH'S dedication to high-quality products that drew him to the brand in the first place. "I know diners will agree that our food options, our inviting atmosphere and customer service easily set us apart from the competition."
This location marks the fourth MOOYAH to open in California, with the fifth California restaurant set to open in Los Gatos later in 2015. MOOYAH is targeting growth throughout Los Angeles County, Orange County, Ventura County, San Bernardino County, San Diego County and Riverside County for 2015 and interested in speaking with qualified franchise partners looking to grow with the booming better burger brand.
"It's an exciting time for MOOYAH and the Southern California market has the perfect mixture of foodies and families for the brand to grow," said Greg Spalter, Southern California Development Agent for MOOYAH. "We are excited to start serving up customizable and delicious burgers to folks in Orange County with this first location in Irvine, and we hope to spread the MOOYAH experience throughout the region by bringing more restaurants to SoCal."
With MOOYAH, Spalter plans to open 15 restaurants in Southern California over the next five years and eventually reach a total of 35 open restaurants in the region over the next 10 years. In 2015, the brand plans to add three more locations in Orange County.
At MOOYAH, Guests have the advantage of choosing from a variety of bread options, such as baked in-house artisan white or multigrain wheat buns and hand-crafted lettuce buns to accompany either the never-frozen 100 percent American beef patty, all-natural Jennie-O turkey patty or the mouthwatering black bean veggie patty. Five cheese, applewood bacon, and sliced avocado can be added to any burger, along with a choice of nine veggies and 11 delicious sauces.
MOOYAH French fries come together in a six-step process that takes a total of 24 hours to completely prepare. A delightful combination of constant attention and a little magic help transform U.S. #1 Idaho potatoes into perfect, crisp-on-the-outside and fluffy-on-the-inside fries. Guests also have the choice of savory sweet potato fries. Never one to forget dessert, MOOYAH offers real ice cream shakes, allowing Guests to choose from 10 flavors ranging from vanilla to Hershey's chocolate to Reese's to strawberry banana and more.
The burger franchise shows no signs of slowing down and aims to deliver a simple American classic that's not only made well, but produced in a friendly and comfortable environment to new and fresh markets in the future. In 2015, MOOYAH aims to continue expanding their presence across the country, with a focus on Atlanta, Phoenix, Minneapolis, Tampa-St. Petersburg, and Cincinnati.
For more information on the growing brand, connect with MOOYAH on Facebook at the MOOYAH Burgers & Fries Fan page or follow MOOYAH on Twitter @MOOYAHBurger.
For franchising opportunities, please visit http://www.mooyahfranchise.com/ .
ABOUT MOOYAH BURGERS, FRIES & SHAKES
MOOYAH Burgers, Fries & Shakes is a fast-casual, "better burger" concept offering mouthwatering made-to-order burgers, French fries hand cut from Idaho potatoes, and real ice cream shakes. Founded in 2007, the Plano, Texas-based company serves fresh, lean American beef, all-natural Jennie-O® turkey burgers, black bean veggie burgers, buns baked in house daily, real cheeses and toppings made from garden-fresh veggies. While many Guests dine in-restaurant, MOOYAH also offers online ordering and carry out for Guests on the go. In 2014, MOOYAH was named in Entrepreneur Magazine's list of the top 500 franchise brands and ranked No. 12 in Fast Casual Magazine's annual Top 100 Movers & Shakers, a list they have been at the top of for several years in a row. The brand also landed on the list of the Top 10 FastCasual Growth Chains by Technomic, Inc. In 2013, the brand was ranked 1st overall in Restaurant Business's Future 50 list. For more information on MOOYAH, its menu or franchising opportunities, please visit http://www.MOOYAH.com. Connect with the brand on Facebook.com/MOOYAH and follow on Twitter @MOOYAHburger.
###