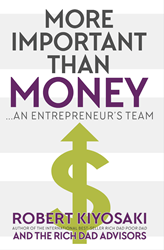 Your team, in life and in business, will determine if your million-dollar idea will give you a million-dollar payday. ~ Robert Kiyosaki, "Rich Dad Poor Dad"
Scottsdale, Arizona (PRWEB) May 10, 2017
To emphasize business is a team sport, Best-Selling Author Robert Kiyosaki ("Rich Dad Poor Dad") and his eight Rich Dad Advisors will release a new book, "More Important Than Money, An Entrepreneur's Team" (May 30, 2017) at Book Expo America (BEA) on June 1-2, 2017, in New York City. This new book is a "best of the best" advice collection for entrepreneurs based on the expertise and strengths of each of the Rich Dad Advisors and their 14 books in the Rich Dad Advisors Series.
In this new book, Robert Kiyosaki emphasizes, "Many people have million-dollar ideas. They're confident that their new product or service or innovation will make them rich and that all their dreams will come true. The problem is: Most people don't know how to turn their million-dollar idea into millions of dollars."
Author, Speaker, Entrepreneur and Investor Robert Kiyosaki ("Rich Dad Poor Dad," now celebrating 20 years as the #1 personal finance book of all time) and his eight Rich Dad Advisors will in New York City for this book launch at BEA, and are available for interviews. Together, these Rich Dad Advisors have spoken globally with Robert Kiyosaki to thousands of entrepreneurs on all six continents about how to set up a successful business with strong and accomplished "team" members as your greatest asset.
Robert's trusted A-team (Rich Dad Advisors Team) each have an important role, which include Real Estate Advisor (Ken McElroy), Legal Advisor (Garrett Sutton Esq.), Tax and Wealth Expert (Tom Wheelwright), Sales and Teambuilding Expert (Blair Singer), Paper Assets Advisor (Andy Tanner), Raising Capital Advisor (Darren Weeks), and Social Entrepreneurs (Josh and Lisa Lannon). The book explains the B-I Triangle and defines the 8 Integrities of a Business that Kiyosaki was taught by his rich dad.
In "More Important Than Money," Robert unites with his inner circle of Rich Dad Advisors, who each share their individual Entrepreneur Profile, a new chapter on the business skill they teach best, and an Author's Choice chapter from their Rich Dad Advisors Series books that highlights their strengths and talents. These entrepreneurs and experts on business, investing, and asset classes offer candid and interesting insights into their successes, failures, and lessons learned along the way.
This new book includes chapters by ten authors, including Robert Kiyosaki, his wife Kim Kiyosaki, and the Rich Dad Advisors. Readers will find out quickly why Robert Kiyosaki considers these advisors to be among his most valuable assets. For example, Chapter 1 Building a Business into a Brand includes excerpts from Robert's books "Rich Dad Poor Dad" and "Second Chance."
"More Important Than Money, An Entrepreneur's Team" Table of Contents
Introduction
Part One - Who's on Your Team?
Team Code of Honor
8 Integrities of a Business
Part Two - Real Life Entrepreneurs
Chapter 1 - Building a Business into a Brand by Robert Kiyosaki
Chapter 2 - Assets Over Income by Kim Kiyosaki
Chapter 3 - Leveraging Debt Can Make You Rich by Ken McElroy
Chapter 4 - Sales = Income by Blair Singer
Chapter 5 - Cover Your Assets by Garrett Sutton Esq.
Chapter 6 - Wealth Strategies: How to Use Tax Law to Increase Your Cash Flow by Tom Wheelwright CPA
Chapter 7 - Paper Assets: Strategies for Making Money in All Market Conditions by Andy Tanner
Chapter 8 - Keys to Raising Capital by Darren Weeks
Chapter 9 - Business Models that Target Social Needs by Josh and Lisa Lannon
Part Three - Mastering the B-I Triangle
Many social scientists say that the most important thing in life is a person's social and professional network - and that is at the core of "More Important Than Money." The book emphasizes the importance of surrounding yourself with specialist who are - to quote Kiyosaki's poor dad - "smarter than you are." In other words, the people around us - our associates, our team, our friends - have a huge impact on success as an entrepreneur. The people we surround ourselves with - and the people we go to for advice and guidance - can mean the difference between success and failure.
And as taught in the financial best-seller "Rich Dad Poor Dad," Robert Kiyosaki emphasizes, "If the people around you have a poor person's mindset, it's likely that you'll be, or stay, poor. Your team, in life and in business, will determine if your million-dollar idea will give you a million-dollar payday."
To schedule a timely media interview with the Rich Dad Advisors, please contact:
Liz Kelly, 310-987-7207
About Rich Dad Advisors (Scottsdale, Arizona)
The Rich Dad Advisors are a team of seasoned entrepreneurs that are experts in each of their respective areas of wealth creation and protection. Each Advisor has his/her own business and a proven track record of success in their specific area of expertise. The team was originally assembled by "Rich Dad Poor Dad" Author Robert Kiyosaki to provide him business and investing advice. Over the last 20 years, the Rich Dad Advisors have continued to grow their own businesses, which, in turn, has given them the experience to continue teaching others who are striving for their own dream of financial freedom and wealth. The Advisors teach how to use the best practices they have learned through their real world experiences and the multi-million dollar results that have been generated by their own businesses. http://richdadadvisors.com/about/. To Pre-Order the book on Amazon, visit http://bit.ly/2pZjSHWMoreImportantThanMoney