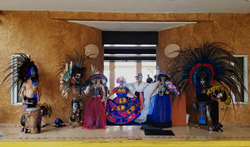 CANCÚN QUINTANA ROO, Mexico (PRWEB) October 31, 2020
Playa del Carmen, Mexico - Sunset World Group has reopened its third hotel, Sunset Fishermen Beach Resort, located in the heart of Playa del Carmen. After several consecutive weeks in the yellow epidemiological traffic light, more and more hotels have reopened their doors in the northern part of the state of Quintana Roo with a maximum occupancy allowed, after having successfully implemented the protocols recommended by health authorities. This has attracted more and more visitors to the Riviera Maya and Playa del Carmen.
Sunset World Group announced that on October 31 it reopened its third hotel, Sunset Fishermen Beach Resort, with an emotional ceremony celebrating the arrival of its first guests. They were driven through the streets of Playacar until they reached the hotel's motor lobby, where they were met by Catrinas (Decorated skeletal figures for Day of the Dead, which takes place on November 1 and 2 in Mexico) moving to the rhythms of a musical trio.
Next, they cut the ribbon at the lobby door, officially reopening Sunset Fishermen, and entered the sanitizing tunnel. Once inside, the guests enjoyed a welcome cocktail and received gifts while the new digital check-in procedure was explained to them. This procedure speeds up the check-in process and prevents crowds from forming in the lobby. They also received a kit containing masks, gloves and sanitizing gel, and signed the distinguished visitors' book. After checking in, they were shown to their room.
"The reopening of our third hotel confirms that we have done a good job, not only training our employees in protocols for the new normal, but also maintaining communication with our members and guests," said Martha Richardson, Corporate Director of Operations of Sunset World Group. "We received many requests to reopen Sunset Fishermen, hence we are doing so," she concluded.
Sunset Fishermen is located right in the heart of the beautiful Riviera Maya in the exclusive and private residential area of Playacar in Playa del Carmen, so close to downtown that it offers guests full access to an array of exciting activities throughout the area or they can simply choose to soak up the sun and swim in the sea along the beautiful and secluded stretch of beach that runs the entire length of the resort, just steps from their rooms.
Sunset World Group is a family-owned Mexican company and a leader in the hospitality industry, offering authentic and unforgettable vacation experiences in Cancun and the Riviera Maya. It was founded more than 30 years ago and has grown to offer six resorts, world-class travel services, amenities and a diverse network of operational and marketing solutions that focus on providing the best vacation experiences for its Members and guests. From cultural excursions to water sports, the Members of Sunset World are never far from their next great adventure.