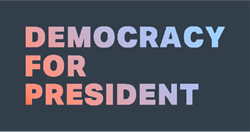 NEW YORK (PRWEB) October 06, 2020
Today, More in Common, a nonpartisan nonprofit working to bring Americans together, is launching Democracy for President, an initiative to help build confidence in the integrity of the 2020 election. Democracy for President's goal is to inspire action at the local level, where 68% of Americans say they trust their local officials to do what is right for the country and 57% say people with different views treat each other with respect. The resources are freely available at https://democracyforpresident.com/.
With four weeks until election day, Americans are bracing themselves for a uniquely divisive election. When asked how they feel about society these days, close to 2 in 3 Americans say they are tired and want all the issues to go away. Yet they know the stakes for the election are high, with 4 in 5 saying this is one of the most important elections of their lifetime. They are also concerned that the election will pull our country further apart—4 in 5 feel Americans being pitted against each other is a threat to our democracy.
With Americans feeling so divided at the national level, it is the local level, in communities and neighborhoods, where there is the greatest opportunity to build confidence in the integrity of our election. Democracy for President is designed to accelerate such efforts by providing discussion guides and other resources for how Americans can talk with each other – especially across political lines – about issues such as the safety and security of the election, the potential timelines for results, and concerns related to what happens after the results are announced. In addition to discussion guides on election-related concerns, the Democracy for President suite of resources includes shareable infographics and op-ed templates with guidance to customize for state and local outlets.
"Most Americans are exhausted by the divisiveness of the election and want to see the country more united. But it has become increasingly difficult to talk with people who have different political views, especially given the intensity of this election," said Dan Vallone, More in Common's national director. "Democracy for President shows where we actually share common ground on issues of election integrity, and then goes the next step to guide individuals and groups through how to have critical conversations in their community about keeping our democracy strong."
Democracy for President draws on findings from multiple national surveys More in Common conducted looking at Americans' views on democracy and the 2020 election. The research identified areas where Americans across political groups agree:

69% believe that elections in the US are generally safe, secure, and trustworthy
81% feel that democracy, while imperfect, is preferable to other forms of government
81% agree that no matter who wins the presidential election, it is essential that all Americans accept valid results
About More in Common
More in Common is a nonpartisan nonprofit that works to strengthen democracy by bringing Americans together around shared values, beliefs, and identities. To conduct the research, More in Common partnered with YouGov, a global public opinion and polling company.