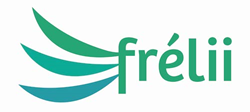 "It's time to take the guesswork out of a healthy lifestyle, and make use of the technology to find solutions," Ian Jenkins, CEO of Frelii, advises.
LEHI, Utah (PRWEB) August 02, 2018
Although there is a wealth of advice out there on how to live a healthy lifestyle, most of it is contradictory and based on a generalized "best practices" approach. But now doctors and their patients have a new way to cut through the confusion and find the right combination for optimal health.
Technology exists to help people find the right diet and personalized health plan based on their individual genetics. Ian Jenkins, CEO of Frelii, says through use of DNA testing and the power of artificial intelligence (AI) it is possible to customize the best diet and health plan available for each individual.
These science-based plans can help people tailor their diet around food sensitivities, chronic conditions, and avoid crash or fear-based fad dieting that requires deprivation.
"It's time to think about how food relates to health in a new way," said Jenkins. "As a way to nurture and love your body. Not counting calories, not restricting, but abundantly giving your body what it needs to be strong and healthy."
Frelii harnesses the power of technology to provide all the tools necessary to create personalized health plans customized for every body. Based on DNA testing and AI, they can create the following:
1. A customized nutrition plan, complete with recipes, a meal planner, shopping lists, and even grocery ordering services.
2. Supplemental food and nutrition products to optimize health.
3. Customized fitness programs based on AI analysis of your DNA to maximize results.
Rather than implicitly trusting that standard health advice is a one-size-fits-all, Jenkins says, it's best to do your homework and learn more about your individual DNA. Science-based, individually customized advice is essential to help you to make the right decisions for yourself and your family.
"It's time to take the guesswork out of a healthy lifestyle, and make use of the technology to find solutions," Jenkins advises.
Seth Jones is available to talk about this topic and others. For scheduling, please contact sethjones(at)frelii(dot)com.
About Frelii
Frelli makes use of the science of genetic testing and harnesses powerful artificial intelligence technology to customize a health and wellness plan suited to the individual. Through a comprehensive suite of services, Frelii takes the guesswork out of health and wellness.