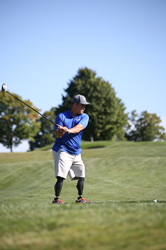 Adaptive sports participation increases confidence and motivation which lead to successes at home, in school and at work, Disabled Sports USA Executive Director Glenn Merry
ROCKVILLE, Md. (PRWEB) August 12, 2019
Injured veterans from across the U.S. will receive much needed adaptive sports rehabilitation thanks to donations received through the 4th annual Lockton Warfighter Sports Charity Challenge being held on September 9 at Trump National Golf Club in Bedminster, New Jersey.
Participating in the event again this year will be fifty wounded warfighters and Craig Stadler, 1982 Masters Champion and a long-time supporter of Disabled Sports USA's Warfighter Sports program.
Thanks to generous supporters like Lockton, Warfighter Sports programs are provided free of charge to the injured veteran and a family member, covering all costs including individualized adaptive instruction, adaptive sports equipment, accessible facilities, transportation and lodging. Major corporate sponsors of the 2019 Warfighter Sports Charity Challenge include Cigna and DADA Holdings.
Adaptive sports are an important part of rehabilitation for veterans. A Harris Interactive survey showed that disabled veterans participating in Warfighter Sports adaptive sports programs were significantly happier, healthier and more likely to be employed than those not participating in adaptive sports.
"Thank you so much for inviting me to participate in such a prestigious, once in a lifetime event, said Army Master Sergeant Rafael Diaz III (retired) wounded warrior and participant in the Warfighter Sports Charity Challenge. It was amazing. The veterans were treated like kings and queens from start to finish. It was such a pleasure to spend time with my comrades and soldiers in arms. I was so happy to finish third on the new course, my team was amazing. Thank you Disabled Sports USA and Lockton Companies for helping our warfighters get back to a sport that is so healing."
Since 2016, the Warfighter Sports Charity Challenge has raised nearly $1 million to support injured warfighters participating in the Warfighter Sports program.
"It is an honor to us to work alongside our veterans and business colleagues to support Warfighter Sports," said Josh Olson, a Lockton client executive in The Northeast Series of Lockton Companies, and co-chair of the event organizing committee with Lockton's David Giulietti. "The individual warfighter's stories are inspiring, and we are excited to help the organization expand its programs to help more wounded veterans."
Since 2003, Warfighter Sports has served more than 15,000 of the most severely injured veterans and their family members through adaptive sports programming, helping them to rebuild their lives through sports. Disabilities served include single and multiple amputations, spinal cord injury, visual impairment, traumatic brain injury, and severe nerve and muscle damage that impairs movement.
"Veterans are receiving the adaptive sports rehab they need and deserve thanks to Lockton and generous supporters of the Warfighter Sports Charity Challenge," said Glenn Merry, Executive Director of Disabled Sports USA. "Adaptive sports participation increases confidence and motivation which lead to successes at home, in school and at work."
The event will be held at the internationally recognized Trump National Golf Club Bedminster, home to the 2022 PGA Championship, which is again providing free green fees to all fifty warfighters that participate.
To learn more about the tournament, please contact Dave Simonson at dsimonson(at)dsusa.org or 301.217.9837.
About Warfighter Sports
Warfighter Sports, a program of Disabled Sports USA, offers sports rehabilitation for wounded warriors with permanent physical disabilities in military hospitals and communities across the U.S. in partnership with a nationwide network of over 130 community-based chapters. Since 1967, Disabled Sports USA has proudly served wounded warriors, including those injured in the Iraq and Afghanistan wars, offering over 50 winter and summer sports at more than 100 events each year. Warfighter Sports rebuilds lives through sports by improving self-confidence, promoting independence and uniting families through shared healthy activities. Since 2003, more than 15,000 of the most severely wounded and their families have been served, including those with amputations, traumatic brain injury, spinal cord injury, visual impairments, and significant nerve and muscle damage. For more information, visit http://www.warfightersports.org.
About Lockton
Lockton is a global professional services firm with 7,500 Associates who advise clients on protecting their people, property and reputations. Lockton has grown to become the world's largest privately held, independent insurance broker by helping clients achieve their business objectives.For 10 consecutive years, Business Insurance magazine has recognized Lockton as a "Best Place to Work in Insurance."