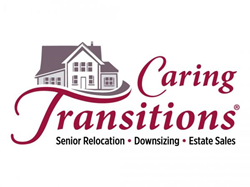 This growth is important as business owners and as a system, but it also meant we were able to keep people employed during this pandemic and it gave us an opportunity to think outside the box to serve our communities. - Caring Transitions President Ray Fabik
CINCINNATI (PRWEB) March 23, 2021
Caring Transitions is an extremely personal business. From helping seniors relocate to helping family members clear out the homes of loved ones who have passed, sometimes it takes literal hand holding to get through the process.
Hand holding that's not possible during a pandemic.
But despite the challenges of having to cancel in-person estate sales, minimize contact with clients and not having as many seniors looking to move into independent or assisted living facilities, more than a third of Caring Transitions' franchise owners still were able to achieve double-digit growth in 2020. Caring Transitions Ray Fabik said the corporate team recognized 59 eligible owners at their virtual awards ceremony on March 10.
"When we started looking at all of the success stories of 2020, we found we couldn't just limit it to our regular awards. We wanted our awards night to be more all- inclusive of the owners who were able to adapt to the challenging environment of 2020 and grow their business over the previous non-pandemic year. It was remarkable to witness the Caring Transitions owners rise above the challenges and do whatever it took to serve the senior clients in a time of need," Fabik said.
Caring Transitions' specially-trained team can handle organizing, packing, de-cluttering, moving, resettling, in-person and online estate sales, liquidations and preparing homes for market. Caring Transitions specializes in managing senior relocations, but the services are also perfect for busy families and individuals in need of assistance.
Caring Transitions' services are perfect for seniors moving in with family or into a safer living situation as well as busy families and people clearing out the home of a loved one who has passed. All of Caring Transitions' services are customizable, so clients only pay for the services they need – whether that means managing the entire move and estate-clearing or just getting someone resettled into their new place.
"Our owners worked together to be classified as essential businesses, get the PPE they needed, move to hosting exclusively online estate sales, pivot to provide other services – even pharmacy and grocery delivery – and supported employees however they could. This growth is important as business owners and as a system, but it also meant we were able to keep people employed during this pandemic and it gave us an opportunity to think outside the box to serve our communities," Fabik said. "I'm so proud of our franchise owners for how they handled the last year and I'm excited for a bright future."
To learn more about Caring Transitions, visit http://www.CaringTransitions.com.