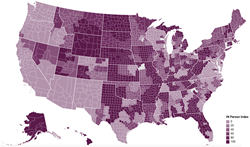 "We expect this situation to stay fluid for the entire academic year and we will continue to measure it," said Roche. "Many districts have thresholds for Covid-19 levels that could result in converting back to remote learning. Other districts are planning to revisit the 'on-line' decision as soon as
PELHAM, N.Y. (PRWEB) August 11, 2020
More than 50% of US K-12 public school students will be attending school remotely to start the school year, according to a comprehensive, ongoing survey conducted by Burbio.com, a data service that aggregates school and community calendars nationwide. Specifically, 52% of students are projected to be learning online to start the year, 44% will be attending in-person either every day or certain days of the week, and 4% of students are in school districts that haven't finalized plans.
"We have seen a dramatic shift to online only learning in the past three weeks," said Burbio co-founder Julie Roche. "Large districts such as Chicago, and Sun Belt cities such as Houston and Miami along with large suburban districts such as Fairfax County Virginia were all setting plans to return with in-person learning and shifted to fully remote."
Burbio's data set consists of more than 80,000 K-12 school calendars across all 50 states and is dynamically updated as events are added or changed. For this initiative, Burbio actively monitors districts representing over 35,000 schools, including the 200 largest school districts in the U.S. District plans are reviewed every 72 hours to identify changes. School districts in the data set are a mix of sizes and distributed nationally in such a way to represent local decision-making across the country.
Size of district is a big factor in the approach districts are taking. The 200 largest districts are 66% virtual. The survey assumes New York City, the largest school district in the country, holds in-person schooling as announced and recently approved by Gov. Andrew Cuomo.
Breaking down the 44% in-person, approximately 19% of students nationally will be attending a hybrid format where students only attend certain days. Twenty five percent will go to school daily, meaning one quarter of K-12 public school students in the country will be attending school every day to start the year.
"We expect this situation to stay fluid for the entire academic year and we will continue to measure it," said Roche. "Many districts have thresholds for Covid-19 levels that could result in converting back to remote learning. Other districts are planning to revisit the 'on-line' decision as soon as September and could convert to in-person models."
About the Methodology
Margin for error is 2.73% at 95% confidence level. For detailed methodology visit https://about.burbio.com/methodology/ or email dennis@burbio.com
About Burbio:
Burbio.com is the industry leader in aggregating school, government, library and community event information for digital consumer engagement and business decision making. Burbio's technology organizes and streams millions of hyper-local events across the US and keeps them automatically updated. Burbio's relevant and critical content is engaging for consumers and important for business decision making. In addition to the Burbio.com consumer service, Burbio works with digital media companies, local broadcasters, real estate firms, government and library partners, national non-profits, corporate clients and investment professionals who use this community event information to engage consumers and better manage and predict their business.